"So, what do you eat?"
Oh yes. I've been guilty of asking this question to a vegan. It's hard sometimes when you're eating the Standard American Diet (SAD) to understand how someone could enjoy a meal without a big juicy slab of meat or a cold glass of milk.
But it's entirely and completely possible. After a month of going 100% vegan, I've discovered food to be more delicious and enticing than it ever was before. I get a food-gasm every time I eat watermelon. And in the kitchen, I get my creative cooking juices flowing much faster since I've been following a plant-based diet.
Now, ladies and gentlemen, here are some tips and tricks on how to go vegan that I wish I knew before: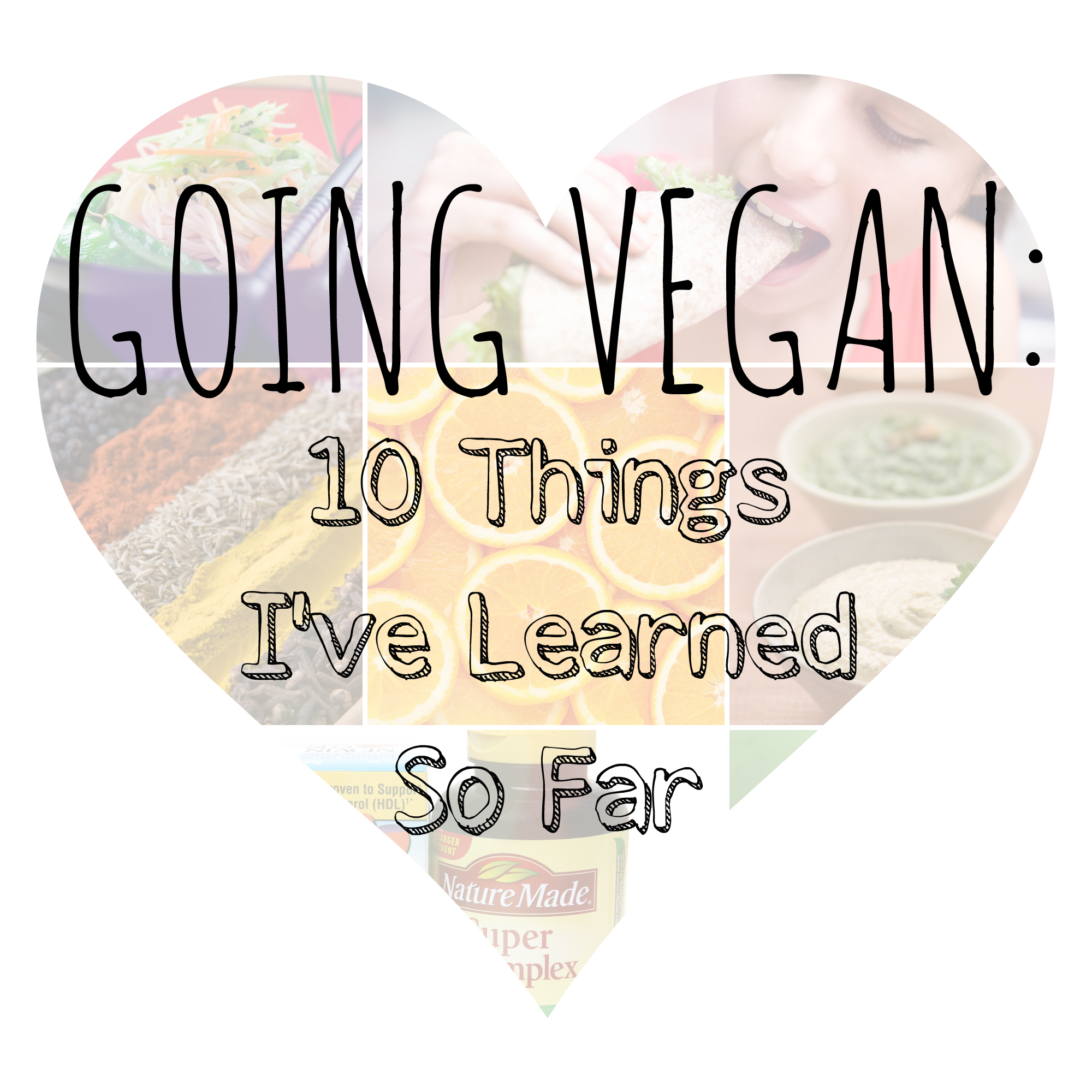 1. Spices Are Your Friends, Not Food
Okay, so they're technically "food," but spices are more like your best friends in Kitchen Kingdom. Not sure how to season that vegetable stir-fry? What about those home-style french fries? Curry, cayenne pepper, garlic powder, turmeric, cumin, and cinnamon are just a handful of the spices I love. A lot of people complain that vegan food tastes bland, but if you use your spice rack to its fullest, I promise that you'll love every bite of whatever you make (unless you put cilantro on it).
2. Breakfast Tastes Better Sans Egg
Before I went vegan, I was all about the egg. I loved me some eggs fresh from the skillet. So when I finally decided to ditch all animal products, I didn't know what I'd eat for breakfast. That's when lovely vegan food bloggers jumped in to save the day! I particularly fell in love with Blissful Basil's blog, which has oodles of easy vegan recipes. I melted into happiness when I first tried this Giant Blueberry Skillet Pancake. Besides that, I also eat gluten free oatmeal and slurp down smoothies for breakfast.
3. Burgers Aren't a Thing of the Past
I actually stopped eating red meat in January, but I still ate salmon burgers until I went vegan. Anyway, I live in America, and the burger is the mac-daddy of all foods here. Some Americans pride themselves on how many hamburgers they can wolf down. At first, I tried veggie burgers. They were okay, but they were pretty mushy. So it's best if you make your own. It's not very difficult, especially with this Sweet Potato Black Bean Burger from the Minimalist Baker! I made these last weekend, and they're to die for.
4. Vegan Junk Food is Great (in Moderation)
Daiya cheese, Earth Balance spread, and fake meats are all fabulous if you're having a tough time transitioning to a vegan lifestyle. However, these products are typically high in saturated fats, so they're not the best for you. Try limiting your consumption of them. Personally, I found myself eating less and less of these products after I got used to eating wholesome dinners and lunches, like salads, stir-frys, and sushi bowls.
5. Homemade Vegan Desserts Taste Amazing
I was so nervous when I made my first batch of vegan gluten free peanut butter cookies. I thought my whole family would hate them, but it was actually the opposite. They loved them so much that they couldn't stop eating them! These delectable cookies are super soft and moist. And since there's no egg in this recipe, you can eat the leftover dough.
6. Focus on What You Love
When you're a vegan newbie, it's very easy to focus on what you can't eat, especially when you're living with people that still consume animal products. Every time when this happened to me, I remembered my favorite foods, like sugar snap peas or spaghetti. If there's something you absolutely have to eat (like mac and cheese), make a vegan version of it. There are so many recipes out there, you (and I) really have no excuse.
7. Leafy Greens Are Your Best Friends
I've found that I'm far more energized when I incorporated leafy greens into my meals. Some of my favorites are spinach and kale, but there's so many more options if you're not fond of those two. Put them in a fruit smoothie if you don't want to taste it.
8. Keep It Carb, Baby
Obviously, everyone's body responds to diet's differently. But I have found time and time again that I have more energy when I eat carbs and consume little fats. My total fat intake usually consists of avocados or cashews. Otherwise, I eat fruit, veggies, legumes, rice, pasta, and more. Of course, if you find this doesn't work for you, feel free to adjust it as needed.
9. Take Your B-12, Fool
There's just one gaping hole in a vegan diet, nutrition-wise. If you don't get enough B-12, you can suffer from some serious neurological disorders (read: you could go blind). Some use it against us vegans, claiming that our diet is "unhealthy" because we can't get B-12 "unless we eat animals"…which isn't necessarily true. B-12 naturally occurs in algae. But for those who don't want to eat green slimy stuff, I've found it easier to just take a vegan supplement. They're super cheap and easy to find at your local grocery store.
10. It's All About Baby Steps
Sure, it would be fantastic if people could go from eating a SAD to a vegan diet. But that's just not practical. When I started to transition, I stopped eating poultry, pork, and beef. I still ate seafood and eggs, because I was convinced that I needed animal products for nutritional purposes. It wasn't until I started listening to vegan advocates and researchers on YouTube when I fully converted to veganism. For some, though, it's difficult to just give it all up overnight. I get it. For your own sanity, remove animal products from your diet at your own pace. That way, you're more likely to stick with it.
Hey guys, if you want even more vegan and vegetarian recipes, I found oodles of inspiration on FaveHealthyRecipes.com.
Have you tried a new diet?
Latest posts by FaveHealthyRecipes
(see all)