When it comes to cooking and baking, Grandma certainly always knew best. Not only that, but she always made the best food. Don't tell my mother I'm telling you this, but, a lot of the times, I'd prefer my grandma's recipes and meals to my mom's. She'd even try to make some of my grandma's dishes but they'd never turn out exactly the same…
My grandma just always knew what worked best when it came to preparing food. She taught me quite a few valuable cooking tips and instilled in me the idea that good cooking doesn't have to come with an expensive price tag. Even now, as I'm writing about my grandma's recipes and dishes, I can taste her homemade salad dressing and meaty pasta sauce. Nobody made easy dinner recipes (or any other recipes) quite like her.
In honor of all of the grandmas who have ever graced the Earth, I've pulled together some of the best vintage and old-fashioned recipes. Recipes that would make your grandmother proud (even if they'd taste better if she made them). From old fashioned desserts to simple dinner recipes, Grandma really knows best.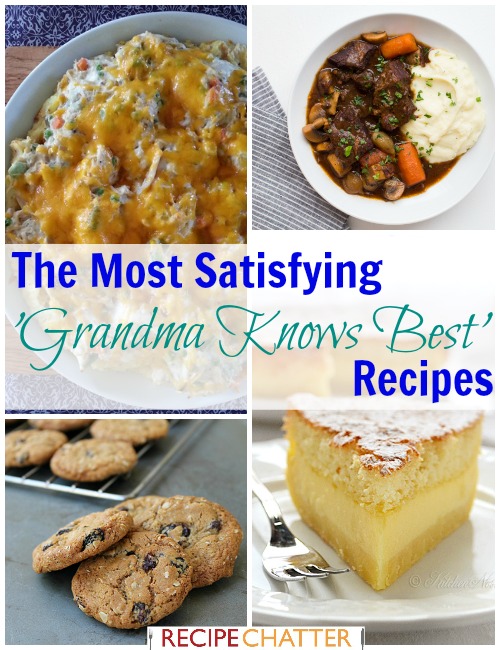 Tasty Appetizers and Side Dishes
Grandma's Favorite Broccoli Salad
Grandma's 3 Ingredient Cauliflower Bake
Grandma's Quick Yeast Rolls
Grandma's Potato Salad
Homemade Ranch Dressing
Easy Dinner Recipes from Grandma
Grandma Leen's Mac and Ham Casserole
Grandma's Favorite Heirloom Country Chicken Casserole
Old Fashioned 1950s Salisbury Steak
Grandma's Best Beef Stew
Grandma Betty's Crunchy Chicken Casserole
Grandma's Chicken and Dumplings
Old Fashioned Slow Cooker Meatloaf
Grandma's Famous All-Day Cream Cheese Chicken
Grandma's Sweet and Sour Meatballs
Delicious Old-Fashioned Desserts
Chewy Classic Oatmeal Raisin Cookies
Grandma's Magic Cake
Grandma's Prized Lemon Crazy Cake
Miss Kay's Banana Pudding
Vintage Peanut Butter Pie
Grandma's Oatmeal Chocolate Chip Cookies
Want more grandmother-inspired recipes? Take a peek at these recipe collections!
5 Crazy Wacky Cakes that Will Change Your Life
Steal Grandma's Recipes: 7 Vintage Dishes
26 Old Fashioned Desserts
Of all of the food and meals your grandma used to make for you, what was your favorite dish?
Latest posts by RecipeLion
(see all)