This guest blog post comes to us from our friend Amy from Foods for the Soul. She believes in making healthy foods taste just as good, if not better, than similar unhealthy foods. How can her recipe for Candy Bar Cheesecake possibly be healthy, you ask? Read on to find out!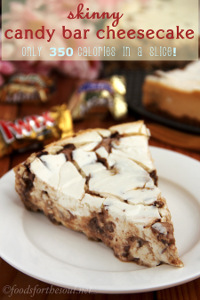 The moment I opened my eyes on our last morning in Hawaii, I reached for my phone. Squinting and blinking, I typed out a groggy reminder: "3 candy bars + 4 blocks cream cheese."
Not exactly what most people think when they wake up in paradise.
But in my dream, I had been wandering around the grocery store, searching for the ingredients to make a cheesecake. As I debated which three candy bars to buy, the waves outside my window crashed through my subconscious like an alarm clock.
I scribbled down my shopping list that afternoon on the plane flight home and set out for the store the following day. This time, no ocean waves interrupted me as I strolled down the aisles, but that just made matters worse. I actually had to choose which candy bars to use on my own—I woke up before deciding on them in my dream!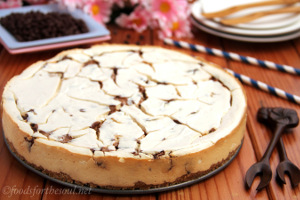 I ended up with a massive variety pack of minis in my cart. The cashier shot me a strange look (nobody ever buys that much candy unless it's Halloween), but it guaranteed that (a) every bite of cheesecake would contain both the candy bar filing and chocolate coating, and (b) I didn't have to choose which candy bars to use until I started preheating the oven.
I eventually decided not to decide and threw all four types into the bowl. Then downsized to three blocks of cream cheese.
But the dream was only meant to be a guideline anyway, right?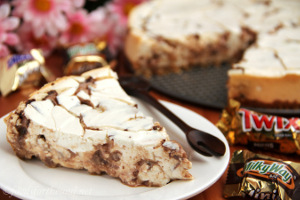 Candy Bar Cheesecake
serves 8
This rich cheesecake has it all! Chocolate, nougat, caramel, peanuts… It doesn't get much better than this!
8 sheets reduced-fat honey graham crackers
1 tbsp melted butter
3 egg whites, divided
3 (8 oz) blocks fat-free cream cheese, softened
¾ c granulated sugar
1 tbsp flour
1 tbsp vanilla
8 mini 3 Musketeer Bars, cut into eighths (see Note)
4 mini Milky Way Bars, cut into eighths (see Note)
4 mini Snickers Bars, cut into eighths (see Note)
4 mini Twix Bars, cut into tenths (see Note)
1. Preheat the oven to 300°, and lightly coat a 9" springform pan with nonstick cooking spray.
2. To prepare the crust, add the graham crackers to a food processor, and pulse until they turn into fine crumbs. Mix together the graham cracker crumbs, butter, and 1 egg white in a small bowl. Press the mixture into the bottom and slightly up the sides of the prepared pan. Bake at 300° for 8 minutes, then cool completely.
3. To prepare the filling, cream the cream cheese and sugar in a medium bowl. Add in the remaining egg whites, flour, and vanilla, mixing well. Fold in the chopped candy bars.
4. Spread the filling on top of the cooled crust, and bake at 300° for 40-45 minutes, or until the center barely jiggles when shaken. Cool to room temperature before covering with plastic wrap, ensuring that it touches the top of the cheesecake, and chill for at least 8 hours.
Note: I cut the 3 Musketeers, Milky Ways, and Snickers into half, then cut each half into 4 skinny pieces. I cut the Twix in half lengthwise, then cut each half into 5 skinny pieces. This ensures that there's a piece of candy in almost every bite!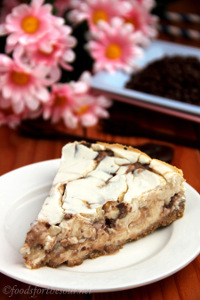 Feel free to leave questions or comments about this sweet Candy Bar Cheesecake for Amy in the comments below!
Latest posts by TheBestDessertRecipes
(see all)