Even though summer is almost over, the heat still feels like it's here to stay for a while longer. It's almost impossible to walk outside and not start sweating. You know what tastes especially great on hot summer days or warm summer nights? No-bake cakes. Now, you may be asking yourself "What in the world is TheBestDessertRecipes.com talking about? How can you not bake a cake and still expect it to be edible?" Well, first of all, if you've never tried one, you need to drop what you're doing and make one. Now. No-bake cake recipes generally involve layering ingredients like Cool Whip, crushed cookies, ice cream, etc. and then putting the cakes in the refrigerator or freezer to set. Icebox cakes are just one example of these heavenly desserts.
No-bake cake recipes are great for summer for two main reasons:
1. You don't have to turn on your oven and heat on the house.
2. They're cold dessert recipes and are therefore really refreshing.
Check out a few of our favorite no-bake cake recipes below. We bet you won't be able to decide which to whip up first!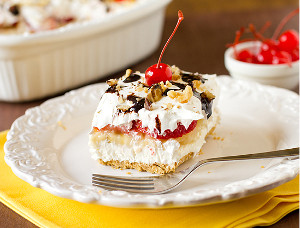 The best no-bake dessert recipes for summer are those that are served frozen. This recipe has all of the flavors you love about the classic and beloved banana split, but makes it more convenient to share with a large group of people. Layers of graham crackers, cream cheese, and whipped topping all meld together in your freezer. Prep this cake right after lunch and it will be ready to go by dinnertime.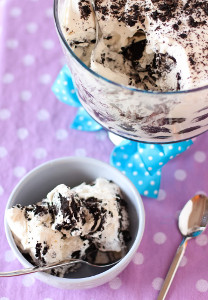 If you like icebox cakes and Oreos, you will be a huge fan of this cake recipe. Sweetened whipped cream and crunchy Oreos make up the layers in the cake. As the cake sets in your refrigerator, the cookies slowly soften and absorb all of the cake's other flavors. Almond liqueur is what makes us call this recipe "boozy" but, instead of making you feel tipsy, the liqueur simply adds a bit of flavor depth.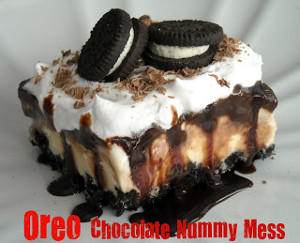 We know this no-bake cake recipe has a kind of funny name but, trust us, it definitely fits. Ingredients like Hershey bars, hot fudge, and Cool Whip are frozen together in a 9×13 baking pan. After you cut and serve the cake, the ice cream, Cool Whip, and chocolate sauce will begin to melt and make a bit of a mess on your plate. However, it will be so delicious that you won't even care what it looks like.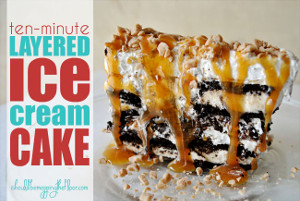 "Lazy Minute" is right. At first glance, this ice cream cake recipe looks kind of complicated, especially because it has so many layers. However, on closer inspection, you'll notice that the majority of the cake is actually made of layered ice cream bars. It's then covered in whipped topping, caramel drizzle, and Heath bits. Just assemble the cake and then freeze the cake for at least two hours. It's as easy as pie.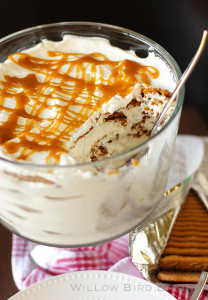 Like the "Oreo Icebox Cake," the Biscoff cookies in this cake recipe layer themselves between a sweetened (and slightly spiked) whipped cream. As they chill, the cookies begin to soften, almost to the point of having a cake-like texture. This recipe will only take up 15 minutes of your time, so we suggest that you throw it together in the morning before you leave for work so that it will be ready and waiting for you after work!

Looking for more no-bake cakes? Check out these bloggers' recipes:
Snickers Icebox Cake from Baker's Royale
Chocolate Eclair Cake from The Galley Gourmet
Oreo Icebox Cake from From Calculus to Cupcakes

If you have a favorite no-bake cake recipe, tell us about it in the comment section below!
Latest posts by TheBestDessertRecipes
(see all)