We here at TheBestDessertRecipes.com love movies. So much. We try to see as many as we can because they're just so much fun! They're also a great source of baking and creative inspiration for us. We just can't help ourselves from browsing through tons and tons of movie-inspired desserts!
Guardians of the Galaxy was undoubtedly this summer's biggest blockbuster. It had everything you could want in a movie: likeable characters, funny dialogue, great action scenes, and stunning settings. Marvel certainly knows how to do a movie right, especially with a group of such unknown comic book characters.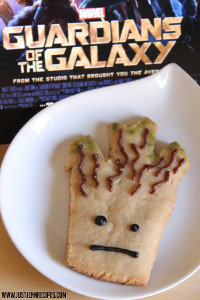 For weeks now, we've been combing the internet looking for some of the best Guardians of the Galaxy desserts that we could find. Cookies, cakes, cupcakes… You name it, we looked for it. While it has only been a little over a month since the movie's release, we've happened to actually find quite a few out-of-this-world treats!
Guess what kind of Guardians of the Galaxy desserts were the most popular? Groot-inspired ones, of course! Groot, described in the movie as Rocket Raccoon's "personal houseplant/muscle," is essentially a giant tree-like being who stole all of our hearts in 122 minutes (or less). It's only logical that the most fan-favorite character would inspire the most desserts. And boy, do we want to try all of them.
Our favorite recipe that we found? These adorable Guardians of the Galaxy Groot Cookies. They're super easy to whip up and fun to decorate! They seriously make us want to say "I am Groot!" over and over and over again! We love having this easy cookie recipe on our site and can't wait to share it with everyone that we can.
Are you ready for some link love?!
We found a few more Groot cookie recipes, along with some fun Baby Groot cupcake recipes that feature Baby Groot in a "pot"! We also love the Groot Bark that we stumbled across from Bacon & Legs. The easy dessert recipe has such a cute picture and the bark's flavor looks really intriguing.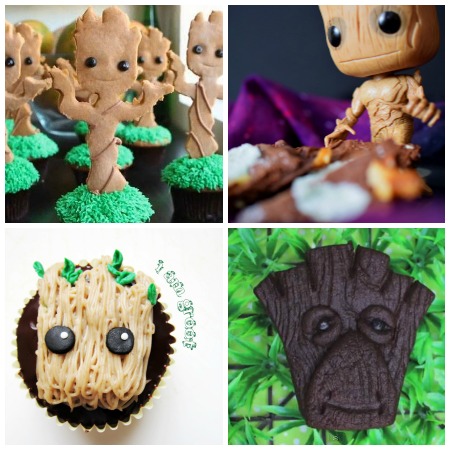 How to Make Baby Groot Cupcakes from JK Denim (Koalipops)
Groot Bark from Bacon & Legs
Cute Groot Face Cupcakes from The Busy Spatula
How to Make a Guardians of the Galaxy Groot Cookie from Montreal Confections
In addition to Groot desserts, we found these two Gamora-inspired desserts as well!

Gamora Inspired Red Velvet Cupcakes from Meet Kristy
The Green Gamora from Love Happy Hour
And, of course, what's a party without Awesome Mix, Vol. 1 in cake form! This was one of the first Guardians of the Galaxy desserts that we found and we can't wait to make it for our Guardians of the Galaxy party that will undoubtedly be happening once the movie comes out on Blu-Ray/DVD!
We'll be sure to keep you updated if we come across any other cute Guardians of the Galaxy desserts! Easy cookie recipes, cute cake recipes, super fun cupcake recipes… We've got you covered.
Which of these 'Guardians of the Galaxy' desserts do you like best?
Latest posts by TheBestDessertRecipes
(see all)