This blog post comes to us from Recipe Lion's Featured Foodie Carole, author of the blog, Toot Sweet 4 Two.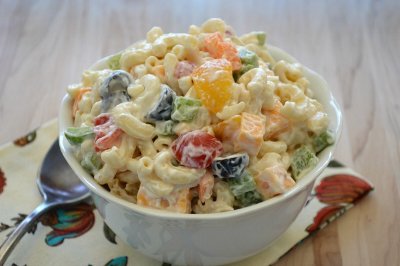 With summer right around the corner, picnics, grilling, barbeques and family gatherings are ramping up across the country. As warmer weather and longer evenings suggest summer days ahead, my thoughts wander to cold salads, creamy, crunchy and deliciously refreshing.
And, with fresh produce in abundance, what better way to enjoy a salad than with pasta as the main ingredient? Confetti Macaroni Salad satisfies my cravings for carbs, and since this dish is enhanced with a fresh mix of veggies, I don't feel too guilty about enjoying my version on this classic American salad.
Confetti Macaroni Salad is a great accompaniment to picnic and barbeque menus. Serve it as a side dish to fried chicken, hamburgers and hot dogs from the grill, barbequed ribs, grilled London broil and much more. Plus, since it is easy to make ahead of time, this salad is a great addition to your next potluck get-together.
NOTE: Confetti Macaroni Salad tastes even better if made ahead and allowed to marinate overnight because the favors meld together as it marinates in the dressing.
Confetti Macaroni Salad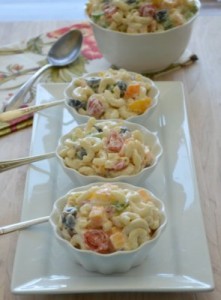 Ingredients:
12 ounces elbow macaroni, cooked per package instructions
1 teaspoon salt
1 cup mayonnaise
1/3 cup half-and-half
1/4 cup favorite bottled Italian dressing
2 teaspoons Dijon mustard
1/2 cup chopped green pepper (about 1/4 of a large bell pepper)
1/2 cup yellow mini tomatoes (about 7), quartered
1/2 cup red cherry or grape tomatoes (about 7 to 9), quartered
1/2 cup chopped orange pepper (about 1/4 of large pepper)
1 cup medium black olives, cut in half
1/2 cup red onion, peeled and finely chopped (about 1/3 of a red onion)
4 ounce block of medium Cheddar cheese, cut into 1/4-inch cubes
Salt, to taste
Pepper, to taste
Directions:
Add salt to a large sauce pot filled with water and bring to a boil.
Add macaroni noodles and cook per package instructions.
Remove from heat, drain, rinse with cold water, drain again and set aside to cool.
Make dressing: in small mixing bowl, stir together mayonnaise, half-and-half, Italian dressing, and Dijon mustard.
Taste dressing and add salt and pepper to taste; set aside.
Chop peppers so that they are uniform in size – about a quarter inch.
In large mixing bowl, add peppers, tomatoes, red onion and black olives and stir to combine.
Add cubed cheese, stir.
Add cooled macaroni to veggies and stir to combine.
Add about 1/2 of the prepared dressing and mix well.
Cover and refrigerate at least two hours.
When ready to serve, add more dressing (macaroni will absorb the dressing and it will appear dry).
Taste and add more salt and pepper, if needed.
Serve.
Makes 10 cups.
What is your favorite type of macaroni salad?
Latest posts by RecipeLion
(see all)