This recipe is brought to you by Recipe Lion Featured Foodie Carole, from the blog Toot Sweet 4 Two.
Beefy Mushroom Noodle Bake is a deliciously satisfying comfort-food recipe full of beefy goodness and fresh mushrooms. Made with a basic white sauce that is "kicked up" with beef broth and cream of mushroom soup, each bite is a luscious mouthful of creamy tastiness with a little bit of added crunch from the buttery cracker topping.
If you have any leftovers (and that's a big "if"), it keeps well in the refrigerator and can be reheated on the stove top, in the oven or the microwave – your choice! Plus, it freezes well, so make a double-batch and then you have dinner ready for another night!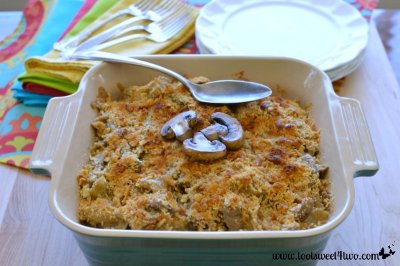 Beefy Mushroom Noodle Bake
Ingredients:
12 ounces extra-wide egg noodles
2 tablespoons canola oil
2 large yellow onions
6 cloves garlic
1 1/2 pounds beef round steak
16 ounces sliced mushrooms
8 tablespoons butter, divided
6 tablespoons flour
1 cup milk
2 1/2 cups beef broth
1 (10 3/4-ounce) can cream of mushroom soup
1 tablespoon Dijon mustard
15 butter-flavored crackers
Non-stick cooking spray
Directions:
Cook egg noodles in boiling, salted water, per package instructions minus about 2 minutes (you want them slightly underdone because this casserole is finished in the oven), drain and set aside.
In the meantime, peel and chop onions, peel and finely mince garlic, and slice beef round steak into bite-sized slices.
Pour canola oil in a large, non-stick skillet, turn heat to medium; add onions and saute until translucent. Add garlic and mushrooms and continue to saute until mushrooms are nicely browned, stirring occasionally. Add beef strips and saute, stirring occasionally, until beef is no longer pink and is nicely browned.
Preheat oven to 350 degrees F.
In a separate saucepan, heat 6 tablespoons butter until melted over medium heat. Add flour and stir continuously until mixture forms a thick paste. Add milk and beef broth all at once, stirring constantly.
Increase heat to medium-high and continue cooking sauce, stirring constantly, until sauce thickens and coats the back of a spoon. Add Dijon mustard and cream of mushroom soup to sauce and stir to combine.
Remove sauce from heat and add to beef/mushroom mixture, mixing well. Add noodles to beef/mushroom mixture, stirring until noodles are coated.
Spray a 3-quart baking dish (or a 9 x 13 inch baking pan) with non-stick cooking spray. Pour Beefy Mushroom Noodle Bake into prepared baking pan.
Crush butter-flavored crackers and sprinkle over top of casserole. Cut remaining 2 tablespoons butter into little chunks and place on top of crushed crackers.
Bake 30 minutes until casserole is bubbly and crackers are nicely browned.
Serves 8.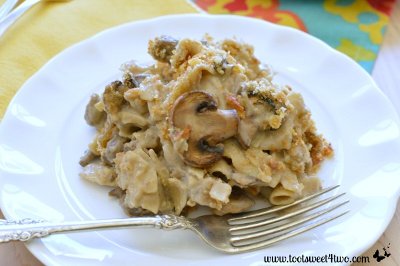 Tip: If you aren't experienced at making white sauce, you may have lumps. Don't panic – you can easily fix your sauce. When ready to add the sauce to the beef/mushroom mixture, pour the sauce into the beef/mushroom mixture through a fine sieve. Using a wooden spoon, push the white sauce through the fine sieve. All the lumps will be captured in the sieve and you can throw them away! Easy, peasy!
What's your go-to weeknight dinner?
Latest posts by RecipeLion
(see all)