This blog post comes to us from RecipeLion's Featured Foodie, Carole Burkhard, author of the blog, Toot Sweet 4 Two.
Cheesy Country Potatoes with Ham is a quick and easy dinner on a busy night. Full of cheesy goodness, this recipe is a comforting classic that comes together in minutes. Made in a skillet, Cheesy Country Potatoes with Ham is a good way to use leftover ham from your Easter celebration.
And, with the added bit of cabbage, it's a complete meal. The cabbage is optional, but it adds a bit of crunch to this dish and offers a nutritional balance to the richness of the cheese. Try it first with the cabbage because once you try it this way, you and your family will decide that it's a delicious addition!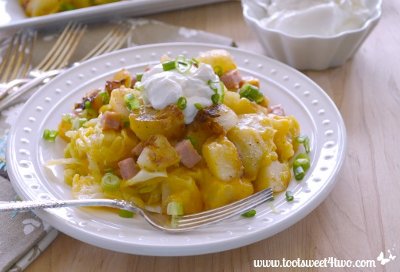 Cheesy Country Potatoes with Ham
Ingredients:
6 russet potatoes, peeled and cut into 1/2-inch cubes
1 small red onion, peeled and diced
3 cloves of garlic, peeled and finely minced
1 tablespoon canola oil
1/2 teaspoon salt
1/4 teaspoon pepper
1 1/2 cups chopped ham
2 cups chopped cabbage (optional)
1/2 cup chicken broth
2 cups shredded medium Cheddar cheese
Sour cream (for garnish)
Chopped green onions or chives (for garnish)
Directions:
Add canola oil to a large non-stick skillet and heat over medium high heat.
Add the onions and sauté about 3 minutes.
Add the garlic and sauté about another minute.
Add the potatoes and sauté another 5 minutes.
Add salt and pepper and stir to combine.
Continue sautéing, stirring occasionally until potatoes are brown and fork-tender (about 15 minutes).
Add the ham and sauté for 5 minutes more.
Spread the cabbage evenly over the top of the potatoes; DO NOT stir.
Pour the chicken broth over cabbage.
Put a lid on the skillet and reduce heat to medium low and cook for 5 minutes.
Remove the lid and spread shredded cheese over top; DO NOT stir.
Cover skillet again with lid and cook another 5 minutes.
Serve immediately with sour cream and green onions on the side for garnish.
Serves 4 hearty appetites or 6 smaller portions.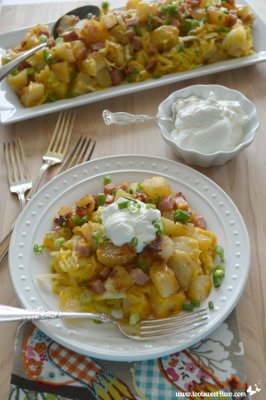 How do you use up leftover ham?
Latest posts by RecipeLion
(see all)