This post is brought to you by AllFreeCasseroleRecipes Featured Foodie, Carole, from the blog Toot Sweet 4 Two.
Having a crowd for brunch?  This Cheesy Layered Hash Brown Casserole is a delicious breakfast dish for your next family gathering or even a brunch potluck.  Hearty and satisfying, it easily makes 12 main dish servings, but in a potluck situation, it will serve even more!
Crowned with thick, salty bacon bits, serve salsa, sour cream, and sliced green onions on the side as garnish for a Mexican twist!
If you are in a hurry, prepare the bacon and onion/pepper mix the day before and store in the refrigerator.  The morning of your breakfast or brunch, just beat the eggs and layer the casserole and pop it in the oven.
Want to make it for your family, but the serving size is a bit much?  You can do one of two things:  (1) cut the recipe in half and make it in an 8 x 8-inch baking pan, or (2) make the entire recipe and save the leftovers in the refrigerator.  It reheats nicely in either the oven or the microwave!
Serve with a fresh fruit salad and muffins, biscuits or toast to round out your meal.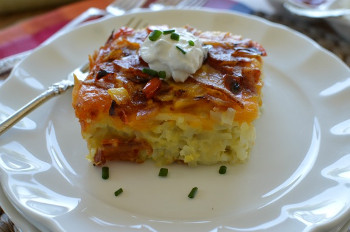 Cheesy Layered Hash Brown Casserole
Ingredients:
8 slices thick-sliced bacon
1/2 yellow onion, peeled and chopped
1 red bell pepper, seeded and chopped
Non-stick cooking spray
1 (30 ounce) package frozen shredded hash brown potatoes
2 cups shredded cheddar cheese
12 eggs
2 1/2 cups milk
1 teaspoon salt
1/2 teaspoon pepper
Salsa (for garnish)
Sour cream (for garnish)
Sliced green onions (for garnish)
Directions:
1. Preheat oven to 350 degrees F. Slice bacon into bite-sized pieces. Add to skillet and saute over medium heat, until cooked and crispy. With slotted spoon, remove bacon from skillet and drain on paper towels; set aside.
2. Pour off all but 1 tablespoon of bacon grease from skillet. Return skillet to stovetop and add onions and bell pepper; saute over medium heat, until onions are translucent.
3. In the meantime, break eggs into large mixing bowl. Beat eggs until frothy and add milk, salt, and pepper; set aside.
4. Spray a 9 x 13 inch baking pan with non-stick cooking spray. Add frozen shredded hash brown potatoes to baking pan. Sprinkle with shredded cheddar cheese. Sprinkle with onions and bell peppers. Lastly, sprinkle with bacon bits.
5. Pour egg mixture over all and place in preheated oven. Bake 55 to 65 minutes until casserole is set in the middle. Remove from oven and let stand 5 minutes before serving. Garnish with salsa, sour cream and green onions.
Serves 12.
What is your favorite breakfast food?
Latest posts by AllFreeCasseroleRecipes
(see all)