This guest post comes to us from Peter Block from Feed Your Soul Too.
Chicken Marsala
This is a recipe that has an easy to medium-easy difficulty level.  If you do a little cooking, this Chicken Marsala will be a snap.  The ingredient list may seem long with 10 ingredients, but there are really only 3 main steps to put together.  First, dredge the chicken and pan fry.  Then, make the sauce.  Finally, cook the pasta and assemble.
Ingredients:
4  boneless, skinless chicken breast
1/4 teaspoon salt
1/4 teaspoon freshly ground black pepper
2 tablespoons all-purpose flour
1 tablespoon olive oil
1 cup pre-sliced mushrooms
1/2 cup Marsala wine
1/2 cup chicken broth
2 tablespoons lemon juice
1 pound pasta, bell flowers (or small tubular shells)
Directions:
Bring 4 to 6 quarts of water to a boil.  You can drop in salt.
When the water boils, drop in the pasta.  It will cook for approximately 8 minutes.  Drain and set aside when done.
Meanwhile, heat olive oil in a large skillet over medium-high heat.
Combine the flour, salt and pepper.
Drop each chicken breast into the mixture. Knock off any excess.
Add the chicken and cook for 3 minutes on each side or until browned.  Remove chicken from pan and place on a plate.
Add mushrooms, wine, broth, and juice to the pan.  Reduce the heat, and simmer 10 minutes or so.  The mixture will thicken and be about 1/2 of what it was when you started.
Add the chicken back to the pan, turning to coat on both sides.  Cover and cook 5 minutes or until chicken is done.
To finish the dish, take a big spoonful of pasta and top with chicken.  Be sure to grab a lot of the sauce and mushrooms.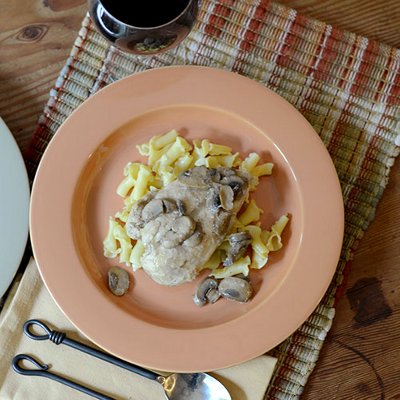 Have you ever made Chicken Marsala before?
Latest posts by RecipeLion
(see all)