This recipe is brought to you by FaveHealthyRecipes' Featured Foodie Carole, of the blog Toot Sweet 4 Two.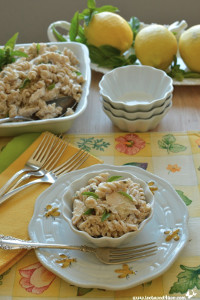 Looking for a lighter cold pasta salad for hot summer days? Creamy and delicious with a delicate lemony flavor, Lemon Chicken Pasta Salad is the answer! A lighter, healthier version of classic pasta salad, bursting with lemony goodness, this salad is a keeper!
Using whole wheat pasta and rotisserie chicken mixed with a lemony Greek yogurt-based sauce, serve this pasta dish warm or cold. Sprinkle with fresh basil leaves for a bit of freshness, color and an added flavor boost.
Super simple to make with leftover rotisserie chicken, just boil the pasta, shred the chicken, whip up the sauce, mix together and its done! The perfect make-ahead dish for either a busy day or a day for relaxing with family and friends.
If serving cold, allow 2 hours for refrigeration before serving. If serving warm, once mixed together, serve immediately. Either way, Lemon Chicken Pasta Salad is a tasty pasta dish with a refreshing twist perfect for a warm summer day, picnic, potluck or barbecue.
Lemon Chicken Pasta Salad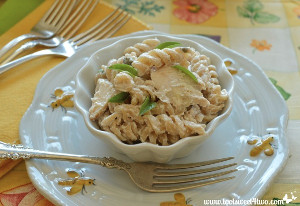 Ingredients:
8 ounces whole wheat Rotini pasta
1/2 cup non-fat Greek yogurt
1 cup light mayonnaise
2 tablespoons lemon juice or the juice of one small lemon
2 tablespoons lemon zest
2 tablespoons capers, drained
2 cups chopped or shredded cooked rotisserie chicken
6 large basil leaves, torn into pieces (optional)
Directions:
Cook pasta in boiling, salted water according to package instructions, drain and add to a large non-reactive (glass) mixing bowl.
In separate, smaller glass mixing bowl, combine Greek yogurt, mayonnaise, lemon juice, lemon zest and capers.
Pour sauce over pasta and add cooked chopped/shredded chicken.
Add basil and gently toss to combine.
Serve immediately if serving warm or refrigerate 2 hours, if serving cold.
Serves 6 (makes 6 cups).
Tip:
If your salad absorbs all the saucy dressing during refrigeration, just add a couple of tablespoons of non-fat or low-fat milk and stir to revive the creamy goodness!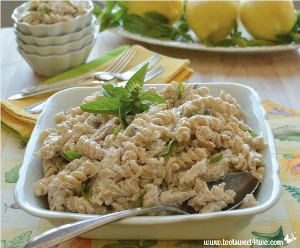 What's your favorite deli salad?
Latest posts by FaveHealthyRecipes
(see all)