Today's guest post is by Tara Noland.
When dining out, do you ever think, "This is so fabulous, but I could never make that at home?" Well, some things are actually easier than you think, like this very elegant yet rustic Lobster Mac and Cheese. With pre-cooked and shelled lobster from your local fish store or market all that's required is making a basic macaroni and cheese and vamping it up with beautiful pieces of lobster claw. Not over doing the amount of lobster also saves on money and with all the richness that this dish has to offer you won't need mounds of lobster, either. Presenting your macaroni and cheese recipe in a rustic cast iron pan just like they do in a restaurant also adds to the authenticity. Try this at home and you will surprise yourself! For more great recipes, you can visit AllFreeCopycatRecipes.com and Tara's Featured Foodie Profile.
Lobster Mac and Cheese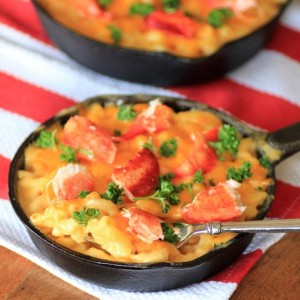 Ingredients
•    6 Tablespoons butter, plus more for dish
•    5½ cups milk
•    ½ cup flour
•    ½ teaspoon salt
•    ¼ teaspoon freshly grated nutmeg
•    ¼ teaspoon freshly grated black pepper
•    ¼ teaspoon cayenne pepper
•    6½ cups old sharp cheddar cheese, grated
•    1 lb. elbow macaroni
•    8-10 ounces cooked lobster claw meat, torn into bite sized pieces
•    Parsley for garnish
Instructions
1.    Preheat oven to 375 degrees F. Butter an 8×11" and an 8×8" casserole dishes or one larger pan or small cast iron pans set aside.
2.    In a medium saucepan heat the milk. Fill a large pot with salted water and place on high heat.
3.    In another medium saucepan melt the 6 tablespoons butter and then add the flour, stirring and cooking of 1 minute
4.    Whisk in the hot milk slowly and continue cooking and whisking until mixture bubbles and thickens. Remove from heat.
5.    While the milk mixture is still hot. Whisk in the salt, nutmeg, black pepper and cayenne pepper and 5 cups of the cheddar. Stir well with a wooden spoon until cheese melts. Set aside.
6.    When water has come to a boil, add the macaroni and cook until 2-3 minutes less than manufacturer's directions. You want this more underdone than al dente. Drain and rinse in a colander. Stir into cheese sauce.
7.    Pour into prepared dishes, and sprinkle with remaining cheese. Bake for 45-60 minutes for the large pans and 20-25 minutes for smaller. In the last 5 minutes place the lobster claw meat on top. Remove from oven and let cool for a couple of minutes. Garnish with parsley and serve.
Recipe adapted from Martha Stewart
What's your favorite restaurant-style main dish recipe to make at home? Be sure to let us know in the comments.
Latest posts by AllFreeCopycatRecipes
(see all)