This recipe is brought to you by AllFreeCasseroleRecipes' Featured Foodie, Carole, from the blog Toot Sweet 4 Two.
I love dump cake, don't you? Super easy – just plop a few ingredients in a baking pan, throw it in the oven and in an hour, instant dessert!
But, here's the thing about dump cake – it's super sweet. Without the savory, salty pie crust to balance the sugary fruit from a can of pie filling, the sweet cake mix is sometimes just a little too much. Add a scoop of ice cream on top and you are sure to dive into a sugar coma!
Made in a cast iron skillet, my Razzle Dazzle Dump Cake is a twist on the classic dump cake recipe, adding just a bit of savory to balance the sweetness.
So, what's the twist? You don't use the entire box of cake mix!
That's right – you only use 1 cup of cake mix. The standard box of cake mix, whether its Betty Crocker, Duncan Hines or Pillsbury weighs 15.25 to 16.5 ounces, but the cake mix inside measures 3 cups!
Did you know that? I didn't until I measured the cake mix.
In my experience, many times when making dump cakes, the cake doesn't cook on top leaving globs of cake mix dust strewn across the top of the cake. And, the cake part that is golden brown is often gooey. So, Razzle Dazzle Dump Cake is my solution to this dump cake dilemma but it does require a few extra steps.
Critics will classify my Razzle Dazzle Dump Cake a cobbler instead of a dump cake. But, however you classify it, it's delicious with just the right balance of tartness from the fruit, the sugary sweetness of the cake mix plus the added crunch of the oatmeal and walnuts.
And, you still eat it with ice cream! Life is good…
Razzle Dazzle Dump Cake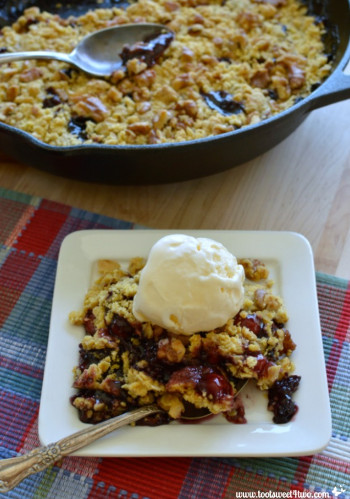 Ingredients:
1 – 21 ounce can of blackberry pie filling
1 – 21 ounce can of cherry pie filling
1 cup of yellow cake mix
1/2 cup of old-fashioned oats (not instant oats)
1/2 cup walnuts, chopped
5 tablespoons butter, divided (cold; not room temperature)
Vanilla ice cream
Directions:
Preheat oven to 325 degrees F.
Grease 10-inch cast iron skillet with 1 tablespoon butter.
Pour blackberry pie filling in skillet.
Top with cherry pie filling and using a spoon or a spatula, spread it around on top of the blackberry pie filling, but don't completely mix them together.
In a mixing bowl, add 1 cup of cake mix and oatmeal and toss with fork.
Cut remaining 4 tablespoons of butter into 16 pieces (each tablespoon of butter cut into 4 pieces) and add to cake mix and oatmeal.
Using fingers, crumble butter into cake mix/oatmeal mixture until it resembles coarse crumbs.
Spread evenly over berries in skillet.
Top with chopped walnuts.
Bake in preheated oven for 45 minutes; after 45 minutes, check to see if berries are bubbling up through the crumbly crust.
If berries are not oozing up through the crust, remove from oven and use a regular dinner knife inserted in the crumble to move it aside to allow berries to peek through (see Tip #2).
Return to oven and continue baking 15 minutes to 30 minutes until bubbly and golden brown.
Total cooking time: 1 hour to 1 hour 15 minutes.
Serve warm from the oven topped with vanilla ice cream.
Serves 8 to 10.
Tips:
Can be made in a 7 x 11 inch glass pan. If using glass pan, increase oven temperature to 350 degrees F.
Allowing the berries to ooze through the crust releases steam, which makes for a crunchier topping.
Don't use instant oatmeal – it will make your dump cake gooey.
What is your favorite cake mix flavor?
Latest posts by AllFreeCasseroleRecipes
(see all)