This blog post comes to us from AllFreeCasseroleRecipes' Featured Foodie, Carole, author of the blog Toot Sweet 4 Two.
Having a family get-together for Easter? May Day? Mother's Day? Or a tea party with girlfriends? Springtime Layered Salad is just the side dish to serve for a small crowd. Made the night before, it is one less thing to worry about on the day of your party. Plus, with lots of fresh vegetables in pretty spring colors, it looks beautiful and delicious on your dinner table or buffet.
Speaking of buffet, this is a great "potluck" addition, too! Make it the day before your potluck gathering and you won't have to rush to get out the door to get to your destination on time.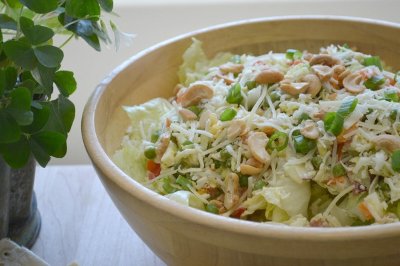 Spring Layered Salad
Serves 12
Ingredients:
8 slices of thick-sliced bacon, cooked, cooled and chopped
4 eggs, hard-boiled, peeled and chopped
1 cup shredded Parmesan cheese
1 cup cashews, chopped
1 head of iceberg lettuce, shredded, chopped or torn into small bit-size pieces
1 bunch green onions, sliced – both green and white parts
1 (8-ounce) can of sliced water chestnuts, drained
1 cup radishes (about 6 normal size radishes), thinly sliced
1 cup carrots, peeled and Julienned or shredded (about 2 carrots)
1 cup mixed bell peppers (red, green, orange and yellow), seeded and chopped
1 large tomato, seeded and chopped
1 (16-ounce) package of frozen petite peas, defrosted and drained well
1 cup mayonnaise (may need more, depending on the size of your bowl)
1 tablespoon sugar
Directions:
Prepare the bacon; once cooled, place in refrigerator container or baggie and refrigerate until the next day.
Prepare the hard-boiled eggs; once chopped, place in refrigerator container or baggie until the next day.
Measure the cheese; place in baggie and refrigerate.
Measure the cashews and place in a baggie for the next day.
In a large salad bowl, layer the rest of the ingredients as follows: iceberg lettuce, green onions, water chestnuts, radishes, carrots, peppers, tomatoes and peas.
Cover the top of the salad with the mayonnaise, smoothing with a spatula from edge to edge, so that the vegetables are covered with the mayonnaise (this is tricky to do because the peas will roll around and stick to the mayonnaise!).
Sprinkle the sugar over the mayonnaise.
Cover with plastic wrap; place the plastic wrap right on top of the mayonnaise, sealing so that no air gets into the salad (otherwise, your salad with create condensation, making the salad soggy).
Refrigerate over night.
When ready to serve, remove from refrigerator and add the bacon, eggs, cheese and cashews and toss thoroughly.
If the salad seems a little too dry, add a little more mayonnaise and toss again.
 
TIPS:
Make in a glass bowl for a dramatic presentation (like a trifle bowl). Carefully layer the ingredients so that the layers show. If using a large glass bowl, in order to see the layers, place more of the lettuce in the center of the bowl, creating the layers around the outside of the lettuce.
If transporting in a large bowl with a lid (such as a plastic bowl with a lid), place your bacon, eggs, cheese and cashews (all in their separate baggies) on top of the salad once it has been covered with plastic wrap. Then place the lid on the bowl and voilà, everything is together in one bowl and you won't forget it!
If transporting to a potluck gathering, be sure to take salad tongs and extra mayonnaise (just in case the salad needs a little bit more).
What event would you make this salad for?
Latest posts by RecipeLion
(see all)