This blog post comes to us from AllFreeCasseroleRecipes' Featured Foodie Carole, author of the blog, Toot Sweet 4 Two.
Spring Vegetable Gratin is the perfect recipe for a family gathering or a party. Deliciously creamy with a satisfying cheesy goodness, the toothsome mix of vegetables gets an added crunch from the buttery cracker topping.
Made with frozen vegetables, you don't need to rush to your favorite farmers' market to get a mix of vegetables at their peak of freshness. And, with Easter around the corner, this easy recipe can be made ahead and refrigerated for reheating just in time for your Easter brunch. And, if you are expecting a crowd, just double the recipe.
With a mix of vegetables in greens, orange, yellow and white, Spring Vegetable Gratin is a colorful addition to your holiday table. Plus, the creamy white sauce transforms into a lovely soft shade of apricot once the cheese is added. Who wouldn't want to eat these vegetables on the side for brunch or dinner? Even picky eaters will ask for more!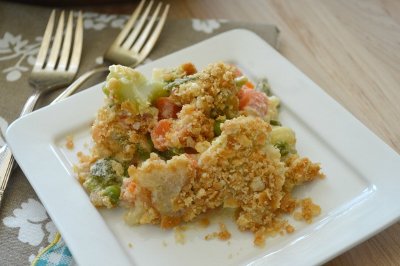 Spring Vegetable Gratin
Ingredients:
2 14-ounce packages of frozen broccoli, cauliflower and carrot blend
1 cup frozen corn
1 cup frozen peas
1 cup frozen cut green beans
1/4 cup butter plus 2 tablespoons butter, divided
1/4 cup flour
3 cups milk
2 cups grated Cheddar cheese
1 sleeve butter crackers
Non-stick cooking spray
Prepare the vegetables:
Cook all the frozen vegetables in the microwave (in a microwave-safe dish) per package instructions.
Drain microwaved vegetables in a colander to remove excess moisture.
Once vegetables are cool enough to touch, cut the larger chunks of the broccoli, cauliflower and carrots into smaller pieces with a paring knife.
Continue to allow vegetables to drain in colander while you prepare the rest of the dish.
Spray a 9″ x 13″ glass casserole dish with non-stick cooking spray and set aside.
Make the cheese sauce:
In a saucepan, melt 1/4 cup butter over medium-low heat.
Add flour and stir to combine; continue cooking and stirring for a few minutes until flour is a thick ball.
Add milk all at once, stirring constantly; continue cooking and stirring for about 5 minutes until sauce has thickened and there are no lumps.
Add cheese and stir until cheese has melted and is thoroughly combined with the white sauce.
Remove sauce from heat and set aside.
Finish the casserole:
Preheat oven to 350 degrees F.
Place drained vegetables in a large mixing bowl and add cheese sauce.
Stir to combine and pour mixture into prepared 9″ x 13″ casserole dish.
Melt 2 tablespoons butter in the microwave in a microwave-safe dish.
Put butter crackers into a plastic baggie, seal (release the air) and crush crackers into crumbs with fingers.
Mix crushed butter crackers with the melted butter.
Sprinkle butter cracker mixture over top of cheesy vegetables in the casserole dish.
Bake for 30 minutes until lightly golden brown and bubbly.
Serves 8 to 12 depending on the portion sizes and your guests' appetites!
NOTES:
If preparing ahead, leave buttered crackers off the top of the casserole. Cover the casserole with plastic wrap or aluminum foil and refrigerate up to two days. When ready to cook, remove from refrigerator and allow to come to room temperature for about 30 minutes. Then, prepare the butter cracker topping and add to the top of the casserole. Bake per instructions above.
What side dishes do you make for Easter?
Latest posts by AllFreeCasseroleRecipes
(see all)