This guest blog comes to us from Brandy Gamoning at NestFresh Eggs.
At NestFresh, we get a lot of questions from bakers and dessert-lovers about what to do with extra yolks. They use egg whites in meringues or other desserts and hate to waste the bright, nutrient-packed yolks that are left over. We decided to develop a recipe to help with this dilemma. We tinkered around with different recipes that would really highlight the best qualities of the egg yolks. The resulting Egg Yolk Cookies have a full, creamy flavor. Plus, they are really dense, making them perfect for dunking in warm milk, coffee, or any other drink to warm you as the weather cools. With pumpkin pie spice and brown sugar, they also celebrate the best flavors of the season.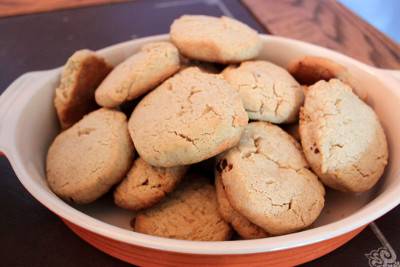 Egg Yolk Cookies
Ingredients:
1 cup butter
1 cup brown sugar
6 NestFresh Egg yolks
2 teaspoons vanilla extract
2 cups flour
1 teaspoon baking soda
1 teaspoon cream of tartar
1 teaspoon pumpkin pie spice
Instructions:
Cream the butter and the brown sugar in a large bowl.
Add the NestFresh Egg yolks and vanilla extract and mix well.
In a separate bowl, mix the flour, baking soda, cream of tartar, and pumpkin pie spice.
Add the dry ingredients to the wet ingredients and mix well.
Once ingredients are uniformly mixed, roll the dough into a log.
Slice dough into cookies about ¼ inch thick.
Lay the cookies onto a baking sheet lined with parchment paper.
Bake at 325 degrees F for 10 to 12 minutes.
NestFresh Eggs is a sustainable, humane egg company that produces 100% cage free eggs at family farms across the country. Learn more about their full line of cage free, organic, pasture raised, free range, and non-GMO eggs at their website. For more recipes, you can also visit their blog or follow them on Twitter or Facebook.
What do you do with leftover egg yolks?
Latest posts by RecipeLion
(see all)