This recipe is brought to you by RecipeLion Featured Foodie, Carole, author of the blog Toot Sweet 4 Two.
Moist and flavorful, Man-sized Meatloaf Muffins are sure to become a family favorite. Simple ingredients that most have on-hand, these can be assembled ahead of time and then popped in the oven on a busy night. Or, you can bake them, freeze them, and reheat in the microwave! And, the generous portion size leaves no one wanting seconds!
The secret to these light and moist Man-sized Meatloaf Muffins is two-fold: (1) use ground beef with the 80/20 ratio (20% fat) and (2) don't leave any of the wet ingredients out! Made in a large, 6-cup muffin tin, these Man-sized Meatloaf Muffins are also easy to remove from the pan.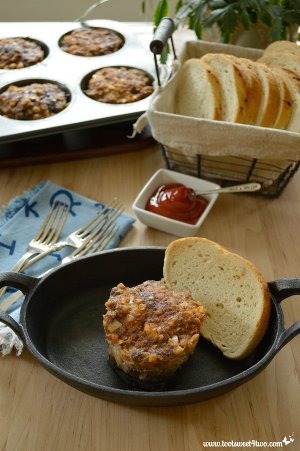 Man-Sized Meatloaf Muffins
Makes 6 6-ounce meatloaf muffins
Ingredients:
1 tablespoon vegetable oil or canola oil
24 ounces ground beef (80/20 mixture)
12 ounces lean ground pork (not sausage)
1 small yellow onion, peeled and finely chopped
2 cloves garlic, peeled and finely diced
1/2 cup whole milk
1 egg
1 tablespoon Worcestershire sauce
1 tablespoon Dijon mustard
1/2 cup ketchup
1/2 teaspoon ground black pepper
20 saltine crackers (about 1/2 of a sleeve), crushed
Directions:
Preheat oven to 350 degrees F.
Grease 6-cup muffin tin with vegetable/canola oil and set aside.
Place saltine crackers in a Ziploc bag, seal and crush using hands and fingers until crackers are in small pieces, but not crumbs; set aside.
In large mixing bowl, add ground beef and ground pork; using hands, gently mix to combine.
Add onions and garlic; do not mix.
Add crushed crackers; do not mix.
In a 2-cup liquid measuring cup, measure milk.
Add egg to measuring cup of milk and beat with fork until well-combined.
Measure Worcestershire sauce, Dijon mustard, ketchup and black pepper into measuring cup with milk and egg.
Beat with fork until well-combined; mixture will thicken to the consistency of a creamy salad dressing.
Pour mixture into bowl with the ground beef mixture.
Using hands, gently combine mixture; do not over mix.
Scoop into muffin tins, distributing evenly into the 6 cups.
Bake for 40 minutes.
Remove from oven and allow to cool for 5 minutes.
Using small flexible spatula, loosen edges around each muffin and gently lift out of tin to serve.
NOTES:
Recipe can be easily doubled. Make two batches – one for dinner now and one to freeze for dinner later.
Make ahead: make the night before and scoop into muffin tin, cover with foil and refrigerate. The next night, remove from refrigerator while oven preheats. Then bake 40 to 45 minutes at 350 degrees F.
Freeze baked leftovers for later: wrap leftovers in aluminum foil and freeze. Defrost overnight in the refrigerator. When ready to serve, place in microwave-safe container and microwave for 2 or 3 minutes (depending on your microwave).
What is the origin of your favorite meatloaf recipe?
Latest posts by RecipeLion
(see all)