On Memorial Day, I always spend the day thinking of my Uncle Dave.  Dave was a Vietnam vet and my godfather, and he passed away a few years ago.  Before he died, David  would plant and tend a huge garden in their backyard every year.  Each summer we could look forward to fresh-picked green beans, cherry tomatoes, and arm-fulls of sweet cucumbers.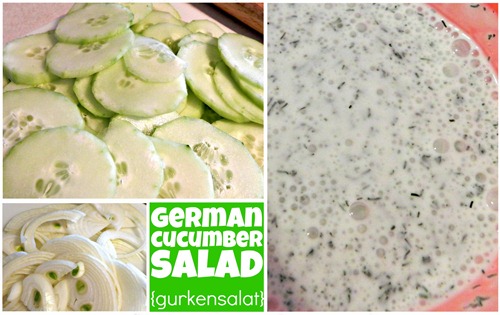 While it's too early to pick fresh cucumbers from the garden, this seasonal recipe's fresh taste can be enjoyed all summer long.  Make this cucumber salad as a side for your Memorial Day barbecue or take it along to a block party potluck.  It is sure to be a hit!
This recipe is at its best when you can use garden fresh cucumbers, onions, and dill, but store-bought produce and dried herbs are also delicious. If you are very health-conscious, you can omit the sour cream and marinate the vegetables in a simple vinaigrette.
Gurkensalat is the perfect accompaniment for summer meals.  The tangy dressing cuts through the unctuousness of grilled meats, and the creaminess is a great compliment to chicken or fish.  The salad gets better as the veggies marinate in the dressing, so this is also a perfect dish to make a day ahead of time!
To be honest, I don't usually measure anything when I make this salad.  I start with a dollop of sour cream and then add the other dressing ingredients to taste.  That way I can get the dressing to just the right balance of creamy and tangy.
This recipe is very adaptable!  Try replacing the sour cream with Greek yogurt or adding goat cheese or olives into the mix for a more Mediterranean taste.
GURKENSALAT German Cucumber Salad
Salad:
2 cucumbers
1 medium onion
Dressing:
1/4 cup sour cream
1 tsp. sugar
3 T. vinegar
Dill, to taste
Peel and thinly slice both of the cucumbers and the onion.  Place them in a large bowl.
Mix together sour cream, sugar, vinegar, and dill.  Pour over salad.  Toss to coat.
Refrigerate for a few hours before serving.
BONUS CONTENT!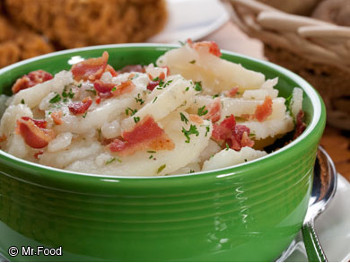 What main dish would you pair this cucumber salad with?
Latest posts by FaveHealthyRecipes
(see all)