When I think of spring, I instantly imagine bright green grass, colorful blooming flowers, and an abundance of freshly laid eggs! A holiday brunch would not be complete this season without a Ham, Egg, & Cheese Crescent Roll Casserole, which can be prepared in advance with just a few simple ingredients. Pair it with a fruit salad and you have an easy, complete meal that is fancy enough for entertaining, but fast enough for a weeknight dinner!
I love to keep an arsenal of quick recipes on hand that combine basic ingredients in delicious ways. These are the meals that I turn to when I need a crowd-pleasing dish, but I don't have hours to spend in the kitchen. After all, in a busy house with 3 boys running around, my time is limited and I am always distracted!
This brunch casserole takes advantage of refrigerated crescent roll dough to keep your prep time minimal. As the dough and the eggs puff up and bake in the oven, the crescent rolls form a crust that envelopes the other ingredients. It's like magic, and it just happens to taste pretty incredible, too!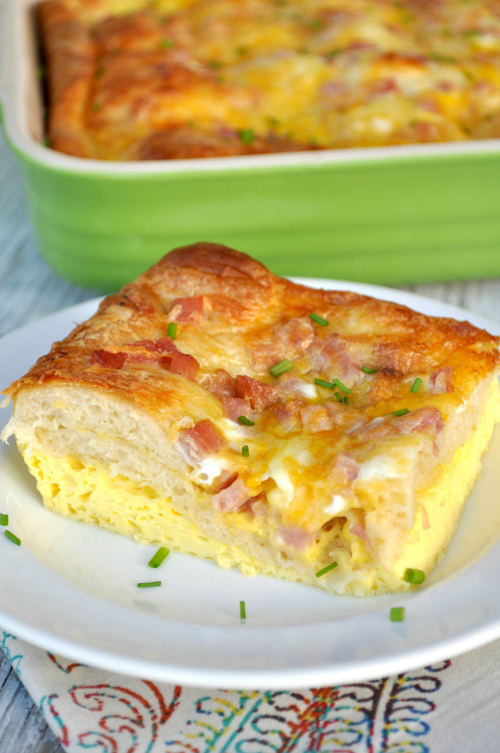 I love that I can prepare this dish in advance so that I'm not scrambling at the last minute to get a meal pulled together when we're ready to eat. If you're serving it for brunch, go ahead and put it together the night before so that you can just bake it in the morning. If it's the main course for a busy weeknight supper, simply prepare it during naptime (or any other quieter time in your day!) and bake it when your family is ready to eat. It's a great way to combine the classic flavors of a ham, egg, and cheese breakfast sandwich in a dish that feeds a crowd and requires a lot less work!
If you're looking for some other simple recipes that would pair perfectly with this casserole, try a Quick and Very Easy Fruit Salad or Aunt Bee's Sour Cream and Cheese Potatoes, which only require 4 ingredients and are delicious for both brunch and dinner!
Happy spring!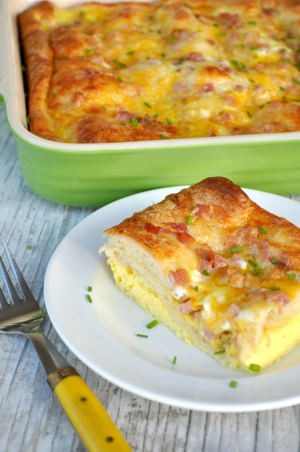 Ham Egg and Cheese Crescent Roll Casserole
Serves 6
Prep Time: 10 mins
Bake Time: 40 mins
Level of Difficulty: Easy

Ingredients:
2 (8 ounce) cans refrigerated crescent roll dough
1 ½ cups cooked, diced ham (I love to use left-over Honey Baked Ham)
1 cup shredded cheddar cheese
6 eggs
2 cups milk
Salt and pepper, to taste
Optional: Fresh chives, chopped

Instructions:
Preheat oven to 375 degrees F. Spray a 13-inch x 9-inch baking dish with cooking spray and set aside.
Unroll crescent dough and spread in the bottom of the prepared dish.
Place diced ham on top of crescent rolls. Sprinkle with cheddar cheese.
In a medium bowl, whisk together eggs and milk. Add salt and pepper, to taste.
Pour egg mixture over ham and cheese.
Bake, uncovered, for 35 – 40 minutes, or until eggs are set.
Garnish with fresh chives just before serving!
On her blog The Seasoned Mom, Blair Lonergan documents life with her husband and three boys in Central Virginia's Piedmont countryside. She shares the simple activities that entertain her little ones, as well as the easy, nutritious, and family-friendly recipes that her kids devour!
What are some of your favorite make-ahead brunch recipes? Do you go for egg casseroles too, or do you prefer a sweeter French Toast bake?
Latest posts by RecipeLion
(see all)