Kate Middleton and Prince William are celebrating a special day today. It has officially been a year since little Prince George was born! You can celebrate Prince George's first birthday with this Birthday Icebox Cake! Still, it doesn't have to be your birthday for you to want this amazingly easy cake.
AllFreeCasseroleRecipes noticed that there was a delicious and potentially dangerous trend going around, so we just had to jump on it. It's called the oreo icebox cake. If you haven't heard of it yet, welcome to your worst nightmare. These icebox cakes are so easy, yet so good. Most of them contain a few simple ingredients: Oreos, Cool Whip, and some other toppings. While it doesn't sound like much, it is heaven in a plate. It's basically giving you an excuse to eat cookies with whipped cream…
The fact that this Birthday Icebox Cake is made with just four ingredients – and that you probably already have these lying around your house – makes this very hard to resist.
Birthday Icebox Cake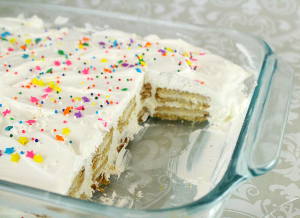 Ingredients:
1 cup milk
2 packages Nabisco® Oreo Golden Birthday Cake cookies
2 (12-ounce) tubs Cool Whip, thawed
Sprinkles (optional, but highly recommended)
Directions:
1. Pour milk into a shallow bowl. Dunk one cookie into the milk, making sure to cover it completely. Lay flat in 9 x 13 inch baking dish. Repeat with each cookie, lining them up into uniform rows until they cover the bottom of the baking dish.
2. Using a rubber spatula, spread one tub of Cool Whip over cookies in a thick layer. Do not pat down or flatten.
3. Add another layer of cookies on top of the Cool Whip, using the same milk-dunking method. Add another generous layer of Cool Whip using the remaining tub.
4. Cover with foil or plastic wrap and let set in freezer overnight. When ready to serve, garnish with sprinkles, if desired.
If you love the Royal Family, check out 8 more recipes that celebrate Prince George's birthday!
What are you celebrating this year?
Latest posts by AllFreeCasseroleRecipes
(see all)