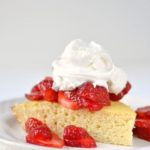 There is nothing more satisfying than digging into a large, delicious piece of cake. It doesn't matter the shape or size; from mini cupcakes to large sheet cakes, the combination of fluffy cake and creamy frosting just can't be beat. Whether your favorite is a chocolate-laden monstrosity or a simple angel food cake, it is one of life's simple pleasures.
Just because you follow a healthy lifestyle doesn't mean that you can't also enjoy cake! These cakes are all full of sweet and delicious cake flavor but won't ruin your diet. I swear, these cakes are actually all healthy but don't taste like it. Don't believe me? Then you're definitely missing out on some incredible healthy dessert recipes.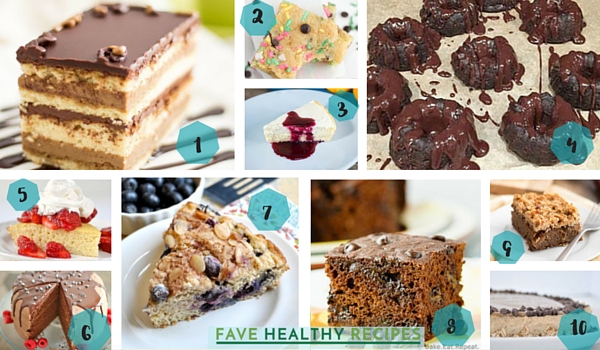 Healthy Cake Recipes
1. Paleo Opera Cake – If you have the patience, this cake is one of the yummiest combinations ever. With chocolate and coffee flavors layered with smooth buttercream, your taste buds won't know what hit 'em.
2. Healthy Cake Batter Blondies – Okay, I know these aren't actually cake, but they taste like cake. How could I not include these sweet bars? Plus, they're gluten and dairy free.
3. Miss Kate's Crustless Cheesecake – This New York copycat is made with low-fat cream cheese and sour cream to make it a lighter version with all the same delicious flavor.
4. Skinny Chocolate Peanut Butter Cakes – Chocolate and peanut butter were just meant to be together, and these individual cakes are just adorable, too.
5. Sinless Strawberry Shortcake – The mountain of strawberries adds more sweetness to the already light and fluffy shortcake, and a dollop of whipped topping tops this cake off.
6. Mile High Chocolate Therapy Cake – No collection of cake recipes would be complete without a chocolate cake recipe, and this one is the mother of all cake recipes. Chocolate cake is layered with light, fluffy buttercream frosting and then topped with even more chocolate…no wonder it's called "therapy cake!"
7. Lightened-Up Blueberry Coffee Cake – Do you really need an excuse to eat cake for breakfast? Regardless, this coffee cake recipe is actually packed with fresh fruit and whole grains.
8. Healthy Chocolate Banana Cake – Bonus chocolate time: This cake is chocolate…with extra chocolate chips! And of course it's healthy, otherwise, it wouldn't even be on this list!
9. Paleo Queen Elizabeth Cake – If you don't like frosting on your cake then this recipe is for you! This caramel-colored cake is topped with shredded coconut and chopped pecans for a crunchy finish.
10. No-Bake Salted Caramel Vegan Cheesecake – This creamy cheesecake doesn't even have cream cheese in it. I'm serious. All of the deliciousness of regular cheesecake without all of the fattening parts? It's not too good to be true!
Which of these healthy cake recipes sounds the best to you? Tell us in the comments!
Latest posts by FaveHealthyRecipes
(see all)