When the thermostat starts to drop and forecasts of colder weather are on the horizon, it's easy to put exercise on the back burner. If it's rainy, snowy, or just plain cold outside, most of us avoid exercise like the plague. We would much rather curl up on the couch eating a warm, comforting casserole than get our butts to the gym. However, bikini season ending is not license to give up exercise completely. With these health and fitness tips, learn how you can lose weight when it's cold outside.
Outdoor Exercise
Just because Jack Frost has started nipping at your nose doesn't mean you need to be forced inside. Running outside is one of the most efficient workouts. Plus it's way more engaging than the gym. So keep it up, even in the cold. You can still exercise outdoors, but make sure you follow a few safety precautions first.
Dress in Layers – Once you warm up, you can peel off the extra layers to cool down. Start with a lightweight synthetic material like DryFit or TherMax to wick moisture away from your skin.  Avoid heavy cotton materials as these absorb sweat, trapping wetness close to your body, which can increase your risk of hypothermia. Next, add a layer of fleece for insulating warmth. Finally, top it off with a lightweight, water-repellant and wind-resistant material.

Stay Hydrated – When it's cold, you sweat less so it's harder to feel the effects of water loss. Make sure you are drinking a lot of water, even if you aren't thirsty.
Protect your Extremities – Gloves, thick socks, and a hat are a must. Remember, you lose a ton of body heat from your head.
Find the Right Shoes – Buy a pair of running shoes that can endure puddles, slush, snow, and ice. Look for footwear with trail-specific models that have good traction, tough soles, and extra upper padding.
Warm Up – Before you head outside, stretch and do some jumping jacks inside to get those muscles (and yourself) warm.
Work Out At Home
When leaving your house is just not an option (I'm talking about you, Polar Vortex), you can always exercise at home. Here are some ways to get slim without a gym.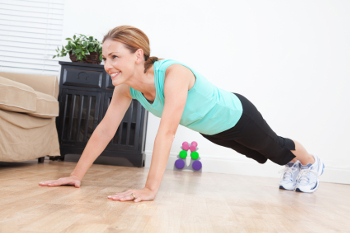 1. HIIT @ Home – High Intensity Interval Training (also known as HIIT) is all the hype lately. Quick, intense bursts of exercise will speed up your metabolism and make you burn a lot of fat in a short amount of time. Plus, you can do HIIT workouts anywhere at anytime like this 10-minute HIIT Full Body Workout from The Miss Fit Mama: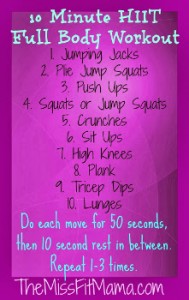 2. At-Home Cardio – Jumping jacks, squats, burpees, and running up and down the stairs are all ways to get your heart rate up from inside your house.
3. Work Out Videos – You can order specialty videos, but a lot of workout routines are available online for free. Search YouTube for quick ab videos, pilates, or guided yoga instruction. Try this 10-Minute Abs Workout.
Make The Gym Fun
The treadmill and elliptical can get boring really fast, so shake up your workouts by trying group exercise classes like spinning, kickboxing, or zumba. Fitness classes are a super fun way to get in shape. Many gyms offer some of the coolest classes, too. For instance, my gym has Aerial Yoga and Tai Chi.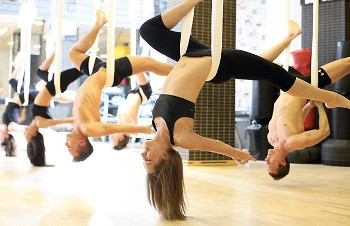 Healthy Eating


Colder weather means holiday season, and holiday season means food. Lots of it. From cookies to casseroles to pies, it may be hard to keep your weight under control. Here are some tips to avoid the holiday bulge.
80:20 Diet Rule – This is a great approach to healthy living because it understands that depriving yourself simply isn't sustainable. Your diet should be eight parts healthy and two parts indulgence. 80% of the time you should be eating clean and wholesome foods and the other 20% you are allowed to treat yourself.
Portion Control – You can still eat the stuffing and sweet potato casserole as long as you take a sensible portion. A small scoop will be enough to satisfy you without ruining your diet. Also, wait at least 10 minutes before going up for seconds to see if you're actually still hungry or if you just want a second piece of pie because it tastes good. I know holiday dinners have tons of food, but that doesn't mean that you have to eat it all in one sitting. Save yourself from a food coma and wait until tomorrow to get your seconds.
Eat More Vegetables – When you're fixing your dinner, try and fill half your plate with vegetables. Even better, incorporate vegetables into your main meals. Instead of eating carb-heavy pasta, use zucchini "zoodles" instead.
Eat More Grains – Quinoa, flax, chia. These super foods are super nutritious, high in protein, and very filling.
Drink Up – Make rejuvenating smoothies for healthy breakfasts or snacks and to aid in post-workout recovery.
Cook healthier comfort foods – Try these lighter versions of classic comfort foods:
How do you stay healthy when the weather gets cold?
Latest posts by FaveHealthyRecipes
(see all)