Looking for an appetizer to bring to a potluck or picnic? These Healthy T Lite Ham and Cheese Sliders are so tasty and perfect for any occasion: baby or bridal shower, funeral, Easter, Memorial Day, Fourth of July—you name it!
I've put a healthier spin on Hawaiian roll recipes by using light, budget-friendly ingredients.
These sliders are the perfect finger food—made in about 30 minutes with fewer than 10 ingredients! I highly suggest serving these sliders warm. If you're bringing them somewhere, wrap them in foil before you go.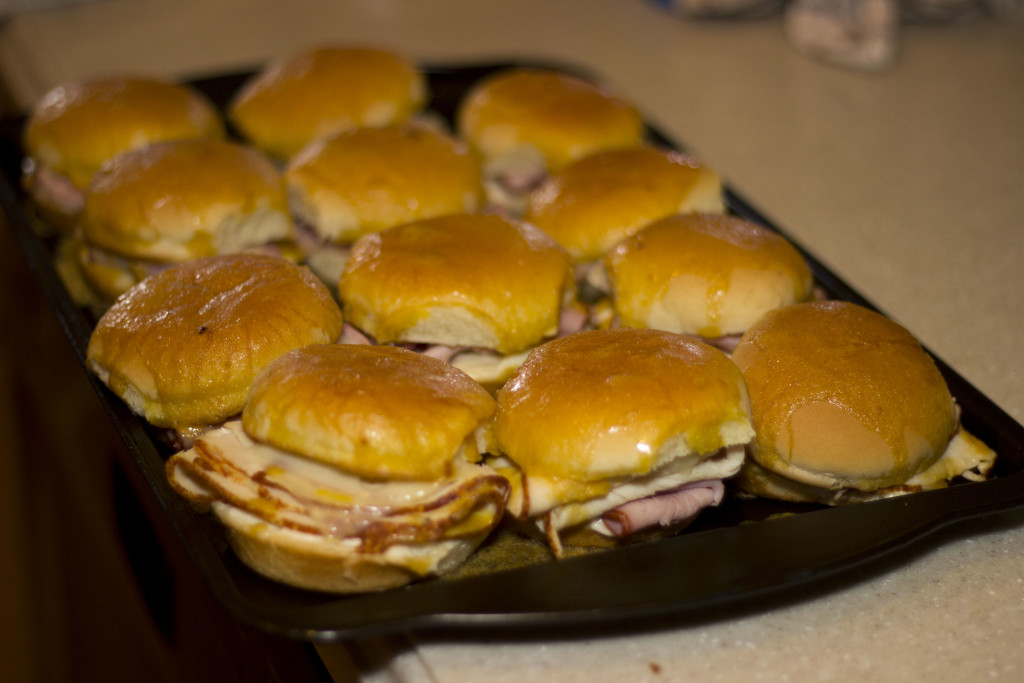 If you don't like Dijon mustard, you could totally make these with a regular yellow mustard. I've also played around with using other lunch meats (i.e., chicken, turkey), and the sliders still taste delicious! You could even combine multiple meats. It's hard to fail at this recipe—I promise!
This Healthy T recipe is simple, delicate and packed with flavor!
Tip: It's important to let your sauce sit on top of the buns for about 10 minutes before you cook the sliders to make sure the flavor spreads and the buns don't burn.
Optional: Add 1T poppy seeds to your sauce mix for added flavor.
Healthier Ham and Cheese Sliders
Serves 12
Ingredients
1 lb. sliced honey ham
6 slices thin-cut Swiss cheese
1.3 cup lite mayonnaise
1.5 T Dijon mustard
1/2 cup lite butter, melted
1T onion powder
1/2 tsp. Worcestershire sauce
1T brown sugar
12 slider buns (I like Healthy Life Light)
Instructions
Coat a baking sheet with non-stick spray and spread mayonnaise on the bottom half of all the buns. Preheat oven to 350 degrees.
Place 1-2 slices of ham on each roll. Tear the slices of Swiss cheese into smaller pieces and place cheese on top of the ham.
Replace the tops of the buns. Bunch closely on the baking sheet. In a medium bowl, whisk together sugar, butter, mustard, onion powder, and Worcestershire sauce.
Pour sauce over tops of rolls. Lightly cover the rolls with foil. Let sit for 10 minutes. Cook at 350 degrees for 10 minutes, or until cheese melts.
Uncover the rolls, cook for an additional 2 minutes until the buns are a little crisp and brown. Serve warm!
ENJOY!
Where would you serve these easy sandwiches? Let us know below in the comments!
Latest posts by Tarah Thorne
(see all)