This post is brought to you by Anjali Shah, creator of The Picky Eater blog. Anjali creates and writes about healthy food that she claims is "husband approved."
The husband loves Thai Yellow Curry. It's pretty much guaranteed that when we visit a Thai restaurant, he will order some form of curry: Yellow, Panang, Red, and occasionally Green. He'll never order a stir fry or noodles, although he does like Pad Thai from time to time.
I love curry too.
But, I usually order stir frys at Thai restaurants because the curries are SO heavy and full of cream and oil.
So of course my mission became: to makeover Thai Yellow Curry in our kitchen – making it healthier but still "husband approved" and restaurant quality!
My main healthy swaps included:
Light coconut milk instead of regular
TONS of spices instead of cream/oil
TONS of veggies for great texture
The result?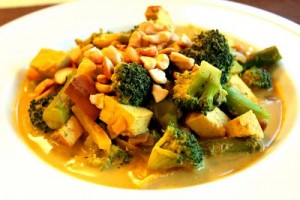 The best yellow curry we've ever had!
Thai Yellow Curry with Veggies, Cashews and Tofu
Ingredients
2- 3 cups light coconut milk ( about 20 oz)

3- 4 tablespoons high quality curry powder (I like the one from Trader Joe's)

1/2 teaspoon fine grain sea salt ( or more to taste)

1 large red onion, chopped

3- 5 medium garlic cloves, chopped (adjust the amount of garlic based on how spicy you like it)

8 ounces firm tofu, cut into small cubes

Veggies

: 2 heads of broccoli , 1 pound asparagus – chopped, 1 yellow pepper, thinly sliced

1/3 cup chopped cashews, toasted

a handful of cilantro, loosely chopped (optional – I like cilantro but the husband doesn't, so I omitted this)

1/8- 1/4 tsp cayenne pepper (if you like things spicy)

Cumin, cardamom and pepper ( to taste – I used about 1 tsp cumin, a sprinkling of cardamom, and a pinch of pepper)

Brown rice for serving
Directions
Cut all your veggies. Saute the onion and 2 cloves chopped garlic in 1/2 tsp olive oil in a large pot over medium heat. Add 2 Tbsp curry powder and salt and stir until combined.
Add the coconut milk to the onion mixture, bring to simmer and work out any clumps. Stir in the tofu and cook for a few minutes until the tofu has absorbed most of the flavors. Simmer the liquid on low heat until it has cooked down slightly.
Meanwhile, in a large pan, saute the broccoli, asparagus, and pepper (or whatever veggies you use) with 2 cloves chopped garlic over medium heat. Add salt, cayenne, and remaining curry power/cumin and other spices to taste. Cook until veggies are crisp.
Pour tofu/coconut milk mixture over veggies (in the pan) and stir to combine.
Add additional spices as needed. Cook through for a few minutes.
Remove from heat and stir in cashews. Serve with brown rice.
Have you ever made Thai food at home?
Latest posts by FaveHealthyRecipes
(see all)