It's okay to splurge on a tasty treat once in a while. One of our favorite splurge treats is cake. It's soft, moist, comforting and is often an essential part of big gatherings, like birthday parties or weddings. It's almost impossible to refuse a slice of cake, no matter how much it will ruin your diet.
What if we told you that there was a way to consume this delectable dessert without worrying about working off all those extra calories? Well now there is, thanks to our latest free eCookbook, 8 Healthy Cake Recipes for Any Occasion. We featured a wide variety of cakes that are perfect for anytime throughout the year, including light, fruity cakes for summer and decadent, comforting chocolate cakes for winter. No matter what you're craving, we should have a recipe for you in here.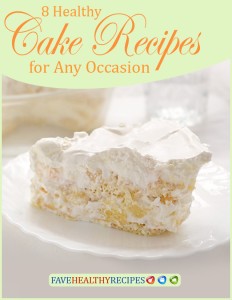 The best part about these healthy dessert recipes is that many of them incorporate easy ingredient swaps to make them more nutritious, such as replacing butter with applesauce. That way, you can still enjoy the same sweet, rich flavors as regular cake without adding any extra inches to your waistline. It looks like you can have your cake and eat it too!
To enjoy this eCookbook, all you have to do is download your free copy from our site. From there, you can decide whether you want to access 8 Healthy Cake Recipes for Any Occasion on your computer, tablet, or smart phone, or you can print it out and keep it where you store your other cookbooks. It's completely up to you!
Here's a RecipeChatter sneak peek at a few of the healthy dessert recipes you'll find in 8 Healthy Cake Recipes for Any Occasion:
Fruit Tiramisu Cake
Nothing says "summer" like the delightful combination of pineapple, ladyfingers and light, creamy yogurt. It tastes absolutely heavenly, and it doesn't even require you to turn on your oven.
Chocolate Strawberry Layer Cake
The rich chocolate in this healthy dessert recipe is a perfect contrast to the fresh, sweet strawberries. You'll find that this tasty treat is impossible to refuse – and once you taste it, you'll have a hard time believing that it's vegan-friendly!
The Banana Split Icebox Cake
The picture doesn't lie – this cake is just as delicious as it looks. It's the perfect combination of creamy and crunchy, and it's the perfect light, effortless dessert to whip up on a hot summer day
Interested in seeing what other healthy cake recipes are featured in this eCookbook? Watch this video – the cakes are so dreamy, that you'll instantly be convinced to download your copy of 8 Healthy Cake Recipes for Any Occasion instantly!
What's your favorite cake recipe to indulge in?
Latest posts by FaveHealthyRecipes
(see all)