Who says that dessert has to be a "guilty" pleasure? FaveHealthyRecipes.com has developed a list of 9 healthy dessert recipes for you to indulge in.
These treats taste rich, comforting and scrumptious, but they incorporate simple ingredient swaps to make them more nutritious than most desserts. You'll find that many of these easy dessert recipes create fun and easy ways to get your daily fruit intake. Especially now that the warm weather is approaching, you'll find these recipes use a lot of fruits that are now back in season (like blueberries and bananas).
We have featured a wide variety of cakes, pies, cookies and pastries to satisfy your sweet tooth. No matter what you're craving, at least one of these healthy dessert recipes is guaranteed to curb your appetite.
9 Healthy Dessert Recipes
Cranberry Upside Down Cake (pictured above, left): This delectable dessert is the perfect combination of sweet and tangy. It's perfect for dinner parties.
Fruity Banana Split Pie: Trying to get your kids to eat fruit? This pie combines rich chocolate with fresh bananas, strawberries, pineapple and coconut.
The Apple Pie Remix (pictured above, right): This recipe takes your traditional apple pie and flips it upside down. We're willing to bet you've never had apple pie like this before.
Blueberry Coconut Pecan Breakfast Cookies: Start your morning in a sweet way with these delicious cookies from Kumquat. They're the perfect treat to whip up when you're crunched for time.
Mint Chocolate Chip Cookies (pictured above, left): These cookies taste so scrumptious, that you won't even be able to tell they're healthy for you! A couple of quick, easy ingredient swaps make that possible.
Banana Oatmeal Cookies (pictured above, right): Only three all-natural, wholesome ingredients are required to make this delectable dessert.
Healthy Pecan Almond Toffee (pictured above, left): Believe it or not, it is actually possible to make healthy toffee. Enjoy it any time of the year!
Super Simple Coconut Bark: Looking for easy dessert recipes that are light, chocolatey and perfect for a late night snack? If so, then you mus try this coconut bark.
Fresh Blueberry Doughnuts (pictured above, right): Don't worry about feeling guilty for enjoying a doughnut with your coffee. This recipe from The Scrap Shoppe is much healthier than your average doughnut recipe, due to the fresh blueberries and Greek yogurt.
PLUS: Enter to Win a BeaterBlade Mixer Attachment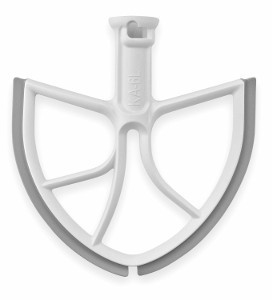 Wish you could speed up the baking process a little bit? We're actually giving away a free kitchen utensil that can help with that. NewMetro Design's BeaterBlade cuts mixing time in half by continuously beating, scraping, folding and mixing the ingredients. It fits tilt-head stand mixers, and is perfect for cookies, frosting, breads and more.
The deadline to enter this contest is March 31, 2014 at 11:59:59 P.M. EST. Click here to read a full review and enter to win!
What are some of your favorite healthy dessert recipes?
Latest posts by FaveHealthyRecipes
(see all)