Trying to think of an out-of-the-box dessert to bring to a potluck this summer, but real short on time? Try this super easy Healthy Dirt Pie Recipe!
What's awesome about my yummy pie by Healthy T is that it contains less than half the calories, fat and carbs of an Oreo pie at most chain restaurants. Plus, it's decadent and filling! And this easy dessert recipe is a real crowd-pleaser – anyone from toddlers or grandparents is sure to love a slice of this gooey goodness!
This dirt pie recipe uses a pre-made Oreo crust to speed up the preparation process. Summer is a great time to get diggin' in the dirt without gaining the pounds if you know what I mean! This healthy dessert recipe is made guilt-free using avocados, cacao powder and peanut powder rather than the typical heavy ingredients such as cream cheese or pudding.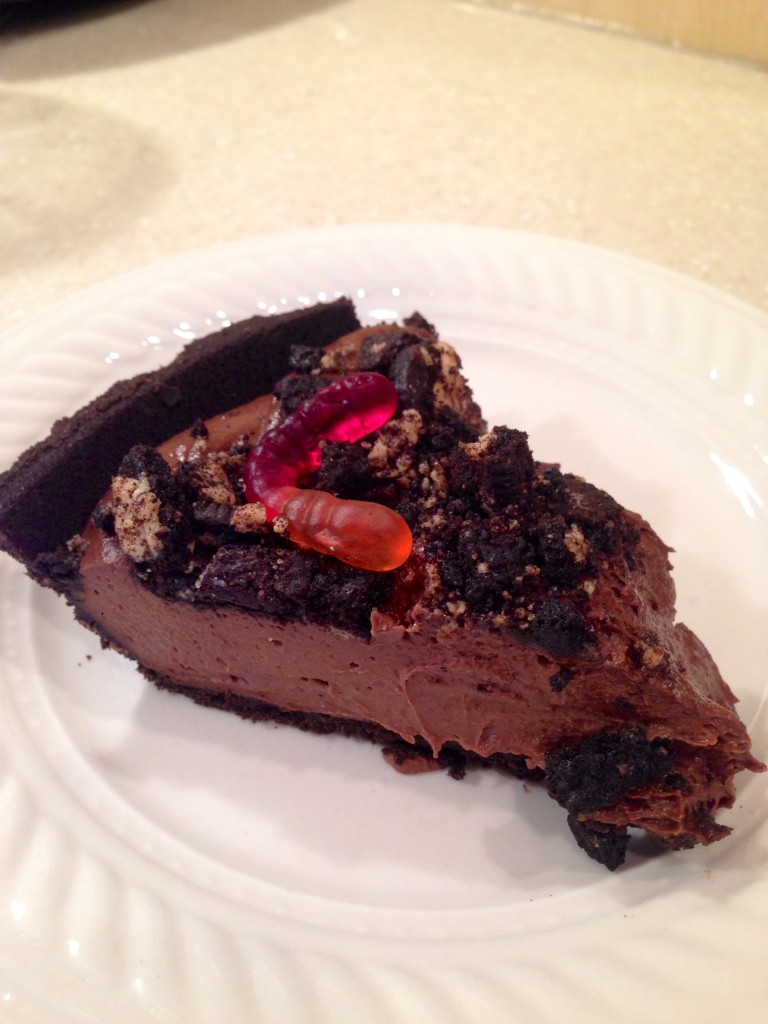 My boyfriend and I were recently reminiscing about those "pudding Oreo pies we used to eat as kids, with the gummy worms." I thought back to our conversation when his birthday rolled around this summer and decided to take a whack at making my own dirt pie – healthy style. I can't bring myself to buy birthday cakes at the grocery store with the mounds of icing that stains your face and gives you a groggy full feeling for days. Anyone else?
Safe to say this healthier pie was a slamming success! Avocados are a magical baking staple if you ask me, and they're filled with the good kind of fat! Yes, I said it – good fat exists, hallelujah.
Go ahead and check out my recipe below. You might just be able to fool your friends into thinking they're eating the real deal, and they'll applaud you when they realize healthy desserts can be just as tasty, if not more tasty!
Healthy Dirt Pie Recipe

Birthday in the family? You've got a family picnic coming up? This sweet treat is sure to do the trick! Healthy T's Healthy Oreo Dirt Pie is brand-new for summer. No one ever grows too old for some gummy worms and Oreos!

Calories: 270 / Fat: 22 g / Carbs: 26 g / Protein: 6 g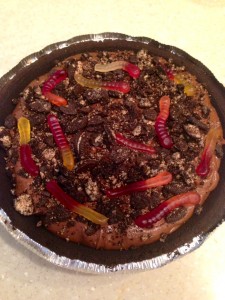 Serves: 10
Prep time: 10 minutes
Chill time: 2-4 hours
Ingredients:
2 ripe avocados
1 cup Truwhip (or Cool Whip)
1/2 cup peanut butter
1/4 cup unsweetened cocoa powder
1/4 cup peanut powder
4 T cacao powder
1 cup milk of choice
pinch of salt
3 T honey
1 pre-made Oreo crust
4 T crushed Oreo cookies
1 handful of gummy worms
Instructions:
Blend the avocados in a food processor.
In a bowl, stir together the blended avocado with peanut butter, Truwhip and unsweetened cocoa powder.
Add peanut powder and cacao powder to the mix. Stir until uniform. Note: Your pudding mixture will become very thick. It's OK!
Now add milk, salt and honey. Blend on medium-high with a hand mixer until the pudding mixture is thin and creamy.
Finally, pour your pudding mixture into your Oreo crust and top with crushed Oreos and gummy worms.
Chill 2-4 hours & enjoy!
What's your favorite dirt pie ingredient?

Latest posts by Tarah Thorne
(see all)