I keep seeing these healthy dump dinners everywhere on blogs and Pinterest and they look so delicious! It's not hard for a recipe to look amazing when it's all cheesy and melty and loaded with things like ground beef and tater tots. We even have our own collection of tasty dump dinner recipes. I'm trying to eat healthy these days, so I admire most dump dinner recipes from afar. I'll admit I have a little bit of dinner envy. The most appealing part of dump and go dinners is that they are so quick and easy! It's not fair, folks.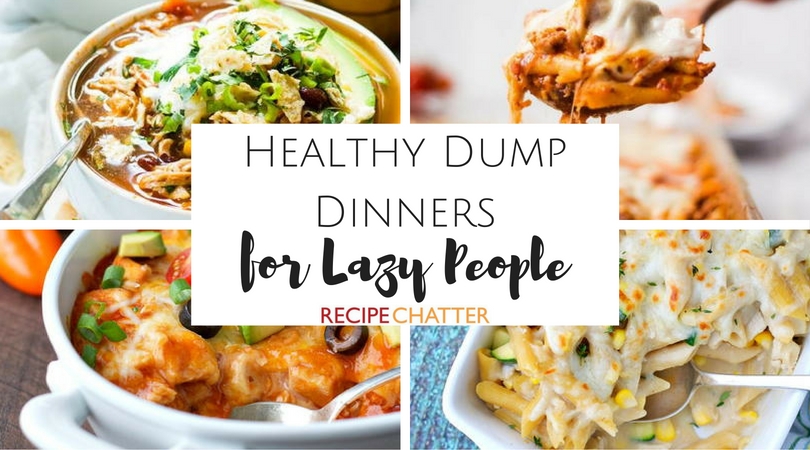 I dug around, trying to find some healthy alternatives to your typical overloaded dump dinners. I did it for us, fellow lazy people who want to be skinny! We deserve all that goodness – quick, easy, delicious dinners – without all the unhealthy stuff. I was surprised at what I found. There is hope! There are healthy dump dinners out there! You can have it all: healthiness, tastiness, and laziness. It's like the trifecta of easy dinner recipes.
After a busy day, it's hard to get the motivation for a complicated recipe. That's why dump dinners are so appealing in the first place. My favorite dump dinners use the slow cooker – it's just plain easy. If I can dump some ingredients in before work and come home to a hot, healthy meal, I'm much more likely to keep eating healthy. When you don't have a plan, you tend to stray.
My favorite healthy dump dinner is this Dump and Go Italian Meatloaf… just take a look at it, it's pretty self-explanatory.
Lazy people, our time of dump dinners has come. Check out this list of amazingly easy dinner recipes from FaveHealthyRecipes.com.
Healthy Dump Dinners
What's your strategy for healthy weeknight meals?
Latest posts by FaveHealthyRecipes
(see all)