Thanksgiving is the only holiday that is solely about food. Okay, you can argue that it's about football and family, and heck – maybe even Christopher Columbus – but when it comes down to the nitty gritty, Thanksgiving dinner is really all that matters (except for giving thanks, of course). From turkey to stuffing to casseroles, the Thanksgiving spread is a feast fit for a king. If When you have room for dessert, it's as if your Grandma was expecting an army. There are enough desserts to put the entire U.S. Reserves in a sugar coma. Usually, these desserts are 9 inches round with a crust. Coincidentally, our stomachs are also 9 inches round. For those fearing expecting the holiday weight gain, there are simple ways to indulge without packing on the pounds. I am sure you've all heard about eating on a smaller plate or taking tiny portions. You probably also have been told to skip dessert. I am going to disagree with the latter. Passing up pie on Thanksgiving is practically sacrilege. Read on to learn how your favorite pies stack up and then find easy ways to dial down the decadence with our healthy pie recipes.
Pecan Pie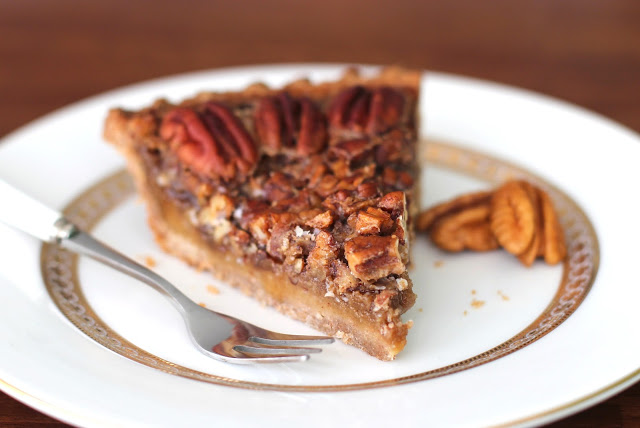 Traditional pecan pie is made with corn syrup, butter, and lots of sugar. Sure, the combination of nuts and the gooey sugary center may taste like heaven on a fork, but it also serves up a significant amount of calories and fat. One slice of  pecan pie has about  503 calories. Add that to the 1000+ calories you just consumed at dinner, and that food baby just might not go away in the morning. You can still go nuts over pie with these healthy pecan pie recipes for The Perfect Pecan Pie and Maple Pecan Pie (shown above). These recipes swap out the classic fattening ingredients with more wholesome and healthier ingredients.
Cream Pies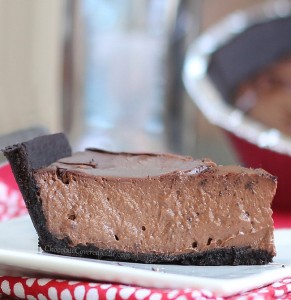 A chocolate cream pie is ultra rich and creamy and has upwards of 380 calories and 18 grams of fat per slice. Holy Cow! All of that fat comes from the heavy cream, but you can make it way healthier by subbing Greek yogurt, like in this Chocolate Cream Pie (shown above) from Chocolate Covered Katie. You can also make a vegan Chocolate French Silk Pie that's smooth and heavenly, but totally guilt-free.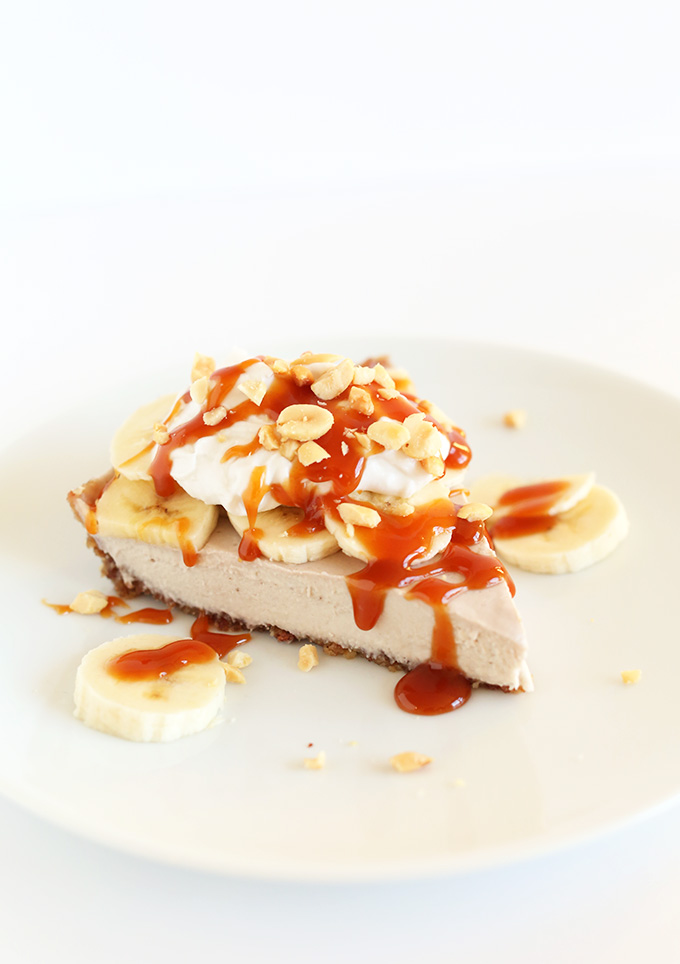 There's a special place in my heart for banana cream pie. I love the fresh bananas folded into the thick, creamy center. Unfortunately, a typical slice is also about 380 calories. Slim down this Southern classic by making a yogurt-based pastry cream. The Greek yogurt not only lightens up the filling, but also adds a nice silky texture. Try this awesome banana cream recipe from Kitchen Confidante. Or, save both baking time and calories by making this raw banana cream pie (shown above) from Minimalist Baker.
Nothing can be healthy about a pie named "Crack Pie." I looked at the ingredients and it is literally all sugar and cream. This custard confection  is seriously sweet  with a whopping 432 calories. There's not much to do about the high caloric content, but you could make a gluten-free version and promise to take just sliver.
Fruit Pies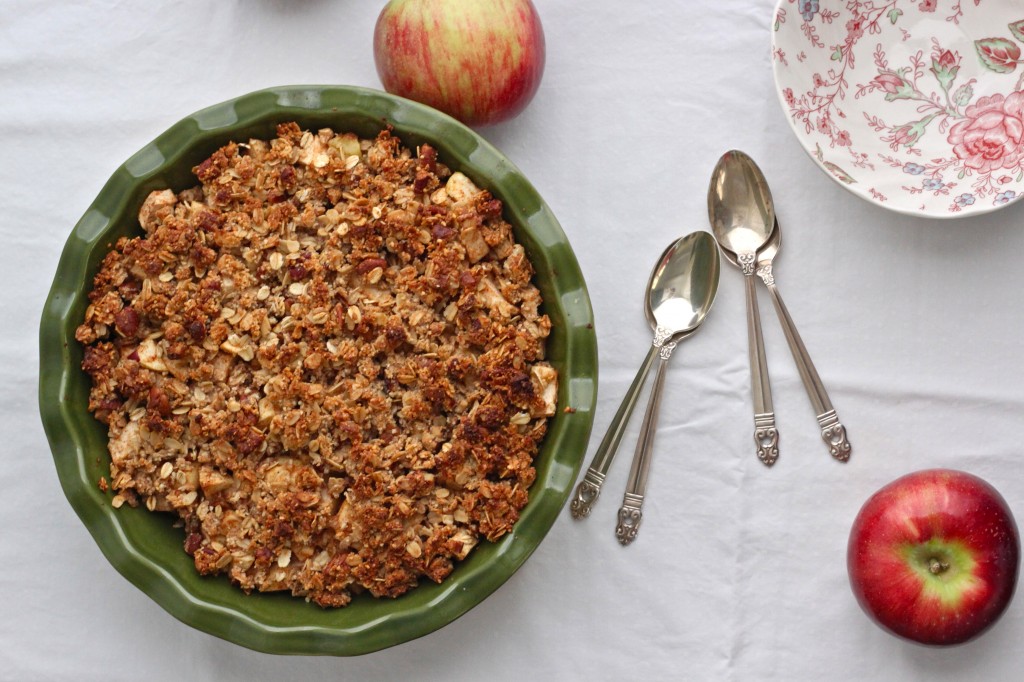 If you use a can of cherry pie filling, you will be putting about 10 doughnuts worth of sugar into your pie (133 grams). Shave off roughly 75 grams of sugar by making your own filling, like this clean eating cherry pie from The Gracious Pantry .
An apple pie has about 400 calories per slice, with most calories coming from the buttery crust. Cut the calories by ditching the top crust and going for an oatmeal crisp topping (shown above) instead.
Sweet Potato Pie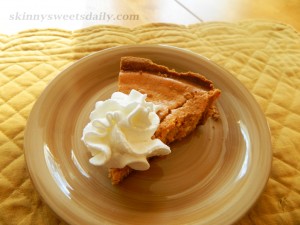 We justify our pie consumption when it's full of fruit because fruits are good for you, right? Take your pie-eating-excuses to the next level by eating a vegetable pie. Vegetables are even better than fruits. The underdog of Thanksgiving pies, Sweet Potato Pie, is actually quite healthy and ridiculously tasty, too. Sweet potatoes are low in calories and high in nutrition. A serving of sweet potatoes will give you a good amount of fiber, magnesium, vitamin C, and loads of vitamin A. Here's a great recipe for Skinny Sweet Potato Pie.
Pumpkin Pie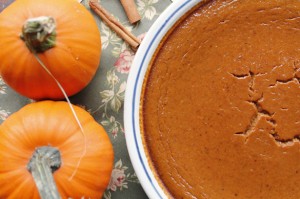 Pumpkin pie reigns supreme as the healthiest pie on Thanksgiving. Pumpkin is loaded with heart-healthy carotenoids, vitamins, and antioxidants. One slice of pumpkin pie supplies 50% of the daily recommendation of eyesight-improving vitamin A. Plus, this Thanksgiving staple only has around 230 calories, which is pretty minimal for pie. Although the sweet potato pie is a little more nutritious in terms of vitamins, sweet potatoes have a higher sugar and calorie content than pumpkins. Therefore, pumpkin pie is still the overall winner. Topping your slice with a dollop of whipped cream, as opposed to the scoop of ice cream that goes with apple pie, also saves lots of calories.
Try these delicious pumpkin pie recipes:
The bottom line?
Pie is definitely a splurge, so why not enjoy a slice that has added health benefits. Opt for fruit or vegetable pies instead of cream pies. And if you're still feeling guilty about eating dessert, here's a treadmill workout to negate that pie.
What pie will you be serving this Thanksgiving?
Latest posts by FaveHealthyRecipes
(see all)