Mmm, stuffed peppers. If I had to pick the best dinner recipe I've ever made, this would be it! SO yummy. I truly can't wait to make this Healthy Beef Stuffed Pepper Dump Dinner again!
What makes these peppers so great?
They're EASY! The most complicated part is hollowing the peppers, and even that takes 5 minutes at most. <3 Healthy Dump Dinners
They're full of PROTEIN!
They're FILLING!
They make great LEFTOVERS!
They cook in a slow cooker while you're free to get other things done!
Why Stuffed Bell Peppers are Budget-Friendly
My Healthy T stuffed peppers include simple, cost-effective ingredients: bell peppers, ground beef, quinoa (or brown rice), shredded cheese, diced tomatoes, corn, and a seasoning of choice. You can feed an entire family, plus have leftovers. And let me tell you—they reheat to perfection!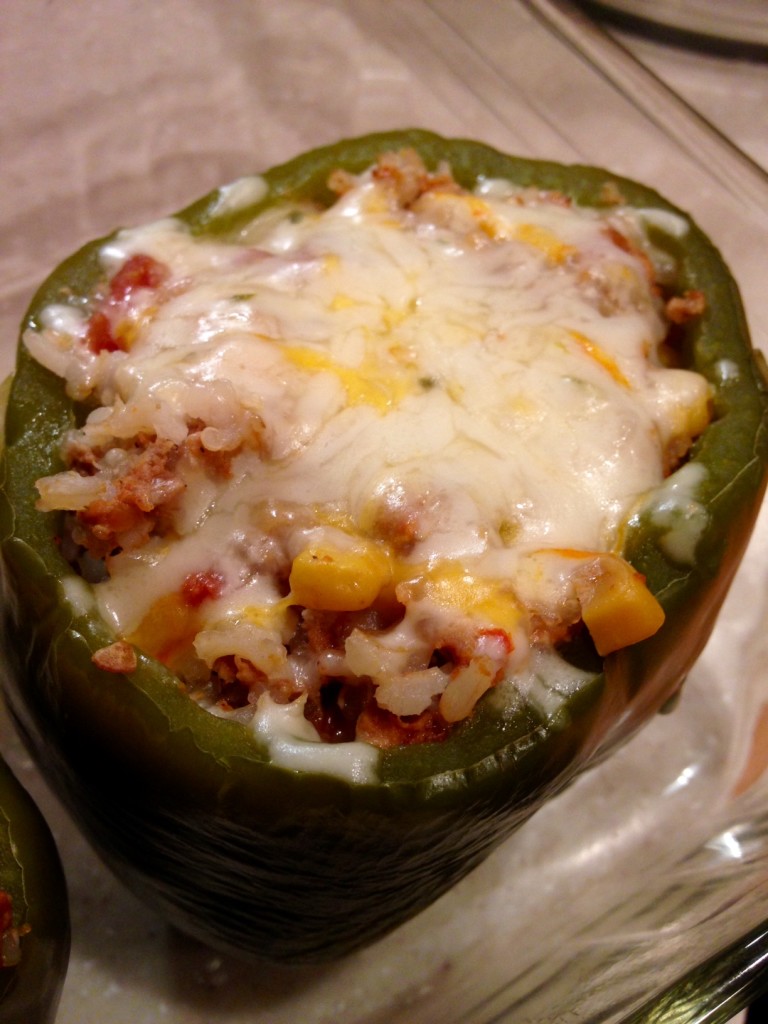 The peppers themselves aren't too spicy. So, if you're feeding children, for instance, you can choose a mild seasoning for the stuffing mixture. I used creole seasoning because my family likes a kick. You could use just a basic beef or steak seasoning, no problem.
Recipe Tips and Tricks
I would also suggest using a big slow cooker (at least 5 quarts), or two slow cookers. You want the peppers to be spaced evenly so that they cook all the way through. Also, make sure the peppers aren't touching the sides of the Crock Pot because they can burn.
This Healthy T recipe makes 6 servings. One pepper is filling enough for lunch or dinner. I personally enjoy them after a workout. It's a great way to get quick protein and the quinoa keeps me full. Quin-whaaat? Quinoa cooks just like brown rice. In this case, it cooks in your pepper with the liquid from the diced tomatoes. It's a healthy, whole grain, pronounced "keen-wah," and it's packed with its own punch of protein.
If you haven't tried quinoa, I would encourage you to try it with this stuffed pepper recipe because it cooks itself in the pepper—convenient! However, brown rice would probably be more budget-friendly. No matter what you stuff them with, these are sure to be the best stuffed peppers you've ever made.
Here's what you need to get started!
Ingredients
6 large bell peppers (any color)
1 lb. ground beef (as fat-free as possible)
1 14-oz. can of diced tomatoes (with juices)
1 cup uncooked quinoa or brown rice
1 1/4 cup shredded cheese (spicy or mild)
1 T seasoning of choice (spicy or mild) *I used creole
1 15-oz. can of corn (drained)
Instructions
Slice off the tops of the bell peppers and pull out ribs/seeds. You won't need to save the tops of the peppers.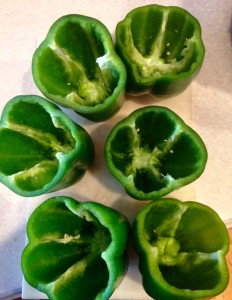 Combine the following in a large bowl: ground beef, diced tomatoes (with juices), corn (drained), quinoa/brown rice, seasoning, and 3/4 cup of cheese. Use a fork (or your hands) to mush everything together.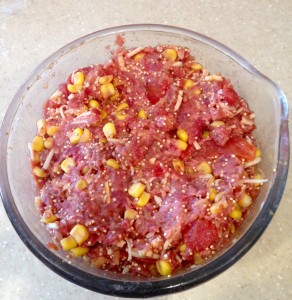 Spoon your filling mixture into the centers of the peppers, filling all the way to the top.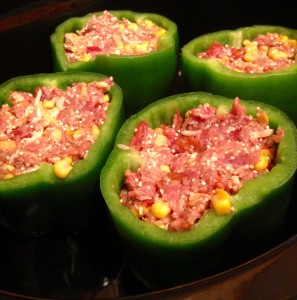 Pour 1/2 cup of water into an empty slow cooker.
Note: You'll have to pour 1/2 cup of water into each slow cooker if you're using more than one.
Place the peppers upright in your slow cooker, arranging them evenly. Cover the slow cooker(s) with a lid. Cook on low for 6 hours or high for 3 hours. Remove the lid and top the peppers with your remaining cheese. Close the lid again and let the cheese melt for a minute or two. Remove peppers and serve.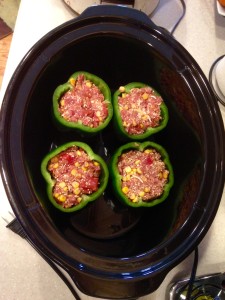 Enjoy!
Plus, check out Healthy Dump Dinners For Lazy People Who Want to Be Skinny
What's your go-to healthy dinner? Let us know below in the comments!
Latest posts by Tarah Thorne
(see all)