Well, it's January 3rd, and I bet a majority of New Year's Resolutions are in the process of being broken. Not by you, though. No, if your goal is to lose weight, then I know you're going to work hard and pull through. Why? Because AllFreeCasseroleRecipes is here to help you. I found five lighter versions of your favorite recipes, including pizza, enchiladas, and lasagna. You don't have to starve yourself or be miserable while becoming healthy. Plus, they're casseroles, so they're easy to put together and don't require too much effort on your part.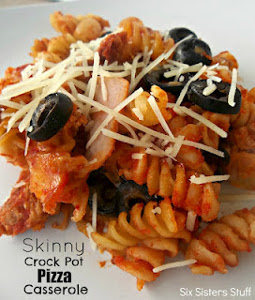 Have your pizza and eat it, too. Skinny Slow Cooker Pizza Casserole is a yummy meal that captures the essence of pizza, but without the bread. It uses whole wheat pasta, low-fat mozzarella cheese, lean ground turkey, pizza sauce, and your favorite toppings.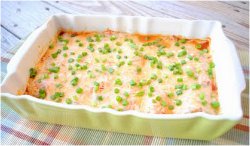 Mmmm…I love Mexican food. Cheese, tortillas, beans, corn, spices…my oh my. So how about I give you a recipe for Skinny Chicken Enchiladas.  Use whole wheat tortillas and low-fat cheese to make it healthier, and load up on spices. Once enchilada is 160 calories. Sounds like a good meal to me!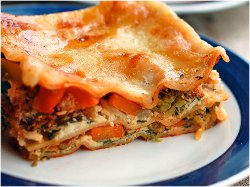 Lasagna is typically a cheesy carb-bomb (trust me, I'm Italian), but it doesn't always have to be.  Skinny Veggie Lasagna uses three cups of veggies (such as broccoli, cauliflower, carrots, and red peppers) and only two cups of cheese for a nice, healthy balance. Whole grain lasagna noodles also help.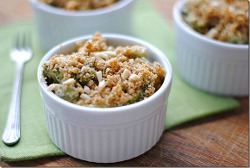 Now is the time for a simple, healthy side dish. Skinny Broccoli and Cheese Casseroles are individual servings of broccoli mixed with cream cheese and topped with bread crumbs. I love Love LOVE broccoli, so this recipe makes my mouth water. Made with only five ingredients, these little gems are a must-make in my book.
If you like Mom's tuna noodle casserole but want it to be healthier, then try this Skinny Tuna Noodle Casserole Pie from Part Time Housewife. It uses fat-free ingredients to make it skinny and reduced-fat crescent roll dough to make it a pie. Sounds delicious, doesn't it?
For more recipes that will help you stick to your diet, check out more of our healthy recipes on AllFreeCasseroleRecipes.com.
Which of your favorite meals do you wish was healthier for you?
Latest posts by AllFreeCasseroleRecipes
(see all)