Most times, when I ask my readers if they like healthy slow cooker recipes, they their response usually is, "What's not to like?"
Those are my sentiments exactly.
One of the biggest complaints I hear about eating healthy is the actual cooking process. So many people either don't like to cook, or don't have enough time to cook what they like … or both.
Luckily enough, the slow cooker takes cares take of all of this for you. So now there's no reason not to eat healthy and make easy homemade meals.
When you just want a nice, warm bowl of stew, there is nothing better than knowing you don't have to stand over a stove all day. Am I right, or am I right?
We've asked you, our readers, how they feel about their slow cookers at home. Check out what they had to say below: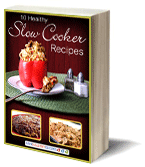 "I don't know what I'd do without my slow cooker. I hate to cook, but I love to eat. This helps me enjoy my favorite recipes without the stove suffering." -Shannon M.
"I work 12-hour shifts. Without the slow cooker, I'd never have a home-cooked meal." -Debbie D.
"With 6 grand-babies, I just don't have the time to cook anymore. I'd rather be playing with them. But, I've also spoiled myself with good cooking for the past 62 years, so I still need to eat my cooking. My slow cooker lets me enjoy my grand-babies and my cooking each day. God bless the slow cooker." -June B.
"When I was pregnant last summer, all I wanted was soup. I don't know what I would have done if I didn't have my slow cooker. There was no way I was standing over a hot stove in 100-degree weather, 7 months pregnant." -Amy Z.
"Two words. Homemade fondue." -Stacey J.
The comments received on social media went on and on. See for yourself how the slow cooker can improve your dining lifestyle and download a copy of 10 Healthy Slow Cooker Recipes Free eCookbook today.
If you don't have a slow cooker at home, but are interested in learning more about how they work, what sizes are available for purchase, which slow cooker is right for you, and for a plethora of slow cooker recipes of all kinds, check out our sister site AllFreeSlowCookerRecipes.com.
Latest posts by FaveHealthyRecipes
(see all)