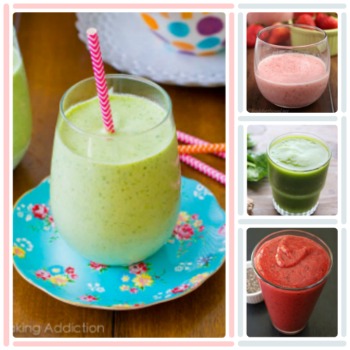 I don't know about you, but I have an extremely difficult time waking up in the morning.  No matter how much sleep I get, the alarm clock is my worst enemy.  I've noticed that my legs don't work properly, my eyes don't want to open, and my bed seems to suck me into its depths and won't let me go.  Obviously, I am not a morning person.  Luckily, these healthy smoothie recipes are a great way to get me to put on pants and leave my warm, comfortable bed.
These smoothies are the perfect way to start the day.  Suddenly, I'm looking forward to breakfast, whereas I used to loathe breakfast time.  I owe it all to these delicious morning drinks.  Because these healthy smoothie recipes are chock full of fruit, protein, and nutrients, I don't feel guilty about slurping up the entire drink.
I've decided to share my top 13 favorite healthy smoothie recipes with you.  I couldn't decide between green smoothies, fruity smoothies, or peanut butter and banana smoothies so you get a bit of each.  Aren't you lucky?!
So stop pressing the snooze button and make these delicious breakfast drinks.  I promise that you'll have a happier morning after trying these smoothies.  They really are good to the last drop.
The Very Best Green Smoothies
I wouldn't normally be drawn to a drink that's green, but these healthy smoothie recipes are insanely delicious!  Looking at the strange color, you may expect the first sip to taste a bit odd, but I think you'll be pleasantly surprised.  The green color comes from a bit of kale, a handful of spinach, or a cup of mint leaves.  Each recipe is a bit different, but I'm sure that you'll enjoy them all.
1. Basic Green Monster Smoothie
5. Sunrise Smoothie (shown right)
6. It's Good to Be Green Smoothie
Fruity Favorites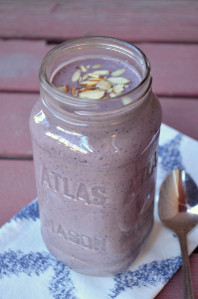 If I could drink these fruity smoothies for breakfast, lunch, and dinner, I think I would.  Unfortunately, my husband is a meat-and-potatoes kind of guy, so I'm not sure he would appreciate a smoothie diet.  Oh well, I can always make them for myself!  These healthy smoothie recipes include some of my favorite fruits: strawberry, banana, and blueberry.  Some of the ingredients, however, may shock you.  Get ready for some plums, pineapple chunks, and cherries.
1. 3-Ingredient Strawberries and Cream Smoothie
2. Sweet and Creamy Strawberry Smoothie
5. Blueberry Almond Chia Smoothie (shown right)
A Bit of Peanut Butter and a Hint of Banana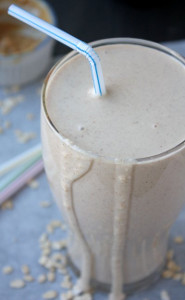 Alright, I bet you can guess what's in these two healthy smoothie recipes. If you guessed peanut butter and bananas, then you'd be correct! Winner, winner, chicken dinner! (I don't care what you say, that phrase is fantastic in so many ways). Now, back to the smoothies. You will love these two! I haven't tried this yet, but I'm definitely thinking about adding in a dollop of chocolate. If you try adding chocolate before I do, please leave a comment and tell me how it is!
1. Peanut Butter Banana Protein Shake
2. Peanut Butter Banana Oatmeal Smoothie (shown right)
What is your favorite smoothie recipe?
Latest posts by FaveGlutenFreeRecipes
(see all)