Ever start a diet and try to make a week's worth of healthy meals at once? It's awful, and chances are you'll end up eating a week's worth of food at once – diets gone wrong. Tarah here from Healthy T with a great healthy plan you can depend on!
So, with Spring upon us, I'm proposing a week's worth of healthy meals that use FEW ingredients and can be made in a short amount of time each day. Woo! I would suggest making a grocery list and shopping over the weekend so that you have all the ingredients you need when you start your week.
The best part about a healthy meal plan is that it takes stress out of the 5 p.m. rush – you can fit an extra workout in or even kick back and pour a glass a red wine because you don't need to make time to stop by a grocery store with mile-long checkout lines and bumper-to-bumper traffic. Hey, they say red wine is good for your heart, right? Or good for the soul.
Whether you're feeding a family or cooking for one, these meals provide ample leftovers to bring to work or school the next day. Talk about cost-effective!
If you are looking to use this meal plan to kick-start weight loss, please consider incorporating these healthy lifestyle tips each day:
Drink more water (mostly in the morning and throughout the day)
Bulk up your meals with veggies (added nutrition and satiety)
Eat more whole grains (avoid processed, white bread and bakery items)
Exercise (high-intensity interval workouts if you're short on time)
Get more sleep (7-8 hours)
I've listed sample workouts for each day as well. Feel free to mix them up from day to day, depending on what works best for your schedule! Check out my blog, Healthy T for more everyday healthy recipes.
Sunday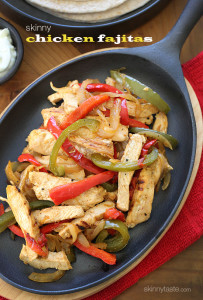 Yoga: Jillian Michaels Yoga Meltdown Level I
Monday
Healthy Eggplant Parmesan Casserole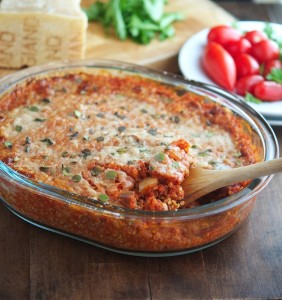 Run/Walk: Hit the treadmill or get outdoors for 15-30 minutes. If you're new to running, take it slow or bring a timer and alternate between running and walking.
Tuesday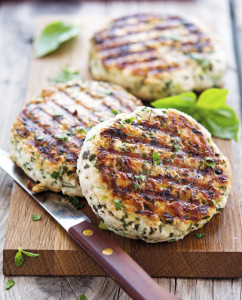 Pilates: 30 min. Mat Pilates Core Workout
Wednesday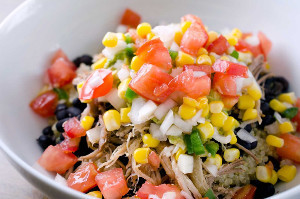 Intervals: 20-Minute Bikini HIIT Workout
Thursday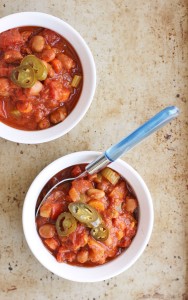 Toning: 45-Minute No Equipment Workout
Friday
Healthy Stuffed Pepper Dump Dinner – A Healthy T Recipe!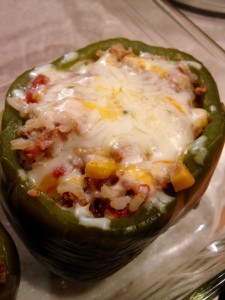 Dance: 30-Min Aerobic Dance Workout
Saturday
Embarrassingly Easy Balsamic Glazed Salmon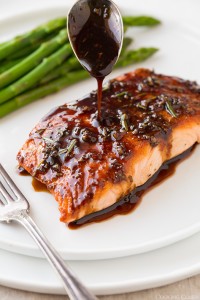 Tabata: 25-Minute Tabata Workout
Good luck! You've got this! P.S. Check out FaveHealthyRecipes.com's Weekly Meal Plan for even more ideas.
How do you stay on track?
Latest posts by Tarah Thorne
(see all)