Today is Day 9 of our 12 Days of Christmas in July Giveaway. You can enter each day to win the prize of the day! Contest rules and how to enter are below.
It takes just a minute to enter: simply comment below answering the question of the day!

Today's Recipe
On the ninth day of our 12 Days of Christmas in July Giveaway, my true love gave to me…Helen's Easy Stir-Fry Noodles with Oyster Sauce Recipe from Harold Import Company!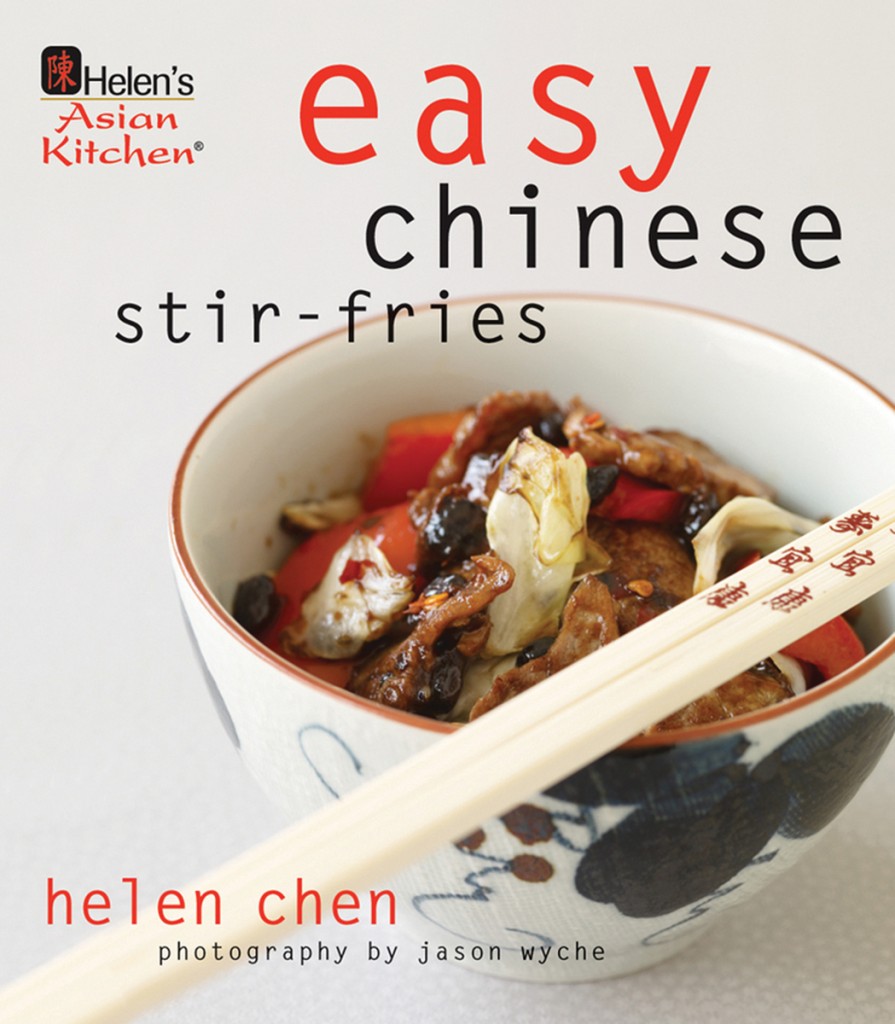 Serves 6
INGREDIENTS
1 pound dry Chinese wheat noodles or thin spaghetti
8 ounces shredded lean pork or chicken breast
2 teaspoons cornstarch
2 teaspoons dry sherry
4 tablespoons canola oil
1 medium onion, thinly sliced
10 ounces shredded napa cabbage
5 medium dried black mushrooms, soaked in hot water 15 minutes until soft
2 ounces snow peas, ends snapped off, strings removed and shredded on the diagonal
1 medium carrot, shredded
½ cup canned shredded bamboo shoots, drained
6 tablespoons Canton Oyster Stir Fry Sauce, or more to taste  (Made using the recipe on Helen Chen's Asian Kitchen® Easy Stir Fry Sauce Bottle, or you can purchase a pre-made sauce from your local grocer or Asian food specialty store.)
DIRECTIONS
In a large pot of boiling water, cook the noodles until a little softer than al dente.  Drain, rinse in cold water, and drain again.  Set aside.
In a small bowl mix meat with cornstarch and sherry. Drain the mushrooms and squeeze dry.  Cut off the stems with scissors and discard. Shred caps.
In a wok, heat cooking oil over medium-high heat, add the well-stirred meat mixture and stir-fry about two minutes or until it separates and changes color, about 1 minute. Add the onion, cabbage, mushrooms, carrot and bamboo shoots, and stir until the cabbage begins to wilt, about 2 minutes.
Sprinkle the noodles with a few tablespoons of water to loosen them up, drain, then add them to the pan.  Pour the Canton Oyster Stir Fry Sauce over the noodles and add in the snow peas. Continue tossing and stirring until well mixed and evenly colored, about 1 minute.  Taste and add more sauce, if desired.
Transfer the noodles to a serving platter and serve immediately.
ENTER TO WIN TODAY'S PRIZE:

With this 14-inch Carbon Steel Flat Bottom Lidded Wok from Harold Import Company, you will be stir-frying like a pro! With even heating through the pan, your dinners will cook quickly and efficiently. The heat-resistant natural wood handles will keep you from accidentally burning yourself as you prepare your delicious meal. Helen Chen's Easy Chinese Stir-Fries is the perfect complement to this wok, and you will have a new favorite stir-fry recipe in no time.
In order to win today's 12 Days of Christmas in July Giveaway, all you need to do is leave a comment on this blog post below telling us:
What are your favorite vegetables to stir-fry?
OFFICIAL RULES FOR DAILY CONTEST:
There is a maximum of one entry per person. The entry will be based upon a comment left on this blog post. Duplicate comments will be deleted and are not tallied.
Winner will be selected at random from the comments on this blog post.
Winner will be announced here on the blog July 27, 2015 as well as contacted by the email address provided.
You have until tomorrow, July 24, 2015 at 11:59p EST to leave your comment on the project above. Comments posted after that will not be counted.
Contest open to anyone 18+ in US and/or Canada.
THIS CONTEST HAS ENDED. Check out the rest of the 12 Days of Christmas in July giveaway series. There are still 3 chances to win!

Congratulations to Linda!

You've won Helen Chen's 14″ Wok Set and Easy Stir-Fries Cookbook! You will receive an e-mail shortly.
Latest posts by FaveGlutenFreeRecipes
(see all)