Need a last-minute holiday gift? Mason jar recipes to the rescue! These holiday gifts in a jar are a super-cute way to show someone you care. With all the ingredients for a tasty holiday cookie or soup layered in a Mason jar, these gifts take little time and are so budget-friendly. Plus, they're the perfect gift for any foodies in your life.
It takes less than 10 minutes to put together any of these 5 Mason jar recipes we developed just for you. Just gather the ingredients, layer them in a jar, and top it off with a ribbon and tag. Boom! An easy last-minute gift anyone will enjoy.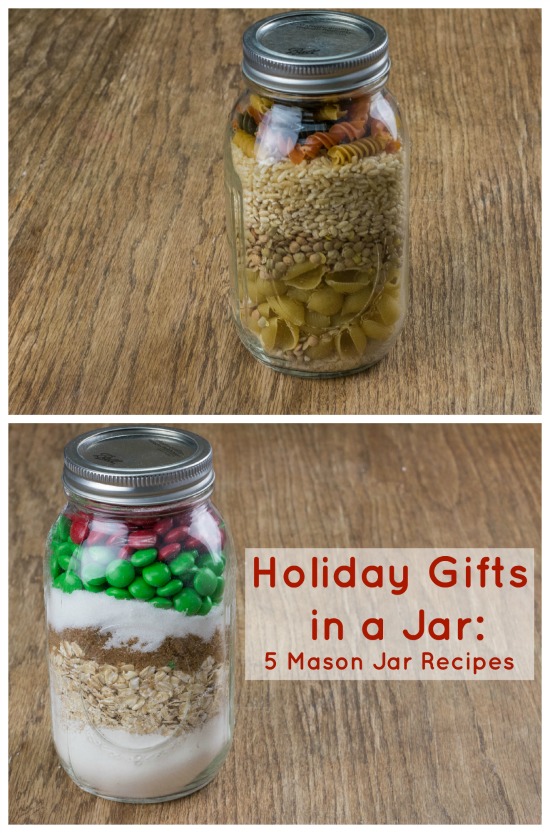 We've got something for everyone with Banana Bread Mix, 10-Minute Holiday Cookies, Homemade Hot Chocolate, Hearty Soup Mix and Blizzard Bites to choose from. Honestly, my favorite was the Hearty Soup Mix. It's a little unexpected, and totally delicious – not to mention it's the perfect winter comfort food!
P.S. Download your free, printable mason jar labels here.
Here's our video to show you just how easy these gifts in a jar truly are:
Holiday Gifts in a Jar: 5 Mason Jar Recipes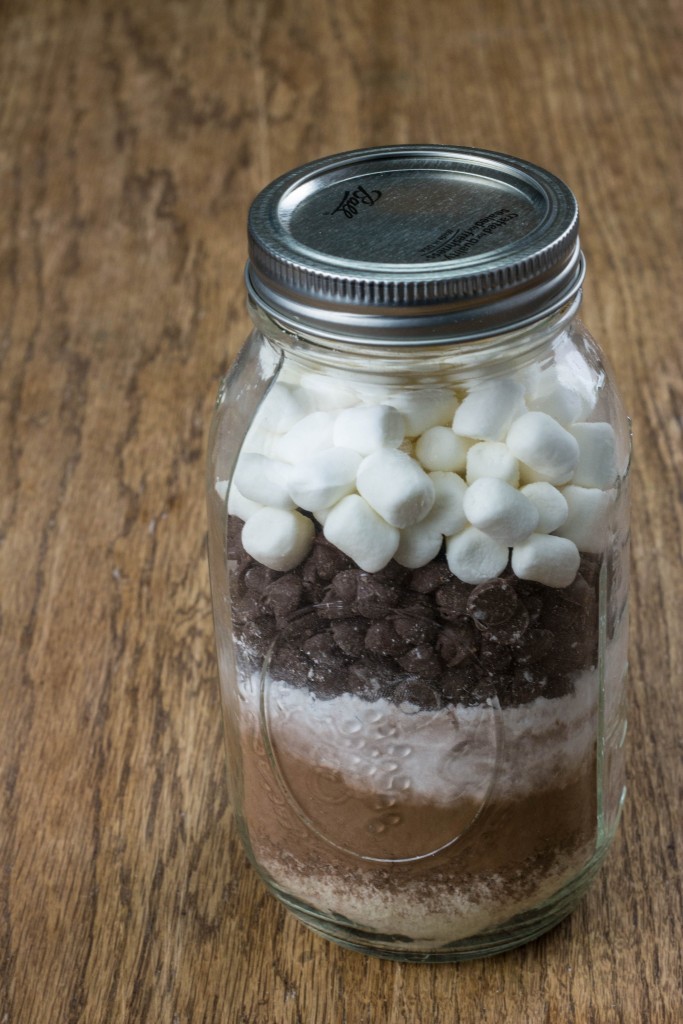 Ingredients:
1 quart size mason jar
¾ cup non-fat dry milk powder
¾ cup unsweetened cocoa powder
¾ cup powdered sugar
mini chocolate chips, for garnish
mini marshmallows, for garnish
Tag instructions:
Mix ingredients together. Add 8 oz. of hot water to one ½ cup of mix and stir.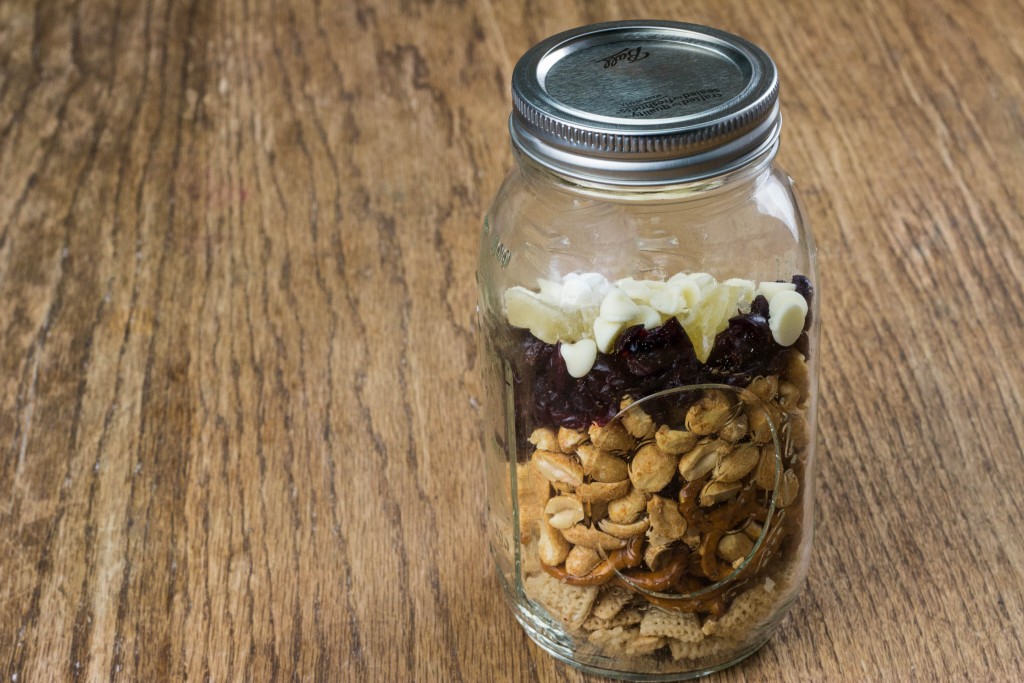 Ingredients:
1 quart size mason jar
1 cup Rice Chex-brand cereal
1 cup pretzel twists, small
1/2 cup dry-roasted peanuts
1/3 cup sweetened dried cranberries (Craisins)
1/3 cup dried pineapple, coarsely chopped
1 cup white chocolate chips
1 food storage bag, small
Instructions:
Layer cereal, pretzel twists, peanuts, cranberries and dried pineapple in a quart-sized canning jar.
Place white chocolate chips inside food storage bag, and place on top of layered ingredients.
Seal jar, and attach a gift tag with recipe instructions (see below).
Tag instructions:
Remove white chocolate chips from jar. Empty remaining jar contents into a large mixing bowl, and mix thoroughly.
Place white chocolate chips into a microwave-safe bowl. Melt white chocolate chips in the microwave for 30 seconds. Remove and stir until melted. If additional time is needed, check at 15 second intervals. You may add 1 teaspoon solid shortening to thin chocolate mixture, if necessary.
Pour melted white chocolate chips over snack mixture. Stir until snack mixture is evenly coated. Spread mixture in a single layer over waxed paper, and allow to cool completely.
Break mix into smaller pieces, and store in zipper food storage bags or an air-tight storage container.  Makes 3 1/2 cups snack mix.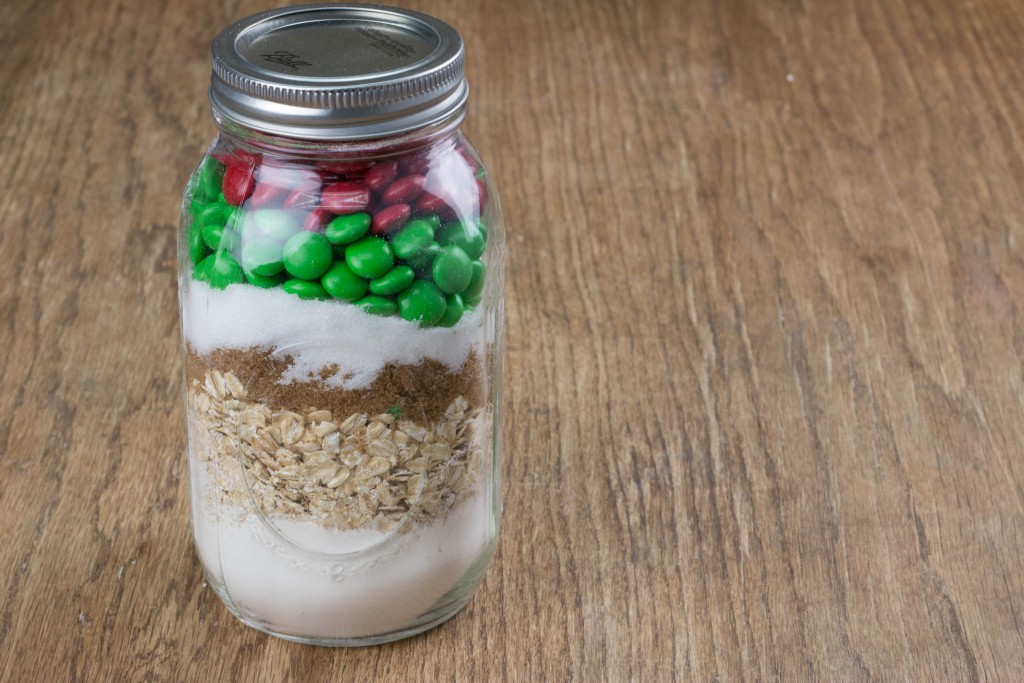 Ingredients:
1 ½ cups all-purpose flour
1 teaspoon baking powder
1 teaspoon baking soda
1/4 teaspoon salt
1 cup old fashioned oats
1/3 cup m&m's
1/2 cup brown sugar, packed
2/3  cup sugar
Instructions:
In a quart size mason jar, layer the flour, baking powder, baking soda, salt, oats, m&m's, brown sugar and sugar, packing each layer tightly.
Tag instructions:
Empty jar of cookie mix into a mixing bowl; mix well. Add 1/2 cup butter or margarine, melted, 2 beaten egg and 1  teaspoon vanilla. Mix until blended.
Roll into 1-inch balls, and place 2 inches apart on ungreased cookie sheet.
Bake at 375 degrees until edges are lightly browned, about 12 to 14 minutes.
Cool on cookie sheet for five minutes, then transfer to wire racks.
Makes 1 dozen cookies.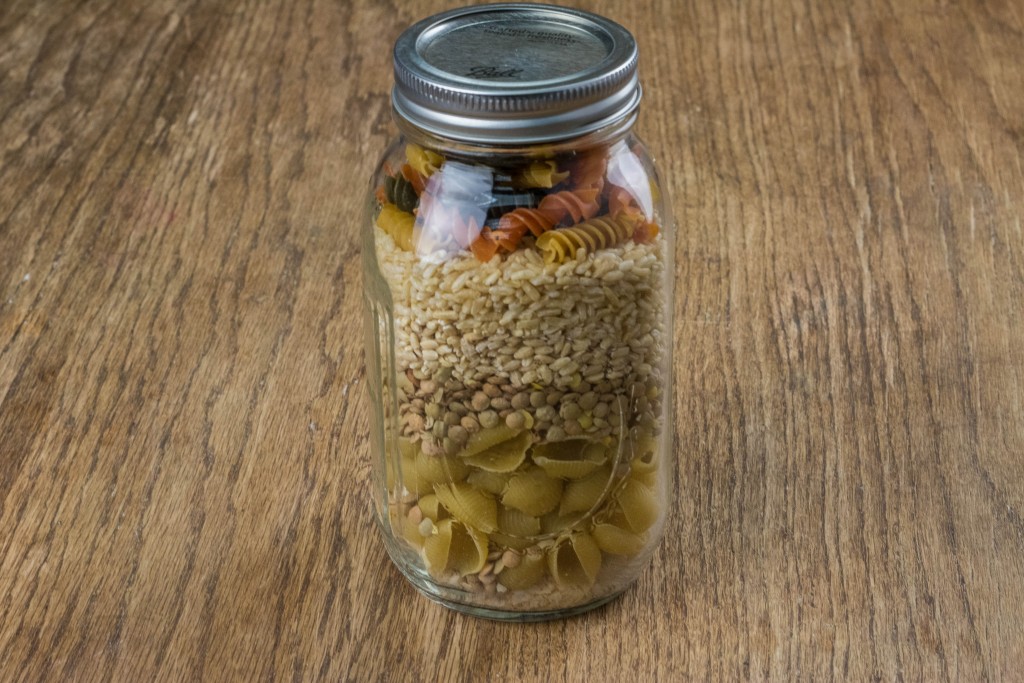 Ingredients:
1/3 cup beef or chicken bouillon cubes
1/4 cup onion flakes
1/2 cup each of split peas, small shell pasta, or elbow macaroni
1/4 cup barley
1/4 cup lentils
1/4 cup rice
multi color spiral pasta
Instructions:
Use a one quart canning jar and layer ingredients in order given, filling up with multi color pasta.
Tag instructions:
Brown 1 pound ground beef in olive oil. Remove multi color pasta and reserve. Add the rest of the ingredients to the kettle with 12 to 14 cups of water. Let it come to a boil, then simmer 45 minutes. Add the pasta and simmer 15 more minutes.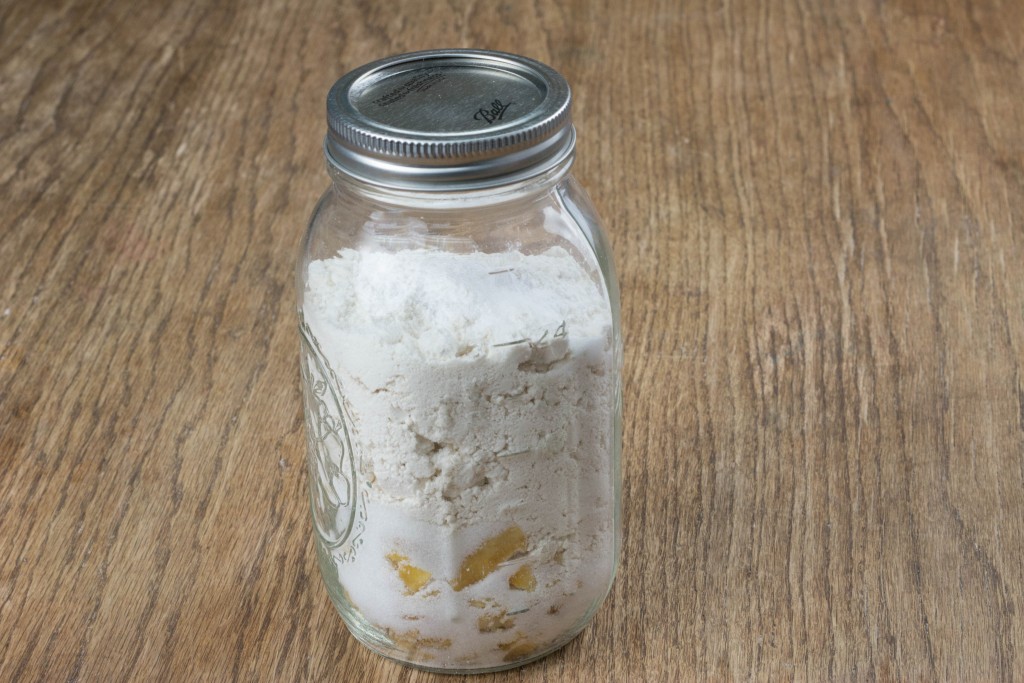 Ingredients:
1 cup finely chopped banana chips
1/2 cup sugar
2 1/2 cups Bisquick
1 tsp baking powder
1/4 tsp salt
Tag instructions:
Combine mix with ½ cup butter, ¼ cup milk, 1 tsp vanilla, one ripe banana and 2 eggs. Bake at 350 in a bread pan for 60 mins.
Which Mason jar recipe is your favorite?
Latest posts by RecipeLion
(see all)