The holiday season is upon us and I could not be more excited! I recently had the pleasure of attending a cooking class at Sur La Table hosted by their chef-instructor Jason Pruett. The theme was holiday hors d'oeuvres and these recipes were nothing like your basic dips and appetizers.  At AllFreeCopycatRecipes.com we are always searching for easy, yet impressive recipes that look like they came directly from the kitchen of a fancy and upscale restaurant. We took on four fabulous recipes including smoked salmon on crispy potato with a dill sour cream, a baked brie and hazelnut bundle with cranberry chutney, grilled chicken skewers with cilantro sauce, and my personal favorite, chocolate and salted-caramel cream puffs. The menu could have easily come from a four-star restaurant.
Our chef-instructor was not only extremely informative, but he also has a truly inspiring background. His 9-5 job is working with Inspiration Cafe of Chicago to help train those struggling for work, basic culinary skills to help get a job in the field. Hearing about this charity really put "Thanksgiving" week in a new light for me.
Holiday Appetizer Recipes
Here we have a couple of the divine recipes we created in the class. These two recipes will surely impress your guests!
Baked Brie and Hazelnut Bundles with Cranberry Chutney
These brie-filled "gifts" are loaded with nuttiness and the bold flavor of the cranberry chutney. This appetizer recipe will be the talk of the party. They are the perfect appetizer to serve as finger food at a cocktail party. The cranberry chutney can be used in a variety of recipes and is so easy to make!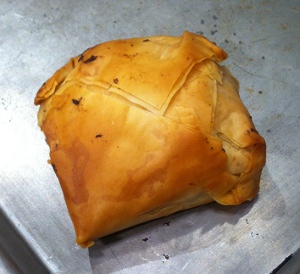 Yield: 8 Servings
Ingredients for Cranberry Chutney:
12-ounces fresh cranberries
1/4 cup firmly packed dark brown sugar
3/4 teaspoon ground coriander
3/4 teaspoon freshly ground pepper
Instructions for Cranberry Chutney:
In a saucepan, combine all the ingredients except the onion and simmer, stirring occasionally, 30 minutes. Add the onion and simmer 20 more minutes, or until the chutney has thickened. Let cool.
Ingredients for Bundles:
1/4 cup unsalted butter, melted
3 sheets frozen phyllo pastry, thawed
1 pound brie cheese, cut into 3/4-inch slices
1/4 cup hazelnuts, toasted and chopped
Instructions:
Prepare a baking sheet with a Silpat or parchment paper.
Unroll  the phyllo sheets and cover with a moist towel to prevent the sheets from drying out. Take on sheet of phyllo pastry and lay it onto a cutting board. Brush the sheet with melted butter. place the next sheet on and repeat the process for the remaining sheets. Cut the stacked sheets into 4 1/2-inch squares and place the squares onto the prepared baking sheet.
Place a slice of brie in the middle of each phyllo square. Add a tablespoon of the cranberry chutney and sprinkle with the chopped hazelnuts. Gently pull together the corners of the square to wrap around the center and resemble a pouch. Trim the excess. If it doesn't look like a gift you want to unwrap, then place an additional phyllo sheet coated in butter around the pouch.
Gently brush a little butter around the outside of the bundles and bake until golden-brown, about 20 minutes. Serve hot and enjoy your edible gifts!
Tequila and Lime-Marinated Chicken Skewers with Cilantro Sauce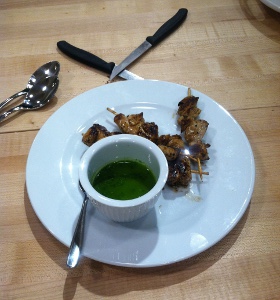 If you are feeling a tad less confident in the kitchen, this recipe is very straight-forward for anyone to follow. The tequila, lime, and cilantro give a punch of flavor.
Ingredients for the Marinade:
1/4 cup extra-virgin olive oil
1/2 cup tequila (do not worry about what kind or quality)
2 fresh limes, juiced and zested
1 jalapeno chile, finely chopped (be careful of those seeds!)
1 teaspoon paprika
2 teaspoons kosher salt
6 ounces skinless chicken breast, cubed
Ingredients for Cilantro Sauce:
1/8 teaspoon kosher salt
2 cups cilantro leaves
2 cups ice water
1/4 cup tequila
1 teaspoon garlic, minced
1/2 cup canola oil, plus 2 tablespoons for grilling
freshly ground pepper
Instructions:
In a large mixing bowl, combine all of the marinade ingredients. Thoroughly mix the chicken in the marinade, cover, and marinate in the refrigerator for 30 minutes.
While the chicken is marinating, prepare the cilantro sauce.  Place a saucepan filled with water on the stove to boil. When the water is just starting to boil, add the salt and blanch the cilantro leaves for 10 second. Immediately remove from the hot water and put into ice water to stop it from cooking. This will keep your cilantro leaves vibrant and green. Drain the leaves and pat dry.  Place the blanched cilantro in a blender with the tequila and garlic. Pulse to combine and, with the motor still running, slowly add the canola oil., processing until the mixture is thick and bright green. Taste and adjust the seasonings with salt and pepper.
Thread the marinated chicken on a skewer. When threading the chicken, keep a little space in between each piece; this will allow for quicker, more even cooking.
Heat a large grill pan over medium heat and brush the pan with a thin coating of canola oil using a brush. Place skewers on the grill and cook, turning frequently, until the chicken is cooked through, about 7-9 minutes.
Serve the cooked skewers on a serving platter with the cilantro sauce on the side.
Latest posts by AllFreeCopycatRecipes
(see all)