Homemade chocolate frosting is surprisingly easy to make. And, this recipe for homemade chocolate frosting doesn't require that you melt chocolate bits over a bath of boiling water on your stove top! Just a few ingredients from your pantry and refrigerator are all that you need to make a chocolate frosting that is creamy and delicious.
Whipped together in minutes, this recipe for homemade chocolate frosting can be adjusted to the thickness you need for your baking project. If you want it light and fluffy to spread over a sheet cake, add more heavy cream. If you want it thicker to frost cupcakes using a pastry bag, use less heavy cream.
Either way, this recipe for homemade chocolate frosting is the perfect amount for a 9-inch by 13-inch sheet cake or a normal 2-layer round cake or 2 dozen cupcakes.
If you need a thicker frosting for fancy cupcakes, just decrease the amount of heavy cream adding the heavy cream one tablespoon at a time until you've reached your desired consistency. Scoop this homemade chocolate frosting into a pastry bag (or a homemade pastry bag, made from a gallon plastic storage bag with the end snipped off) and you are ready to pipe it onto 2 dozen cupcakes in a fancy, swirly fashion.
Whatever "application" you use homemade chocolate frosting on (cakes, cupcakes, sandwich cookies, brownies), your family will beg you not to buy canned frosting again!
Homemade Chocolate Frosting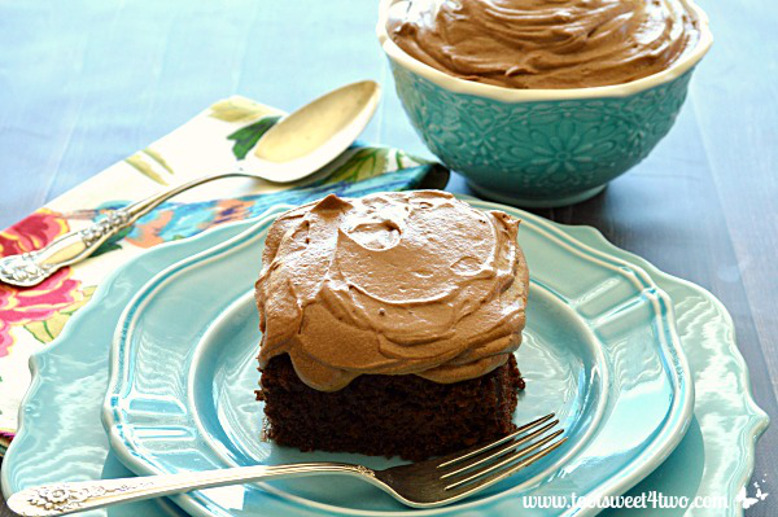 Ingredients:
1 stick butter (1/2 cup), softened to room temperature
3 1/2 cups powdered (confectioner's) sugar
1/2 cup unsweetened cocoa powder
1/4 teaspoon salt
1/2 to 3/4 cup heavy cream (depending on consistency needed of Homemade Chocolate Frosting)
Directions:
Measure powdered sugar, cocoa and salt into a bowl. Mix together gently with a wire whisk.
In a separate deep-sided mixing bowl, add butter and beat on medium speed until light and fluffy.
Reduce speed, add vanilla and powdered sugar mixture a cup at a time, along with a few tablespoons of heavy cream.
Add a few more tablespoons of heavy cream and beat until combined.
Scrape down sides of bowl with a rubber spatula and add a few more tablespoons of heavy cream.
Increase mixer speed to medium, beating until fluffy. Add more cream, if needed, for desired consistency.
Note: I used all 3/4 cup of heavy cream for this recipe. But, if you want a stiffer frosting for your cake or cupcakes, add heavy cream by tablespoons, beating until well-combined until you reach your desired consistency.
Makes approximately 3 cups.
For more easy frosting recipes, check out our whole collection,
"Spread the Love: 9 Easy Frosting Recipes"!
What's your favorite kind of frosting?
Latest posts by Carole Burkhard
(see all)