Hey there! Holly here from Revamperate again, and this time I have the perfect snack recipe for your next get together! These homemade pretzel bites with cheese sauce will have people thinking you're the master of appetizers, but they're actually WAY easier than you would think.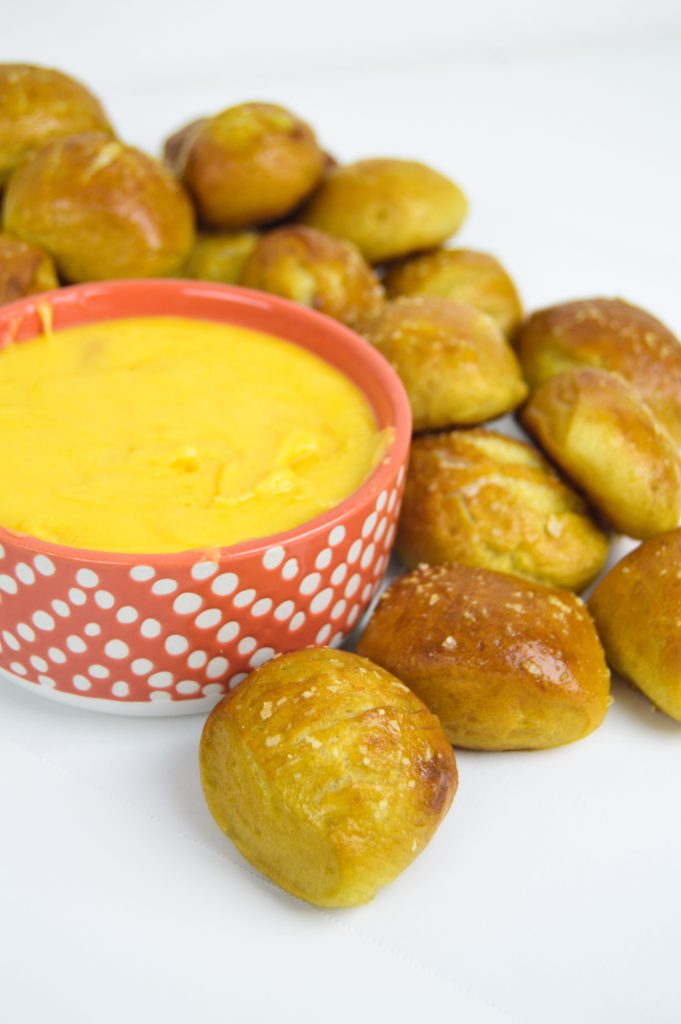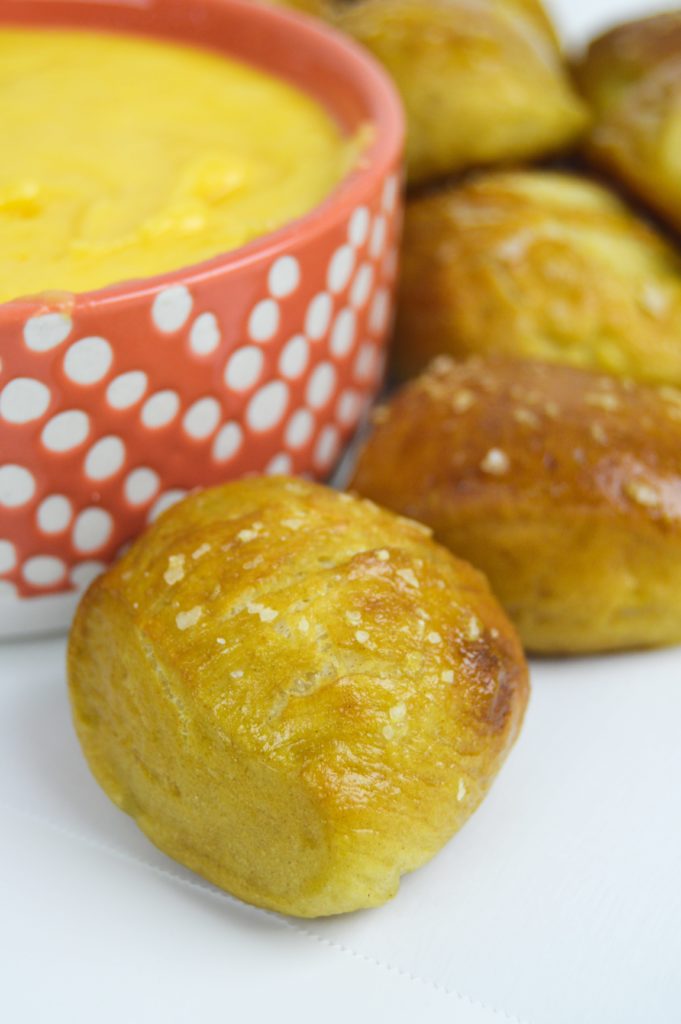 Sometimes working with yeast seems intimidating, but this recipe is great because it only requires one rise, and it's actually quite foolproof, unlike some other yeast-based recipes. Once you make the dough and cut it into small pieces, you dip them in a baking soda bath, which gives the pretzel bites that brown crispiness on the outside. Then you bake, dip and enjoy!
Pretzel bites are perfect for a party appetizer or just a good snack! They're not incredibly buttery on their own, but they're super soft on the inside and crispy and salty on the outside, just like a pretzel you'd buy at a snack bar.
For the Pretzel Bites:
1½ cups lukewarm water
1 packet instant rise yeast (just over 2 tsp
1 teaspoon salt
1 tablespoon packed light brown sugar
1 tablespoon butter, melted
4 cups – 4¼ cups all-purpose flour, plus additional for kneading
½ cup baking soda
1 egg, beaten
Coarse sea salt, for sprinkling
Pretzel Bites
First, dissolve the yeast in warm water and stir to combine. There may still be some small lumps.
In your mixing bowl fitted with a dough hook attachment if you have one, mix together the yeast mixture, melted butter, salt and sugar. Then slowly add 3 cups of flour, one cup at a time until the dough is thick. If you don't have a dough hook, knead the dough by hand. Add one more cup of flour and mix until the dough is no longer sticky, adding additional flour by the tablespoon if needed. The dough should spring back if you poke at it.
Turn the dough onto a lightly floured surface and knead for several minutes. Shape the dough into a ball and move to a mixing bowl coated lightly with cooking spray. Cover and let sit in a warm place for 10 minutes.
While the dough rests, preheat the oven to 425 degrees and line two baking sheets with parchment paper.
Separate the dough into 5-6 parts and roll each one into ropes about 1 inch thick. Cut each rope into 1 1/2 inch pieces.
Bring 8 cups of water to a boil in a large pot with the baking soda. Once boiling, drop several dough pieces into the water at a time, leave for about 20 seconds and remove with a slotted spoon. Place on the lined baking sheet and do not let the pieces touch.
Beat the egg in a small bowl and brush the egg wash onto each piece and sprinkle with coarse salt. Bake for about 10 minutes until golden brown. Let cool on a wire rack until cool enough to eat.
Make the cheese sauce while the pretzel bites cool.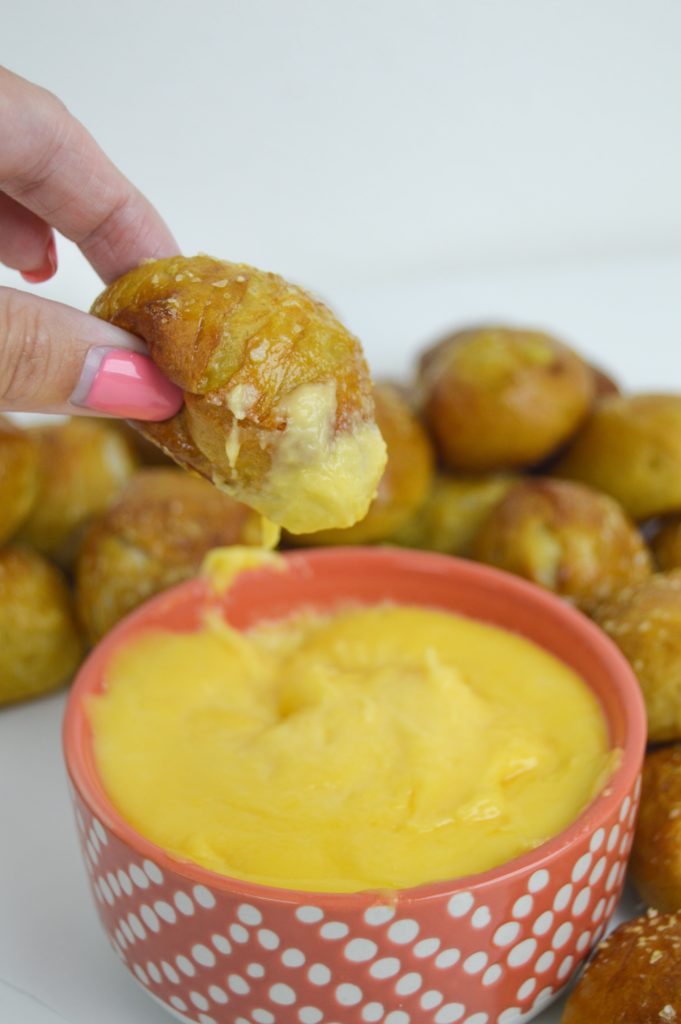 For the Cheese Sauce:
1 ½ cups milk
¼ cup unsalted butter
2 tbsp flour
2 cups cheddar cheese, grated or chopped (I prefer medium cheddar)
salt + garlic to taste
In a small saucepan, heat the butter on medium heat until melted. With a whisk, stir in the flour and then the milk. Stir occasionally for about two minutes to let the mixture thicken. Mix in the cheese a little at a time until melted. Add salt and garlic powder to taste. Move to a small bowl for dipping.
Seriously, these are the perfect snack! Whether you eat the pretzel bites alone or dip in the cheese sauce, you'll love 'em!
Latest posts by Holly Wade
(see all)