One of the easiest (I promise!) and most delicious recipes you can make at home is a simple homemade vinaigrette for just about any type of salad. I have two teenage girls in my house, and we eat a lot of salad – like just about every day. I grew up with homemade salad dressing (my grandmother used to make hers in an old milk jug), and I have always preferred the taste over commercially prepared dressings that often use many preservatives. All you need is some type of oil, an acid (lemon or lime juice) or a vinegar, some fun ingredients to spice it up and a mason jar, or an old spaghetti sauce jar or pickle jar. Honestly, that's it.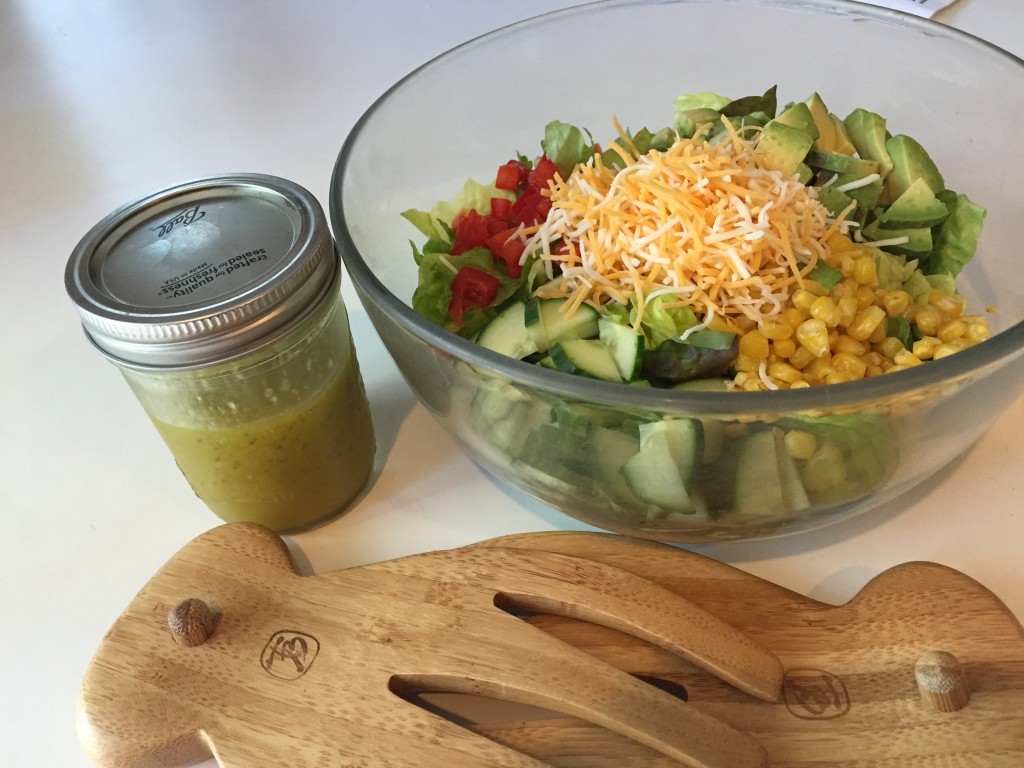 Once you assemble your ingredients, it's time to play around and create the perfect homemade vinaigrette for you. I like my salad dressing to be a little on the tangy side, so I prefer a little more vinegar. If you like sweeter dressings, add brown sugar or honey; if you like yours with tons of flavor, then add plenty of herbs and spices. And you can mix and match too. Need something for a Southwestern salad? Add fresh cilantro and chili powder to the basic mixture. Want to bring out the flavor of a summer salad with fresh berries? Try using lime juice with some fresh mint. Have some fun playing around with your favorite flavors, and I guarantee you will shake up something delicious.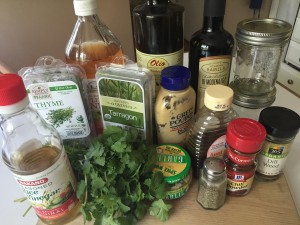 This looks like a lot of ingredients for a basic vinaigrette, but I always like to assemble various items so I can try out different ideas. My go-to favorite four ingredients (six, if you include salt and pepper) for an easy and fast dressing are rice vinegar, extra virgin olive oil, dijon mustard and honey. Everything else is just to experiment!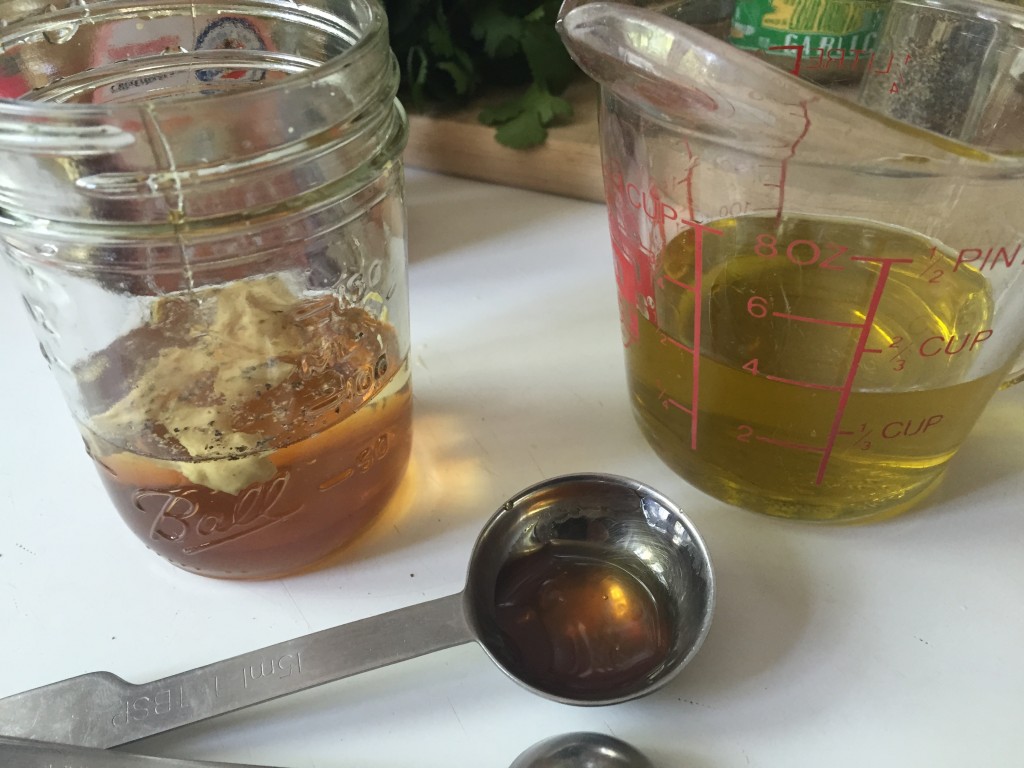 First, measure your vinegar into the mason jar, then add the dijon mustard on top of that. Next up is the honey (or brown sugar works great too) and finally, add the olive oil on top. Add a little salt and pepper to taste, then put the lid securely on the jar and then shake the heck out of your jar for about 30 seconds. (This is also a great way to tone your arms!)
Homemade Vinaigrette Recipe
Ingredients:
1 T. dijon mustard
1 T. honey
1/2 cup extra virgin olive oil
Salt and pepper, to taste
Instructions:
1. Layer ingredients into mason jar.
2. Secure the lid. Shake like crazy.
3. Serve with your favorite salad fixings. Enjoy!
I like to add some herbs and spices to the basic recipe above for a little bit of extra flavor. The variation pictured above includes one teaspoon of dried dill weed and 1 minced garlic clove. Great for a mixed green salad with fresh veggies!
Another summer favorite of mine is the chili lime variation, where you simply swap out lime juice for the vinegar (usually the juice from three medium to large sized limes is the perfect amount) and then add 1/4 cup chopped cilantro and 1 teaspoon of chili powder. Shake it up and pour it over your salad featuring corn, black beans, scallions, cucumbers, tomatoes and avocado.
Chili Lime Homemade Vinaigrette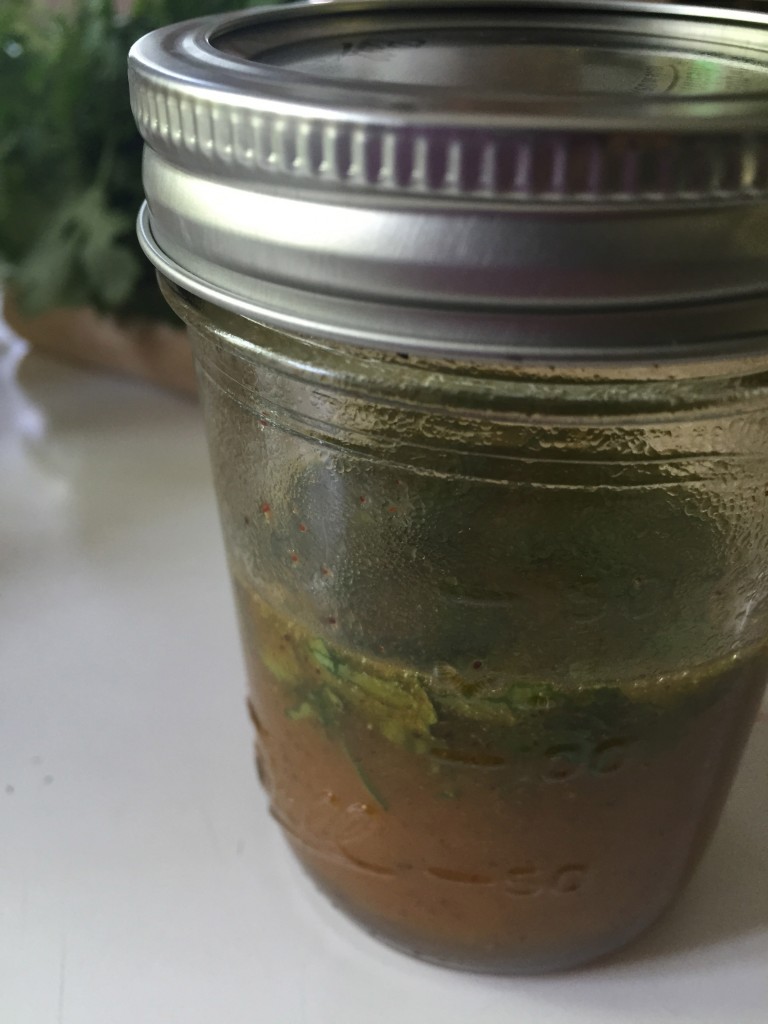 Ingredients:
Juice from 3 limes (about 1/3 cup)
1 T. dijon mustard
1-2 T. honey
1/2 cup extra virgin olive oil
1/4 cup chopped cilantro
1 t. chili powder
optional: 1/2  t. cumin
Instructions:
1. Place all of the ingredients into a medium jar with a lid, secure the top and shake it up for approx. 30 seconds.
What's your favorite salad dressing?
Latest posts by Jennifer McKinney
(see all)