This guest post comes to us from Tracey from The Kitchen is My Playground.
Hello, I'm Tracey from The Kitchen is My Playground, and I've got a question for you – Do you have kids or grand-kids who are out of school for the summer?  Or, who will be soon?  Well, I bet their teachers said something like "Be sure to keep them reading, writing, and doing some math over the summer,"  right? I'm a 1st grade teacher myself, and I sure say that to the parents of my students! Did you know you can keep your child working on reading, writing, and math by baking with them?  That's right!  You can have a little fun in the kitchen with your kids or grand-kids this summer to practice their reading, writing, and math … And easy bar cookie recipes provide the perfect opportunity.
How, you ask?  Well, let's take a look at classic 7-Layer Cookies and reading, for example …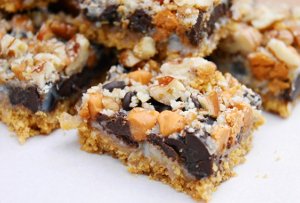 Reading recipes gives great practice in … well … reading.  But, it's also rich with reading comprehension practice, sequencing, and vocabulary.  When cooking, your child can read the recipe and summarize it in his or her own words.  Vocabulary can be broadened by discussing the meaning of unfamiliar words, and then reinforcing this through actually doing or experiencing those words while helping prepare the recipe.  Learning by doing is extremely powerful!
So, with these delicious 7-Layer Cookies, your child could:
Verbally summarize the steps to make them
Write a list or flow map of the order the ingredients are layered in the pan (yes, sequencing is a reading skill!)
Look for letters, sounds, or sight words appropriate for his/her grade level
Work on vocabulary with, perhaps, the words 'condensed,' 'chopped,' 'layer,' 'sprinkle,' 'remaining,' 'previous,' or any other unfamiliar word
Practice comprehension strategies by thinking of questions he/she has about the recipe, or predicting what will happen at each step
But what about writing?  How would that work with baking?  Let's let these ooey-gooey Caramel-Walnut Squares help us out.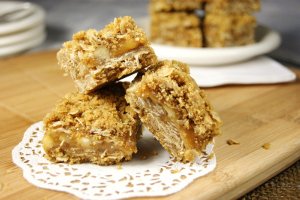 Now, writing practice doesn't always have to involve a pencil.  The act of coming up with content is an extremely important part of the writing process … and that content can simply be spoken aloud.  In my classroom, we call this 'writing with our mouths.'  You know, 'cause sometimes that ol' pencil just gets in the way!  So summer writing practice could be both a little 'writing with the mouth' and a little writing with a pencil, if you'd like.
To practice writing while making these Caramel-Walnut Squares, your child could:
Write with his/her mouth to describe the oatmeal layer, the caramel layer, and/or the finished product.  Use all five senses … touch, taste, smell, sight, hearing … to come up with great descriptive words.
Write a summary, in his/her own words, of how to make them
Write his/her opinion about the squares … complete with support for that opinion!
Think about a change he/she would like to make and write his/her own new recipe.  Maybe you'll even let it be tried out!
Ahhhh, and math.  Baking and cooking are jam-packed with math learning opportunities … like measuring, and counting, and patterning, and adding, and fractions … the list goes on and on!
Frozen Banana Split Squares are going to help us out with math.  I didn't think you'd mind.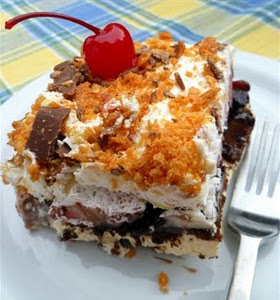 For math practice with Frozen Banana Split Squares, your child could:
Do a geometry shape puzzle.  You're probably thinking … what???  Well, this recipe naturally is a geometry shape puzzle!  Yes … figuring out how to fit the bottom layer of ice cream sandwiches into the pan, cutting some as needed – that's a shape puzzle.  Cool, huh?
Create patterns with the bananas and strawberries as he/she layers in the fruit
Calculate the amount of ingredients needed to make ½ the recipe … or to double it
Estimate how many banana slices will result from the bananas used.  Then, count the slices to see how close the estimate was.
Figure out what time the squares will be ready, given the 4 hour freezing time
Oh, I could go on and on.  So, have some fun in the kitchen with your kids or grand-kids  this summer!  You'll be getting in some reading, writing, and math practice at the same time.  How cool is that?
Want some other great bar cookie recipes to make with your kids?  Check these out, too!
Toffee Bars
Blackberry Limeade Bars
Frozen Ice Cream Casserole
Monster Cookies Bars
What do you think about incorporating baking into learning?
Latest posts by AllFreeCasseroleRecipes
(see all)