Having any kind food restriction is especially difficult around the holidays, especially if your family just doesn't get it. I'm a vegetarian. Every year, Thanksgiving and Christmas are filled with conversations of:  "why are you eating turkey?" "Don't you want some turkey?" "What is wrong with you?" "Would you like this ham instead?"
Being Gluten-Free During the Holidays
Thankfully, my dietary restriction is my own personal choice, rather than an allergy that endangers my health. When you're gluten free during the holidays, every dish not cooked by you personally can be a danger. It might have an ingredient in it that the cook didn't know wasn't gluten free (like pre-shredded cheese). There could also be an issue of gluten cross-contamination in the kitchen that went undetected by someone who doesn't have to eat gluten free.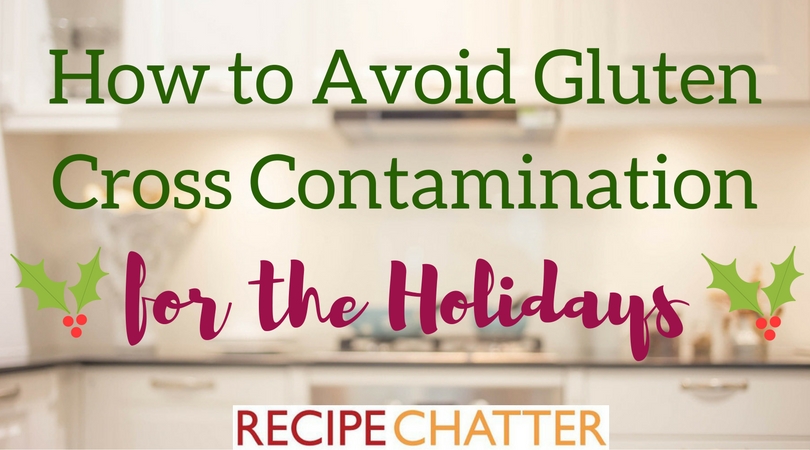 Make the Holidays Easier for Gluten-Free Friends
In order to make the holidays a little easier for our gluten free folks, we're offering some tips on how to avoid gluten cross contamination in your kitchen. If you're hosting a holiday get-together, here are some ways to make sure your gluten-free guest feel safe eating the food you've prepared.
If you're unsure whether you've made your kitchen a gluten free space, feel free to ask your guest to bring something that they can definitely eat. You can also ask if there are any recipes that you can make specifically for them. Chances are, anyone with a dietary restriction, especially with one as tricky as gluten, will be more than willing to bring a dish that they can eat. As a vegetarian, I happily bring a vegetarian dish or two to pass (but I make sure I serve myself first, because there might not be enough left for me if I pass it to everyone else first).
Tips to Prevent Gluten Cross-Contamination
Here are some of the easiest ways to prevent gluten cross-contamination in your kitchen and make it a safe place for all of your food.
Avoid wooden spoons or cutting boards that are also used to prepare gluten-filled foods. Metal and plastic are much safer options for preparing both (as long as you wash them in between uses, obviously). You can also buy a separate set of cutting boards for gluten free food prep.

There is one caveat to this. If the cutting boards or other kitchen utensils are scratched up, then get new ones. Scratched up plastic might have residual gluten in the grooves.

Label each dish! It can be a little awkward for someone with a dietary restriction to ask what's in every dish. They might feel as if they're being rude, but in reality, they're just making sure that it's safe for them to eat.

If you're a planner, you can send a list of recipes to your gluten free guest(s) so they know ahead of time what will be safe for them to eat and if they need to bring something to fill in a gap.

If you have the counter space, designate an area of the kitchen that is only where the gluten free food will be prepared. Lacking in counter space? Be sure to thoroughly clean the area before preparing gluten free food.
Do gluten free baking first, and have it well wrapped and stored before doing anything with regular flours. Flour dust in the air from regular flours could settle on the gluten free products, thus contaminating them.
Be especially alert and cautious when you have guests helping in the kitchen. They might not have your gluten awareness and unknowingly make a mistake.

Make a rule that anyone helping in the kitchen with both gluten free and gluten filled foods need to wash their hands before changing from gluten free to gluten filled.
Find more ways to organize your kitchen for the holidays so everything goes smoothly in our article: Organize Your Kitchen for the Holidays!
What's your advice for a gluten free holiday?
Latest posts by FaveGlutenFreeRecipes
(see all)