Gluten free baking doesn't have to be a headache. In fact, once you get the hang of it, gluten free baking can be quite fun. There isn't yet a precise science in transforming a recipe into a gluten free version of itself, so a gluten free baking challenge could be just the thing to get you out of your baking rut and prompt you toward improvisation. If you peruse through the gluten free dessert recipes over at FaveGlutenFreeRecipes, you'll see that there are a lot of creative, and downright delicious, ways to avoid gluten.
If you're not sure about the gluten free basics, the bottom line is no wheat products.  That includes flour.  Naturally, baking gluten free can be a bit intimidating, but a little bit of knowledge goes a long way.  Don't worry! We aren't going to send you out into the wide baking world completely unarmed. There are a couple things to think about when you're going to bake gluten free, and we're happy to give you a couple of tips before you start pre-heating the oven.
How to Bake Gluten Free
1. Gluten is mainly found in flour and barley, so that means you can't use flour in your baking. No, don't run away yet!  It's not at all difficult.  There are some all-purpose gluten free flours that are pretty widely available.  Bob's Red Mill has one that you should be able to find at your local grocery store. If you're just swapping regular all-purpose with a gluten free all-purpose, simply proceed with the recipe as written. You don't need to make any adjustments.  This recipe for Hearty Whole Grain Bread from Yelena at Cooking Melangery doesn't deviate from a standard bread recipe–except for it's use of gluten free flour.
2. Another relatively easy option is to simply skip the flour altogether. This peanut butter cookie recipe, for example, is terrifically easy to make and doesn't use any flour.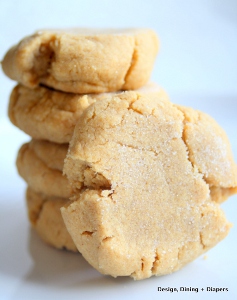 3. Creating a mixture of alternative flours is a great way to imitate the texture of typical flour, with the added benefit of flavor. Almond and coconut flour are both popular in the gluten free baking world. If you're looking to imitate flour as closely as possible, try this gluten free flour mix created by Karina from Gluten Free Goddess.
4. If you don't have access to zanthan gum, consider using arrowroot powder in your baking. The rule of thumb with arrowroot powder is to use a ½ teaspoon of arrowroot powder for each cup of wheat flour called for in any recipe. Round up if the recipe calls for a partial cup.   This recipe for Irish Soda Bread makes good use of arrowroot starch.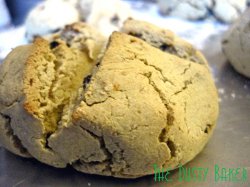 5. Have fun and experiment! Even if something doesn't turn out exactly the way you wanted it to, it will more than likely still taste good.  I've found that friends are more than willing to eat your "mistakes." Try imitating a favorite recipe.  This recipe for Skor Bars is a great jumping off point for people who want to try their hand at creating a familiar candy.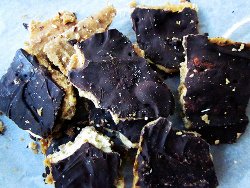 Baking gluten free doesn't have to be an awful or intimidating experience. Remember, there are lots of people out there happily baking away with gluten free ingredients (and often ditching dairy at the same time).  Take the recipe one step at a time and you can't fail.
What's your favorite thing to bake?
Latest posts by FaveGlutenFreeRecipes
(see all)