Boiling eggs is a simple task, but that doesn't stop me from looking up how to do it nearly every time. It's hard to remember how to boil eggs in the best way. The boiling part is pretty obvious, but knowing how to do it so that the eggs are perfectly cooked and easy-to-peel is another story.
Easter is the time of year that some of us are suddenly boiling eggs in bulk. It's so much fun to decorate the eggs and then enjoy them over the next week in egg salad sandwiches, deviled eggs, salads and more. But if you didn't boil them perfectly, you have a lot of wasted eggs to deal with. (And bad eggs are just… gross.)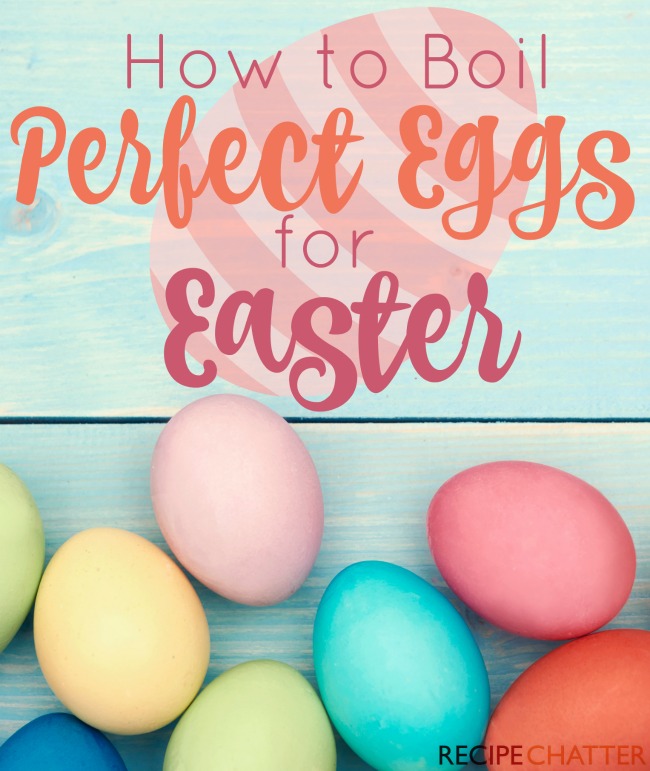 Fear not, because we have the perfect way to boil eggs, and we'll show you how to do it in easy steps.
Plus, check out this video on how to boil eggs and you'll learn in no time!
How to Boil Perfect Eggs for Easter
What You Need:
12 eggs (several days old recommended)
1/2 teaspoon salt (optional)
Large saucepan, at least twice as tall as eggs
Instructions:
Gently place eggs in the bottom of a saucepan in a single layer.
Fill the pan with cold water to completely cover the eggs by about one inch of water.

Place the pot, uncovered, on a burner and turn it on high. Let the water come to a boil.
Once the water comes to a full boil, remove from heat, cover, and let stand for 9 to 12 minutes. The longer you let the eggs stand, the harder the yolks will be cooked.
After the time is up, strain the hot water out of the pan and fill it back up with cold water. Add ice cubes to the water and wait until the eggs have cooled enough to handle.

Store the eggs in the refrigerator for up to 5 days.
What's your trick for perfect boiled eggs?
Latest posts by RecipeChatter
(see all)