I'm Marie Segares from Underground Crafter, and I don't know about you, but I'm always looking for ways to save time and money while cooking without relying on packaged foods. For me, using my slow cooker and doing once a month cooking are two ways that I can do both. Over the years, I've learned that it's much easier and cheaper to prepare a whole chicken in the slow cooker and then use it for several meals during the month, and today I'm going to show you how to do the same. (By the way, if your family prefers white meat or dark meat only, just substitute bone-in parts with skin for the whole chicken.)
How to Cook a Chicken in the Slow Cooker
Recipe/Tutorial by Underground Crafter
Ingredients
One 3- to 4-pound whole chicken, or equivalent weight in bone-in parts with skin.
Salt and black pepper.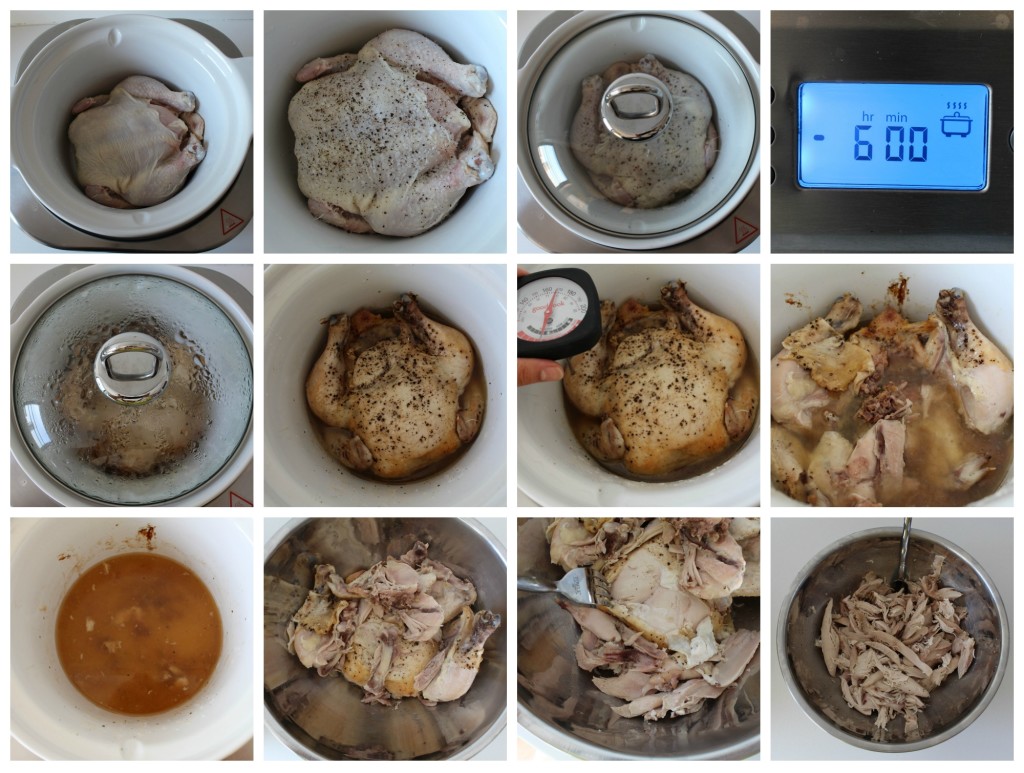 Instructions
Wash the chicken thoroughly, removing any giblets or packaging from the cavity.
Place the chicken in the slow cooker to prep.
Pat the chicken dry. Cut off any visible fat. Season with salt and pepper, being sure to rub under the skin and inside the cavity. (Don't worry too much about getting the right amount of seasoning because you can add seasoning to taste after the chicken is cooked.)
Position the chicken with the breast side facing up. If using parts, position the meatiest portion of the pieces facing up.
Cover the slow cooker. Cook on low for approximately 6-7 hours.
Insert a meat thermometer into the thick part of the thigh (or a meaty portion of the parts) to check for doneness. When the chicken is cooked through, the thermometer should measure 180 degrees Fahrenheit.
Using two forks or tongs, remove the chicken from the slow cooker. It will be falling off the bone, so be sure to have a bowl nearby to process it in.
Using a fork, remove and discard the skin and any visible fat. (The skin will be pretty soggy and unappetizing, but it keeps the moisture in the chicken while it's cooking.)
Use the fork to shred the chicken up into bite sized pieces, removing bones and cartilage as you work. You can also cut the chicken into smaller pieces if your recipe requires it.
You'll also have several cups of broth in the slow cooker. This can be used for soups, gravy, and other recipes.
Use the chicken in recipes calling for shredded chicken, like soups, stews, and chili, or tacos or burritos.
Freeze any chicken or broth you don't plan to eat within the next few days.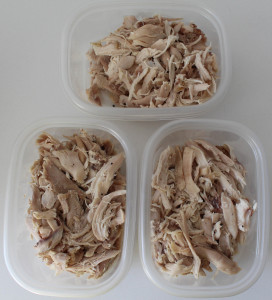 I was able to prepare several meals out of this one chicken, including my version of chicken pot pie, made with just about a third of the chicken.

Have you ever made chicken in the slow cooker?
Latest posts by Marie Segares
(see all)