Wine makes everything better or so I have been told… But wine is not all about drinking. Wine is also a key ingredient in many flavorful copycat restaurant recipes on AllFreeCopycatRecipes.com. Wine brings out the natural flavors and aromas from the other ingredients in a dish. We have some great tips for making the most of wine in your cooking and a bunch of great copycat recipes with wine to get you started.
Tips for Cooking with Wine
Didn't use up the whole bottle of wine? No problem! Store your opened bottles in the refrigerator to help the wine stay fresh longer. The wine should keep up to a month, but never use a wine that has an off taste.
Wine is best used in recipes that can simmer on the stove for a good while. The alcohol will cook off and the flavors will become more concentrated. Sauce recipes and stew recipes often utilize wine for this reason.
Add wine to a chicken or fish marinade for a bolder flavor. Plus the wine helps tenderize the meat!
Avoid using bottles of wine you would not want to drink. Chances are if you wouldn't want to drink it, then you also wouldn't want to be eating something with the same flavor.
You can actually bake with wine! This may come as a shock, but wine can be used as a substitute for fats in a recipe.
Think about what kind of wine would complement the flavors of your dish. The best white wine for making risotto (try Pinot Grigio) is different than the best wine for beef stew (try Merlot). Sweet wines are more difficult to incorporate into recipes, but they are fantastic used in a fresh fish recipe.
Recipes with Wine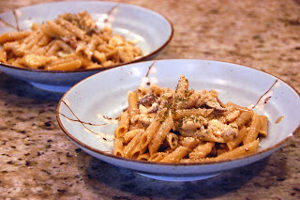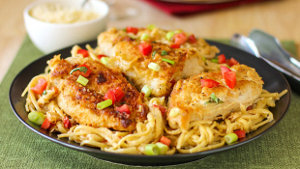 Restaurant recipes often incorporate wine into their pasta recipes, chicken recipes, and even pork recipes. These are some of the best copycat recipes made with wine. Open a bottle and get cooking!
Giveaway: Vinturi Wine and Spirit Aerator Prize Package

The Essential Wine Aerator & Tower Set is the ultimate wine set to impress friends. The tower holding the aerator is chic and ultra-modern in look. The bouquet or aroma, taste, and finish all benefit from proper aeration. If you have experienced bitterness in finish from wine, this aerator will eliminate any rough tannins. The Vinturi makes aeration of wine a quick and exciting process. Enhance every glass of wine you drink, regardless of quality, time, or place! 
Read our full review here
. This month at
AllFreeCopycatRecipes.com
we are giving away (1) Vinturi Wine and Spirit Aerator Prize Package to one (1) lucky winner. You have until November 17th at midnight to
enter
.
Do you prefer your wine in a glass or in a dish?
Latest posts by AllFreeCopycatRecipes
(see all)