Hey, sometimes good sushi can be pretty hard to find. I totally understand. I spent years being afraid of eating sushi because I didn't know where to find quality sushi that wouldn't make me sick and that would taste delicious. It used to be quite a hassle but now that sushi is more popular, finding good sushi is easy if you know what to look for!
So in today's important life lesson, I'm going to share with you a few tips that I've learned over the years on how to find good sushi and what to look for in a sushi place (because we all know that sushi places are in no way created equal).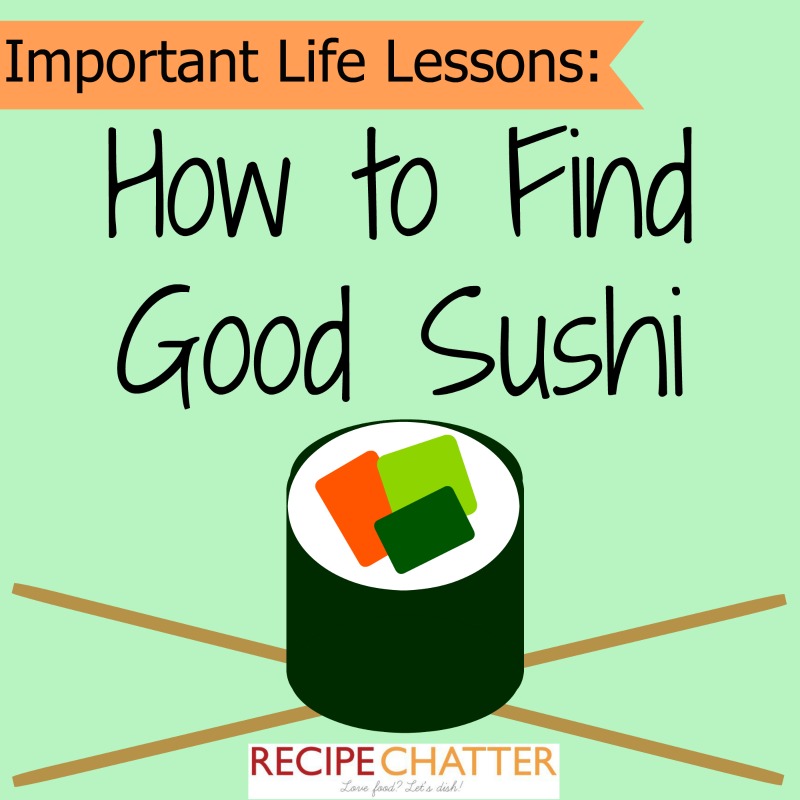 Ask a friend or co-worker
Sometimes, when you're on the hunt for something, the best people to turn to are the ones who know you the best and whose opinions you trust. When trying to find a good sushi place, I've never had a friend steer me wrong yet. In fact, thanks to one of my friends, I discovered my favorite sushi place. (It's a bummer that I don't live near it anymore because I could really go for some of their coconut shrimp rolls. I can't find them anywhere else!) Anyway, you can rarely go wrong with a friendly recommendation. And, if you do, then you'll know not to trust that person when making decisions about food. 😉
Look for clean sushi restaurants
You wouldn't want to eat a meal on a sticky table while surrounded by garbage would you? This one is pretty common sense, but if the sushi place looks a bit sketchy, run-down, and/or dirty, it's probable that the food isn't anything you'll want to ingest.
Try to avoid places that serve multiple cuisines
One of the best tips I was ever given when I was first learning how to find good sushi is to seek out places who specialize in making sushi. Places that don't have a giant menu with many different kinds of foods. If a restaurant has a giant menu with a ton of different food on it, it's likely that all of the dishes aren't as good as they could be (The Cheesecake Factory excluded; that restaurant can honestly do no wrong).
The best sushi doesn't smell fishy
Why? Because the freshest fish never smells fishy! Considering the fact that you're eating raw fish, you're going to want it to be as fresh as possible. So, if you walk into a sushi shop and get a strong whiff of fish, you may want to reconsider your choice of location.
Deliciousness is in the eye of the beholder
How does the sushi look to you? Does it look fresh? Does it look like something you'd want to eat? If it doesn't look good to you, choose another place. Sometimes it's easy to tell just by looking at your food if it's fresh or something that's well-prepared, even if you're not a sushi connoisseur and you're still trying to figure out how to find good sushi. If, for example, the sushi in front of you is crusty, you might want to grab a burger instead.
Check reviews for your local sushi places
Sure, Yelp reviews may not be the most helpful in most instances because complainers are the most likely to leave reviews, not fully satisfied customers. But if a sushi place has a bit more than its fair share of negative reviews, I would be wary. Also be sure to take more professional reviews into account! After all, people who eat and review food for a living should theoretically know what to look for in a sushi place!
Don't go on the hunt for the cheapest sushi
As much as we all want to save money and find great deals, being a penny pincher while trying to find good sushi won't get you far. High quality fish will cost you a bit more than low quality fish, but not by a large amount. Just don't be hesitant to pick a slightly higher-priced sushi restaurant over one that's dirt cheap.
If all else fails, make your own sushi at home!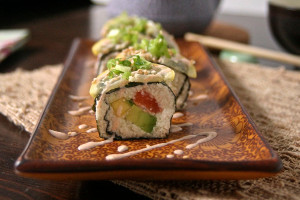 We've got a few recipes you might like! Check them out:
Angela's Favorite Sushi (pictured)
Avocado and Mango Sushi
Sushi Casserole
A Sushi Recipe You'll Never See in Restaurants
Fruit Roll Sushi – No fish involved!
While you're at it, these sushi crafts are pretty cute too…
(Not gonna lie…)
Cute Sushi Dish Towel
Sushi Roll Scarf – My favorite!
Sushi Chef Apron
Got a tip on how to find good sushi? Share it below!
Latest posts by RecipeLion
(see all)