Steak is such a basic dish that it's crazy to think that up until last week I wasn't that familiar with how to cook it. It seems simple enough… after all, it's just a slab of meat that you put on the grill and cook it until it's done. But I still had so many questions that I was afraid to try my hand at cooking it myself.  How do you know when it's done cooking?  How do you properly season the meat? How do you know what type of meat to buy?  So many questions!
Well, after my cooking class at Sur La Table last week, I came away with answers to all of my questions and more, and now I'm here to share all of my new-found steak-grilling knowledge with all of you, so you can cook steaks at home too!  We learned a recipe for Perfectly Grilled Steak, which you'll find below, plus plenty of tips for cooking steak in general, which you'll find at the bottom of this post… you won't want to miss those!
Perfectly Grilled Steak Recipe
*Recipe Courtesy of How To Cook Everything The Basics, by Mark Bittman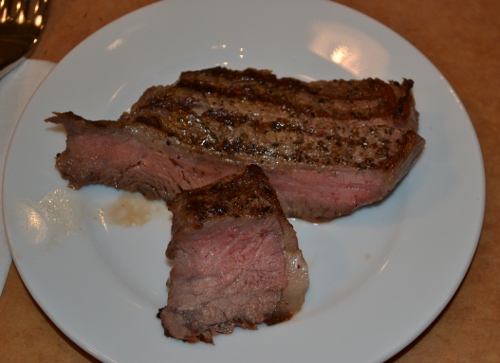 Yield: 2-4 servings
Ingredients:
2 strip, Rib-eye, or other steaks (about 1-inch thick and 1/2 pound each), at room temperature
Kosher salt
Freshly ground black pepper
Instructions:
Prepare a grill or turn on the broiler; the heat should be medium-high and the rack about 4 inches from the heat source. If you're broiling, put a large, oven-proof skillet on the rack 10 minutes before you're ready to cook.
Blot the steaks dry with a paper towel and sprinkle the top with salt and pepper.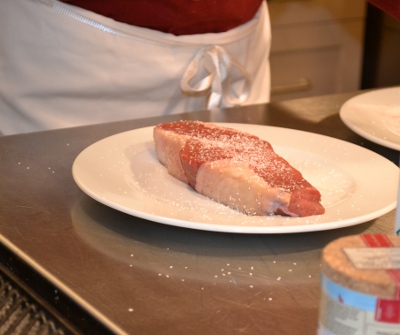 Put the steaks, seasoned side down, on the hot grill or under the broiler and sprinkle the top with salt and pepper. Cook, undisturbed, until they release easily from the grill, about 3 minutes.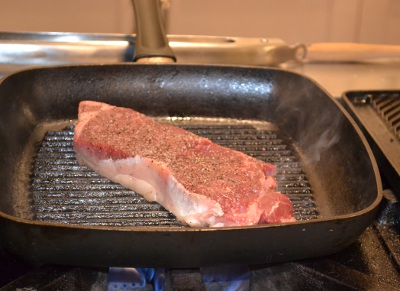 Turn and cook on the other side, checking for done-ness by peeking inside with a sharp knife and checking the same spot frequently. You can also use a meat thermometer to check for done-ness, as shown. For medium-rare, figure about 3 more minutes (if steaks are over an inch thick, you'll need a little more time; if they're under an inch, you'll need a little less).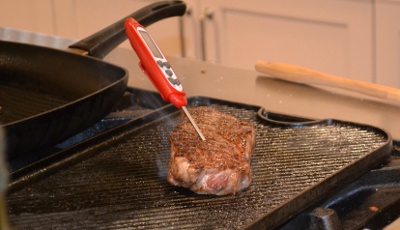 When the steaks are still a little bit redder than you want them, remove them from the heat and let them rest at least 5 minutes. Sprinkle the steaks with more salt and pepper if you like and cut them in half crosswise or leave whole and serve.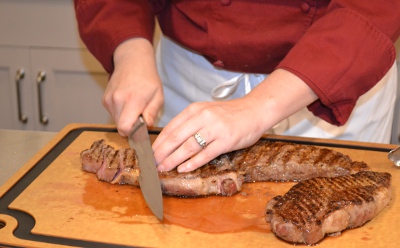 Here's what our finished steak dish looked like: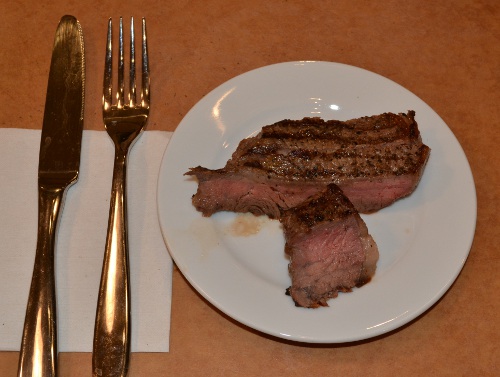 Looks yummy, right?  I've only ever had steak like this in restaurants before, but now that I see how easy it is to grill steak at home, I'll be making this for myself for a special weeknight treat or whenever I want to impress dinner guests!
If you're thinking about making steak at home, here are some quick tips I picked up that may come in handy…
Steak Grilling: Need-To Know Basics
Selecting your meat: You want meat with some fat on it. Look for marbling and fat on the outside. The best cuts for grilling are New York strip and top sirloin. These can be inter-changeable in recipes, so if one cut is cheaper at the store, go for it!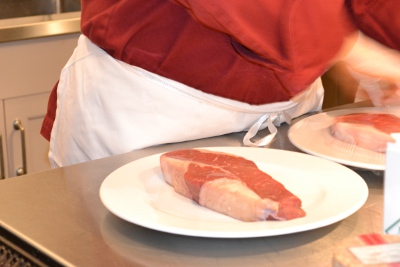 Before you cook: Be sure to bring your meat to room temperature before cooking it, otherwise you run the risk of it being cold on the inside when you're done. 30 minutes is ideal before starting to cook.
You only need to oil the pan or your meat, not both.
The best kinds of oil to use are grape seed oil, canola oil or vegetable oil. Olive oil will burn, so avoid using it.
Don't overly check your meat! The worst thing you can do when grilling meat is to move it too much in the pan. Use your eyes to check done-ness. When the edges start looking brown, you know it's getting time to flip. If you're ever in doubt, give the meat a little more time to form more of a crust so it's less likely to stick to the pan.
If using a meat thermometer, take your steak off the grill when it is 10 degrees lower than you ideally want it to be. The temperature will rise while the steak rests. 140-145 degrees is medium rare.
Have you ever made steak at home? How do you season your steak?
Latest posts by RecipeLion
(see all)