Update!
This reader favorite is so good, we HAD to make it again three years later. Check out the new and improved Recipe Revamp: How to Make a Chipotle-Style Burrito Bowl at Home!
So Chipotle is one of my guilty pleasures, but as someone who's (1) saving for her wedding and (2) trying to fit into said wedding dress I know it's not realistic for me to eat there often. That's why I decided to try making a copycat version of their Chicken Burrito Bowl at home. And because I'm all about healthy cooking, I made this recipe slightly better for us by using lower fat ingredients (for those who don't care you can just substitute with regular). I had an absolute blast making up this concoction, and the best part was that it was so quick and easy. This recipe is completely made up based solely on my extensive knowledge of how Chipotle food tastes and just simple experimentation. I hope you enjoy my attempt at making a copycat recipe.
Chipotle-style Chicken Burrito Bowl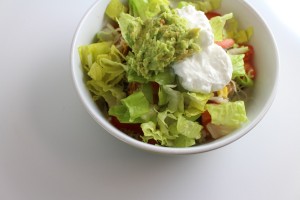 Serves: about 4 people
For Cilantro-Lime Rice:
2 Cups of organic Jasmine Rice
4 Cups of water
1 teaspoons salt
1 tablespoons of low-fat butter
1/2 to 1 cup cilantro, chopped
1/4 cup of onion, chopped
1 lime, squeeze out fresh juice
dash of cumin
1/2 tsp of pepper
For Chicken:
1 package fajita seasoning mix
3 cups of lean chicken, chopped
1/4 cup chopped onion
Other:
2 cups frozen Corn
1 can black beans, low sodium
a bag of low-fat shredded cheddar or Mexican blend cheese
Salsa, if desired
Pico de gallo, if desired
lettuce, chopped
tomatoes, chopped
1 small container of low-fat sour cream
For Guacamole:
Directions:
For Rice:

Start by making the rice first (be sure to follow the directions on the bag of any jasmine rice you're using).
The only difference will be that you're adding salt, butter, lime juice, onion, cumin and cilantro. Add these after the boiling stage but before the simmering stage. Mix well and keep covered. Keep in mind one of the key ingredients to making this like the rice at Chipotle is the lime and cilantro, that flavor is important!
While the rice is cooking… steam the corn in a separate pot and keep warming on the side. Also put entire can of black beans into separate pot and heat on low, stirring often, until hot.
To Make the Chicken:
Add some oil of chose to a frying pan and toss chicken in. Heat chicken on medium heat, stirring often to get chicken cooking evenly.
Add 1/4 cup of water and entire package of fajita seasoning (you can also just follow the directions on that packet). Add more water if necessary.
Toss and stir chicken until evenly coated, turn heat to low-med and simmer for another 5 to 8 minutes.
For the Guacamole:
Remove peel and core from avocado and chop up into pieces. Add to a medium bowl.
Chop and blend avocado until it's the desired texture.
Add chopped cilantro, 1/4 cup of onions, lime juice, salsa or tomatoes and mix well.
Add pepper to taste.
Now that everything's complete you can get large bowls for each person eating. Follow the below order of things if you want it to resemble Chipotle the most:
You are finally ready to eat the heck out of this dish, trust me I did!
I hope you all enjoyed my little restaurant copycat cooking adventure! If you make your own attempt be sure to let me know how it goes with comments below.
If I've really wet you're appetite for Mexican food then be sure to check out these 15 Quick Mexican Recipes. For even more copycat recipes be sure to check out AllFreeCopycatRecipes.com for some yummy take-out fake-out recipes.
Have a great week!
Latest posts by RecipeLion
(see all)