This guest post comes to us from RecipeLion Featured Foodie Carole Burkhard of Toot Sweet 4 Two.
Making bacon in the oven is so easy. And, while there are numerous ideas and suggestions on how to make bacon in the oven all over the internet, this is my favorite way: a rimmed baking sheet lined in foil with a rack positioned on top of the foil.
While you can argue the "merits" of whether or not to use a rack, it produces a crispier bacon than not using a rack. But, the downside of cooking your bacon on a rack is the clean-up! So, if you are arguing that making bacon in the oven is less messy than on the stove top, the answer is "yes". But, if you are arguing that making bacon in the oven is easy clean-up, the answer is "not quite" – there's still that pesky bacon-coated rack to clean up!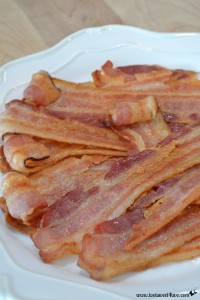 But, here are my tricks for easy clean-up of that pesky rack:
Spray the rack with non-stick cooking spray before laying the bacon on the rack
After you are done cooking the bacon and transferring it to a serving plate, soak the rack in a sink full of hot soapy water for a few hours, and here's the best one…
Get your husband or kids to scrub the rack!
Even with this added nuisance, making bacon in the oven is still my preferred method. Why? Well, because…
There's no messy bacon grease splatter all over your stove top, counter tops and back splash
You don't need to constantly "babysit" your bacon while it cooks
It produces consistently evenly cooked bacon
There is less fat from the bacon grease because the grease is falling below in the rimmed pan and the bacon isn't sitting in grease
You can make enough bacon for a crowd without too much effort
And, you can cook other things (or read a book!) while the bacon is cooking blissfully in the oven!
When searching the internet for recipes on how to make bacon in the oven, temperatures vary, methods vary, and times vary. Here's what I know:
Everyone's oven is different. So, no matter what temperature you try, the minutes will always vary.
Every pound of bacon is different. Different cuts of bacon from different manufactures mean that the finished product is never an exact science!
If you use thick-sliced bacon, your cooking time will about double (from 20 minutes to 40 minutes or more).
Whether to use aluminum foil or parchment paper doesn't really make a difference in the finished product. I use a foil-lined pan because I always have foil on hand. I don't always have parchment paper on hand. But, either will work.
A preheated oven will burn the edges of your bacon. A cold oven will not.
Here's my way of How to Make Bacon in the Oven: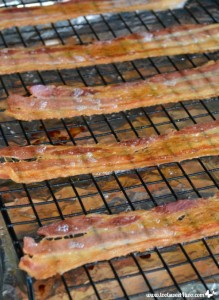 Ingredients
1 pound regular sliced bacon (yield is about 13 slices)
Non-stick cooking spray
Special Tools
2 large rimmed baking pans
2 racks that fit inside the baking pans
Aluminum foil
Tongs
Paper towel
Directions
Line the baking pans with foil and place rack inside of each.
Carefully place bacon slices (don't stretch them) on top of rack with space between each slice.
Place baking pans in cold oven and turn oven on to 400 degrees F.
Set time for 15 minutes; check bacon and if not cooked to desired doneness, continue baking checking every few minutes until done. This can take up to 25 minutes depending on your oven, the bacon and the amount of crispiness you want your bacon to be.
Carefully remove baking pan from oven (lots of grease in the bottom of the pan!) and place on heat resistant surface.
Wait a few minutes to cool, then using tongs, remove bacon by running tongs under the length of the bacon to loosen it and transfer bacon to serving plate.
Use paper towel to tamp extra grease from the bacon slices.
Enjoy!
 What is your go-to method for preparing bacon?
Latest posts by RecipeLion
(see all)